Make the most of the daylight with the Sunrise Sunset Watch Face on Android Wear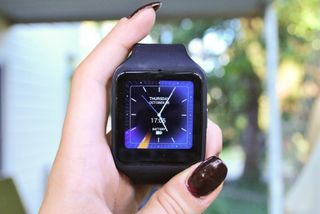 Wearable technology has made our lives easier in a variety of ways, from making tasks easier to giving us the information we want at a glance. Now the information you can grab from your Smartwatch includes how much daylight you have left to you. The Sunrise Sunset Watch Face for Android Wear gives you all the info you'll need to get the most out of those daylight hours.
Let's take a look.
The Sunrise Sunset Watch Face isn't overloaded with information. It's got a simple analog face that fills the entire screen. Tic marks for hours and minutes border your Smartwatch screen. Just above the middle of the screen you'll see the full date including day of the week. The bottom of the screen has a digital readout for time, as well as a battery life indicator.
The really cool feature with this face is how it gets you the information about Sunrise and Sunset. The background of your Smartwatch directly correlates to the light outside. Daylight hours are light blue, Twilight appears as yellow preceding sunrise and orange following sunset.The Nautical Twilight period is dark blue, Astronomical Twilight is purple, and then night time hours are in black. It knows your timezone, and subsequently adjusts when the sunrise or sunset will be. It's definitely handy if you're trying to get things done before you lose the light. Rather than overwhelming the watch face with this feature it blends in pretty well, and definitely looks good.
Now there is a trick with this watch face. It resets every twelve hours. This means that at midnight you'll be able to see when the sun will rise, along with the early morning twilight period. At noon it will reset and show you when to expect the sunset and associated twilight periods. This is why the time for sunrise or sunset looks strange closer to when the watch face will kick over.
The Sunrise Sunset is a very pretty, and well designed watch face. It's currently available on The Google Play Store for $0.99 and it's definitely worth checking out. This analog face is pretty and gives you the information you need in a unique and well designed way. Whether you like running as the Sun is rising, or you are trying to make the most of the daylight, The Sunrise Sunset Watch Face is worth checking out.
Jen is a staff writer who spends her time researching the products you didn't know you needed. She's also a fantasy novelist and has a serious Civ VI addiction. You can follow her on Twitter.
Kind of an interesting concept. Btw I heard that this is a pretty watchface. :-P I jest. -Posted via the Android Central App on my G4-

Slightly off topic, but: How about an option in the Android Central app to automatically turn on Night Mode at sunset and turn off at sunrise? Posted via Android Central App

+1 to this. But if this idea implemented, our home screen widget would change too. Posted via the Android Central App by OnePlus One

Time zone is the smallest factor in sunrise/sunset calculations. Latitude and western horizon geography at your longitude, though, those mean everything!
Android Central Newsletter
Get the best of Android Central in in your inbox, every day!
Thank you for signing up to Android Central. You will receive a verification email shortly.
There was a problem. Please refresh the page and try again.