Madfinger Games introduces Dead Trigger - A zombie inspired first person shooter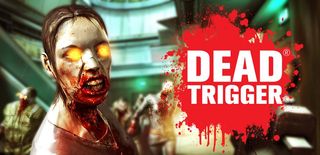 Following up on the success of Shadowgun, the folks from Madfinger Games have now taken the covers off the latest addition to their game catalog aptly named Dead Trigger. The zombie inspired first person shooter will bring console like quality gaming thanks to its optimization for NVIDIA Tegra 3 devices. So what's it all about? Glad you asked:
In other words, you shoot the hell out of those friggin' zombies and have a whole hell of a lot of fun doing it! Dead Trigger will be available near the end of June on the Google Play Store and the NVIDIA TegraZone until then, you can check out the game and the graphics power in the trailer below.
Looks awesome, I just wish they didn't force us to buy a new version when we upgrade to a better phone to get the better graphics

I second this. I bought Shadowgun for my Transformer Prime and it looked fantastic. When the THD version came out I found it silly that would have to buy the game again for a few visual tweaks instead of just downloading an update that would activate the Tegra 3 features. It's the same thing with their Samurai game and it's a practice that I find downright shady.

So does this mean that the Tegra 2 devices are getting screwed and getting a much lesser product? Madfinger originally had a special version for Tegra 2 devices of Shawdowgun and now it's the standard version. Does this also mean the the promise of a multiplayer expansion for Shadowgun isn't happening?

This is always sad to see. Same will happen when Tegra 3+ and 4 will be out. Since Tegra 3+ has 24 GPU cores, it makes sense to use them for even better effects. But then, would you be creating 5 different versions of the same game? Maybe they should take the PC approach, which allows a game to run on everything and it's up to the user to turn video settings on or off, or have that auto-optimize option like some games have. or presets for different chipsets. But still one gam, not 5 versions of the same game.

Well that blows. Meaning that on my brand new galaxy s3 I can't play it since it doesn't has a tegra 3 chip.

I give Madfinger my middle finger. Their support sucks. I could never get Shadow Gun to run properly on my Evo 3d and after emailing them for help their response was, "We don't know why, it works on ours try uninstalling and reinstalling." Are you serious ass clowns? I'm not so dumb as to not realize that!

Really? It works great on my Evo 3D (fully stock).

lol Nvidia with the same old physix Comparison, same market strategy they push with there graphics cards... but hey i use there shit so keep it up.

Yea I figured the same, if I stick to nvidia I get better looking games. If I get a super-duper phone with 5x faster GPU, I get worse looking games. Until it's all somehow standardized like it is on PC (you just need a hardware that can do DirectX10 or 11 to run any game and you can tweak it with video settings), I will stick with nvidia.
Android Central Newsletter
Get the best of Android Central in in your inbox, every day!
Thank you for signing up to Android Central. You will receive a verification email shortly.
There was a problem. Please refresh the page and try again.