A love letter to the LG G5 and its wide-angle camera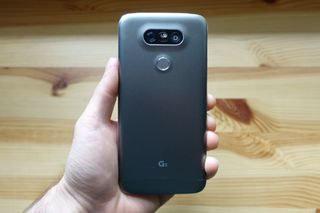 I was desperate to find something about the LG G5 that hasn't been said already. But the internet is already full of smart things about the phone, which is not only LG's latest flagship smartphone, but its acknowledgement that its existing strategies haven't been working.
I have a dirty secret, though: I really like the G5. From its metal chassis to its well-placed rear power button-fingerprint sensor combination, LG got a lot right when it comes to the G5's design. Assessed as a standalone product — that is, without the use of LG's optional Friends — there is an argument to be made that the G5 is up there with the best smartphones on the market right now.
Even its software, aside from the questionable choice to get rid of its launcher's app drawer, has a lot to like.
LG has been struggling. It still sells upwards of 30 million smartphones every year, and has even eked small profits from its high-margin smartphone business in a couple of quarters over the past few years, but there is no question it's extremely difficult to make money in the mobile space. That was likely the impetus behind LG's Friends strategy: offer the phone for less than the competition — the G5 is about $100 less than the Galaxy S7 — and prop up those margins with modules, like a camera grip or high-quality DAC.
It's too early to assess whether the strategy is working, but early reviews have not been overly kind to LG's overarching ideas. Some lamented the move away from a design language many considered successful — and in a market with very little originality — unique, with the G4. Others found the implementation of the modules to be clunky, with selection both limited and overpriced.
But after using the G5 for a couple of weeks, I have fallen for its manageable size, its zip-fast performance and, most of all, its camera.
The fundamentals
Most people I've spoken to about the G5, including our own Phil Nickinson and Russell Holly, rightfully took issue with LG's decision to create a seam just below the display components to facilitate the removal of the battery. To an untrained eye, the G5's battery seam looks like it could be an antenna line, or something else equally innocuous. But keep extracting the battery and it becomes clear that, like a casement window loses its seal over time, LG can't overcome the consequences of physics.
Let's assume, though, that most people won't be regularly removing the G5's battery, that the Cam Plus grip won't become a permanent fixture on the bottom of the phone. LG has done an admirable job with the G5's design, from the glass display's concave curve to the intelligent placement of the rear power button.
Internally, the G5 is what you'd expect from a $650 smartphone: all Qualcomm 820 and 4GB RAM, 32GB storage and a fashionably high-megapixel rear shooter. The QHD screen, while lacking the same capacity for brightness as the Galaxy S7, is respectably sharp and vibrant, and I'm thankful to say that both of my retail units (one from Bell, the other from Rogers) are without backlight bleeding, a problem that plagued some pre-production models.
The 2,800mAh battery has served me well, with uptime that rivals that of the slightly more capacious Galaxy S7. And that it charges with reversible a USB Type-C cord is, after squabbling with Micro-USB for so many years, an absolute dream. I doubt I will ever purchase a secondary battery, nor purchase a coffin in which to charge it, but it's nice to have a fallback should I need one.
All of these things are fine and good, and bare necessities for a smartphone at this price. But what really impresses me about the G5 is what many dismissed as a gimmick when it was announced at Mobile World Congress: its second, 8MP wide-angle camera.
A 135-degree love story
I've always loved landscapes. They're less tempestuous than photographing people, and aren't liable to blink at the last second. While traveling, I tend to bring an 18mm or 24mm lens with me to capture cities at their most expansive.
But in recent years, as DSLRs have given way to the ubiquity of smartphone cameras, I find myself using those wide-angle lenses less and less. This is why the G5's second lens's near-fisheye field of view has proven so essential to me, especially given how carefully it has been integrated with the main camera.
A single icon transitions between the two sensors, allowing you to easily note the differences. While the main 16MP shooter has a still-wide 28mm equivalent focal length, the 8MP sensor is tuned closer to 18mm, with barrel distortion at the edges and a host of imperfections that just make it more fun to use.
No one should take the quality of the optics too seriously from the second camera: the 8MP sensor isn't particularly noteworthy, and the f/2.4 aperture on the wide-angle lens is practically useless in the dark. But that's what LG's main 16MP, f/1.8 lens is for, and why I had so much fun switching between the two. It fostered my most creative moments in smartphone photography, natively enabling something for which I'd typically need bulging accessories or adapters.
Image 1 of 6
I'm not one to overly scrutinize the minute differences between smartphone cameras. I think most flagships have reached a point of core competency that rivals many point-and-shoots, and then some. The Galaxy S7 is the clear winner in the Android space, and potentially the entire smartphone space, with devices like the G5, iPhone 6s Plus and HTC 10 not far behind. But each has their quirks, and as we move closer to the end of the decade it is increasingly apparent that the tension between sensor size and companies' willingness to thicken their phones is the main barrier to improving smartphone cameras.
While the G5's second camera is not used to augment the first, companies like Huawei, with the P9, are taking that approach, and we should see more of those ideas implemented relatively soon.
Consider this
Consider this: if you're a photography buff, get the LG G5 over the Galaxy S7. Even though the latter has slightly finer fundamentals, I posit that the G5 is more fun to use, and with a bit of tweaking through Manual mode, can produce better photos. Moreover, LG's Cam Plus, while expensive at $69, adds a two-stage camera button, zoom controls and a battery boost for those who want to spend more time taking photos and video.
I'm a big fan of the Galaxy S7, but I find my hands wandering to the G5 when it's time to take photos.
Android Central Newsletter
Get instant access to breaking news, the hottest reviews, great deals and helpful tips
Daniel Bader was a former Android Central Editor-in-Chief and Executive Editor for iMore and Windows Central.
Those are pics of Seattle right Posted via the Android Central App

I think it's Pyongyang.... Don't hold me to that Posted from my Nexus 6/Nexus 7 2013/Surface Pro 3

Funny by the way lol. Posted via what ever tickles me at the time.

Really Posted via the Android Central App

No doubt G5 is a sleek, powerful smartphone with a great camera, and an exciting new modular system. Unfortunately, every new phone has some issues and the G5 is no exception. here are 10 annoying LG G5 problems, and how to fix them http://attractivereview.com/2016/05/01/10-annoying-lg-g5-problems-and-ho...

While I don't know exactly where this is, I do know that is most definitely not Seattle. Posted via what ever tickles me at the time.

Whoops. AC is based out of Seattle or am I all mixed up Posted via the Android Central App

Andrew is in Seattle Posted from my Nexus 6/Nexus 7 2013/Surface Pro 3

He said he got two Canadian phone. Bell and Rogers. So it might be Canada. But I saw dunkin donuts and bud light so it could be U.S too.
Edit - looks like big Apple
Posted via the Android Central App

Are yall joking???...or yall really don't know that, that's Manhattan???? Posted via the Android Central App

Dudes, those pics are definitely Manhattan, in the vicinity of Herald Square.

I find it offensive that you're calling the camera wide. We're all beautiful on the inside. /s Posted via the Android Central App

Its not wide, its big bon...I mean its big chassis'd Posted via the Android Central App

LOL! Thanks for the chortle.

Oh my god! :D There should be "Trigger warning" :D

Sorry, taking pictures is a huge part of me owning a smartphone, but it isn't the ONLY part. When taken as a whole the G5 just doesn't seem to be a very good phone, from a lesser screen to a UI that is STILL a mess, that is a hard pass from me. Others might be able to overlook the faults when the cameras are added to the equation, but more and more it is about the experience as a whole, which is something LG still doesn't understand.

Are you also a Nickelback fan?

Worst rock band ever. Posted from Nexus 6 running Android N

Yeah, i don't even consider then a band. Let alone a rock band. The fecal five are better....and they aren't real!

Man, I don't know. Nickelback is certainly near the top (bottom?) of the suck-list, but it's hard to beat Poison for sheer worthlessness. Posted via the Android Central App

Maybe, but the chicks loved Poison. Posted from Nexus 6 running Android N

I mean, no? I don't get that reference. Posted via the Android Central App

What IS wrong with Nickelback?
I don't get the hate. Posted via the Android Central App

I know nothing of rock bands but sometimes its popular to hate whatever is popular. Posted via the Android Central App

Touchwiz is still very much a mess yet people still buy it. Posted via the Android Central App

Yes,just keep repeating the same drivel,that will make it true. Posted via the Android Central App And you said it yourself,its popular to hate what is popular.hahaha,you're very funny

Lesser screen to what? You can have a preference for AMOLED or LCD but the G5 has an excellent iteration of its technology, one of the best ever produced. The phone is also far from being a mess. Quit believing the hype. We own the G5 and the S7e and both are excellent with their own myriads of minor strengths and weaknesses. Posted via the Android Central App

THANK YOU!!! I completely agree. I've bounced from the G4 to the S6, to the V10, then the BB Priv (which I still love) and now the G5. Granted, I haven't used the S7 yet but I wasn't a huge fan of the glassy S6 so I know I won't like the S7. While the S7 might be superior in some aspects, I feel that I'm way too happy with the G5, especially while I have the Cam+ module plugged in. I'm hoping that LG keeps moving forward with the modules and we'll see more, but ultimately I'm waiting to see when Ara is finally released when it comes to modular phones. I think for now the G5 is beyond just a damn good choice when deciding on a new flagship. Posted via the AC app on the G5

Nice article, but definitely don't agree with you in one point: the Samsung Galaxy S7 is NOT the clear winner in photography! I actually consider other smartphones to be superior in many situations. The G5 is one of those! Even my V10 takes really better pictures than the S7 (compared pics with the S7 of a friend). And i think the wide angle lens is really fun to use. i always use google cameras panorama wide angle feature.

This. I've been meaning to post something like this for a while. It seems everyone has agreed to pretend that the GS6, G4, V10 (and now the G5, with the same primary camera) aren't better than the new Galaxy shooter. All the pics I've seen tell me that Sammy compromised a bit on this one. And that's fine. They wanted better low light performance, and they got it. But it's clear the kool-aid has been passed around quite a bit with this one, with everyone acting like the last-gen Galaxy (and the others I mentioned) isn't noticeably superior. Posted via the Android Central App

S6 isn't noticeably superior. I've used both S6 edge and S7. S7 came out tops in pretty much all scenarios bar macros and selfies.

So they did compromise as he said Posted via the Android Central App

Right. Both cameras go back and forth in certain aspects in most unbiased reviews that I've seen. Posted via the Android Central App

Hold on a second, I thought using anything but full auto mode was a crime on AC? Good article though; I enjoyed it very much. Posted via the Android Central App

Yeah, I never understood that one. Test the camera to it's full potential. Posted from Nexus 6 running Android N

I think if LG had just given in and made a sealed battery, non modular phone, they had all the ingredients to make a fantastic one. I know people will be cursing me for even suggesting that, but... Posted via the Android Central App

I agree, also the camera module needs to be vertical. Replacement batteries are a thing of the past on flagships. If this is the most important factor in a phone purchase, people are limiting their choices. The rest of us do just fine without them. Posted from Nexus 6 running Android N

Funny you should say that. Guess who's just spent half an hour shoddily mocking up exactly that? I also think the curved glass on the top AND the bottom would be cool. Anyone remember the dell streak? https://imgur.com/f6P4lJq And in purple. https://imgur.com/MxEhmbL This is still far from my ideal phone design, but using the elements LG has, this would have been my choice. Posted via the Android Central App

Yes, looks much better. Posted from Nexus 6 running Android N

I have to say that render looks better. The current camera layout looks like they were intentionally trying to keep it from looking like the 6P. But you know what? I don't mind the camera layout, or the finish, or the texture. What bothers me about every G5 I've seen in person is the module fitment and lack of precision. If you are going to have a unique feature like that, then it needs to be robust, it needs to be durable, and it needs to be precise. I pulled apart a phone last week (HTC M8), and the usb port was steel, set in a diecast metal frame, and secured using a thick steel strap with screws to the metal body using brass inserts. If LG had put that kind of build quality into the module mechanism, then few people would complain.

I agree, I like the finish on the back. I don't care if it's metal or paint, it feels good. But I've also looked at a few different G5s and they all have the gap at the bottom between the phone and the module. That's just not good enough. Posted via the Android Central App

Importance is relative. If a removable battery is important to you, then it is. It's not up to you, me or anyone what's important to an individual. What matters to a person, matters to that person and whatever you and I think is not relevant. Who are you to say what's important in a flagship phone? Options are good, regardless of what we think it's good or bad for a phone. Posted via my LG G5

I guess someone doesn't like others opinions. Relax. Doesn't change the fact choices are becoming limited. What, did I offend you? Posted from Nexus 6 running Android N

No, you didn't offend me. I like the end of your statement where you try and antagonize me though. Opinions are great. You have yours, I have mine. I'm just saying options are good. People like different things man, regardless of what the market says. Posted via my LG G5

It sounded as if you don't like the opinions of others. Posted via the Android Central App

This is why I started my comment with "I think". Because that's what I think. My opinion is that removable batteries are destined to end up along side physical keyboards as a tiny niche. If a removable battery is a must, then I don't think there's much wrong with the V10 design. I don't care for the pattern of the back, but that's an easy change. Cases with added functionality via USB-C would be my solution to the modules. Posted via the Android Central App

Now this is fine. If that is how you feel. Saying you're "limiting your options" is a bit broad though. Every individual knows what their shopping for. At the very least people that frequent this site. Posted via my LG G5

V10 is the only phone with a removable battery that I've had in a few years. I keep a spare charged because I shoot a lot of pictures and videos with it. Having a removable battery isn't a deal breaker for me but it is nice to be able to swap batteries. Posted via the Android Central App

Exactly. It is better to be able to remove the battery if you feel like it. Not being able to swap the battery out is a huge compromise to me. Posted via the Android Central App

Removable batteries will be around as long as battery life is as crappy as it is now. Battery life for any phone I have ever had is 5-6 hours TOPS after having my hundreds of apps installed and running. For now removable batteries are here to stay. Posted via the Android Central App

Thank you. Posted via the Android Central App

So we should all just make compromises as you have? Posted via the Android Central App

Please, how boring can you get? The modules are a fantastic idea and I'm glad that LG is trying something new in this now boring and vanilla smartphone landscape. I hope they get it right next time and also allow for the dac module to be available in the US. Posted via the Android Central App

If you're referring to my photoshop images, I agree, they are pretty bland. But I was just working with what the G5 already had. And getting it right next time doesn't make the G5 any better. And as I said, all the functionality of both the modules so far could have been accomplished easier and probably better with USB-C connected cases. You don't need a poorly fitted removable section of the phone to do that. Posted via the Android Central App

I used the S7 for a whole month and loved it (exynos version) I think its the greatest sphone of all time. I gave a try to the G5 and it is So much better than ppl think it is. Seriously I love it too. Its not better than the S7 IMO but its a fantastic device. I bashed LG prior before I tried the G5 but I owe them an apolgy. I would encourage those who are on the fence to go ahead and try it, its awesome.

Not my choice,but to each their own. Posted via the Android Central App

My mom has the g5 and I have the s7. Honestly I rather have the Extremely fast focus and the great nightitme shots that come with it vs the wide angle. What also stopped me is the lack of OIS on the wide angle camera. The focus on the s7 makes it a lot easier to take a picture of my toddler.

The wide angle cam has ois

Gotta love it when you have the choice to do more. G5 is badassery! Posted via the Android Central App

"without the use of LG's optional Friends — there is an argument to be made that the G5 is up there with the best smartphones on the market right now." Somebody else said. Guys...... Somebody else said it. It's in print! Posted via my LG G5

V11 where r u? Posted via Android Central App

I'd actually like the next V-device to be named the V12, if LG had engines in mind when it came to the V10. Posted on an LG V10

From what I have seen in camera comparisons, the G5 is top dog.

V10 CRUSHES this POS phone Posted via the Android Central App

I was wondering what phone was out there that you didn't consider to be garbage. Posted via Xperia Z5

lol Posted via the Android Central App

Ever tried playing a decent demanding game on the v10? It doesn't crush the G5 in that area at all. What I loved about my v10 was the awesome DAC though. I'm on the G5 right now and I'm once again contemplating a stand alone DAP... Posted via the Android Central App

The only reason I don't go LG or Samsung is because I'm purist. I love stock. But, Google lags with the superstar specs like a modular battery. Project Ara is cute but this is the hybrid between classic and modularity. Hybrids are often better than either. Mixed chicks anyone? I love my N6 and I'd love the same sized phone with modularity. AC app via Nexus 6

There is always that one guy !!!

download Android 4.4.2 /for tablet REMax model:R8

It has f/1.8 aperture not f/1.7

I'm glad you liked it. The selling feature of the phone was supposed to be its modularity, but since modules are practically non-existent at this point, its next best selling point is the wide-angle camera. But that's not a big enough selling point for a phone, IMO. I played around with the G5 and I hated it. It's definitely not for everyone.

No video? Posted via the Android Central App on my Zuk Z1. Loving it.

Wat about Lumia 950/XL, it's equipped with better camera. Posted by a Lumia Lover.

Have they changed the camera module on the 950 then? Posted from my Nokia 3310

There is a way to turn the app drawer back on! Posted via the Android Central App

Go to LG Smartworld and download Launcher 4.0

Came from the s6e and I love my G5. The "Friends" deal wasn't a concern for me, so I really don't care that there aren't modules available. I wanted the phone as is.
Android Central Newsletter
Get instant access to breaking news, the hottest reviews, great deals and helpful tips
Thank you for signing up to Android Central. You will receive a verification email shortly.
There was a problem. Please refresh the page and try again.