A love letter to the LG G5 and its wide-angle camera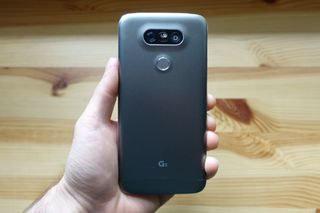 I was desperate to find something about the LG G5 that hasn't been said already. But the internet is already full of smart things about the phone, which is not only LG's latest flagship smartphone, but its acknowledgement that its existing strategies haven't been working.
I have a dirty secret, though: I really like the G5. From its metal chassis to its well-placed rear power button-fingerprint sensor combination, LG got a lot right when it comes to the G5's design. Assessed as a standalone product — that is, without the use of LG's optional Friends — there is an argument to be made that the G5 is up there with the best smartphones on the market right now.
Even its software, aside from the questionable choice to get rid of its launcher's app drawer, has a lot to like.
LG has been struggling. It still sells upwards of 30 million smartphones every year, and has even eked small profits from its high-margin smartphone business in a couple of quarters over the past few years, but there is no question it's extremely difficult to make money in the mobile space. That was likely the impetus behind LG's Friends strategy: offer the phone for less than the competition — the G5 is about $100 less than the Galaxy S7 — and prop up those margins with modules, like a camera grip or high-quality DAC.
It's too early to assess whether the strategy is working, but early reviews have not been overly kind to LG's overarching ideas. Some lamented the move away from a design language many considered successful — and in a market with very little originality — unique, with the G4. Others found the implementation of the modules to be clunky, with selection both limited and overpriced.
But after using the G5 for a couple of weeks, I have fallen for its manageable size, its zip-fast performance and, most of all, its camera.
The fundamentals
Most people I've spoken to about the G5, including our own Phil Nickinson and Russell Holly, rightfully took issue with LG's decision to create a seam just below the display components to facilitate the removal of the battery. To an untrained eye, the G5's battery seam looks like it could be an antenna line, or something else equally innocuous. But keep extracting the battery and it becomes clear that, like a casement window loses its seal over time, LG can't overcome the consequences of physics.
Let's assume, though, that most people won't be regularly removing the G5's battery, that the Cam Plus grip won't become a permanent fixture on the bottom of the phone. LG has done an admirable job with the G5's design, from the glass display's concave curve to the intelligent placement of the rear power button.
Internally, the G5 is what you'd expect from a $650 smartphone: all Qualcomm 820 and 4GB RAM, 32GB storage and a fashionably high-megapixel rear shooter. The QHD screen, while lacking the same capacity for brightness as the Galaxy S7, is respectably sharp and vibrant, and I'm thankful to say that both of my retail units (one from Bell, the other from Rogers) are without backlight bleeding, a problem that plagued some pre-production models.
The 2,800mAh battery has served me well, with uptime that rivals that of the slightly more capacious Galaxy S7. And that it charges with reversible a USB Type-C cord is, after squabbling with Micro-USB for so many years, an absolute dream. I doubt I will ever purchase a secondary battery, nor purchase a coffin in which to charge it, but it's nice to have a fallback should I need one.
All of these things are fine and good, and bare necessities for a smartphone at this price. But what really impresses me about the G5 is what many dismissed as a gimmick when it was announced at Mobile World Congress: its second, 8MP wide-angle camera.
A 135-degree love story
I've always loved landscapes. They're less tempestuous than photographing people, and aren't liable to blink at the last second. While traveling, I tend to bring an 18mm or 24mm lens with me to capture cities at their most expansive.
But in recent years, as DSLRs have given way to the ubiquity of smartphone cameras, I find myself using those wide-angle lenses less and less. This is why the G5's second lens's near-fisheye field of view has proven so essential to me, especially given how carefully it has been integrated with the main camera.
A single icon transitions between the two sensors, allowing you to easily note the differences. While the main 16MP shooter has a still-wide 28mm equivalent focal length, the 8MP sensor is tuned closer to 18mm, with barrel distortion at the edges and a host of imperfections that just make it more fun to use.
No one should take the quality of the optics too seriously from the second camera: the 8MP sensor isn't particularly noteworthy, and the f/2.4 aperture on the wide-angle lens is practically useless in the dark. But that's what LG's main 16MP, f/1.8 lens is for, and why I had so much fun switching between the two. It fostered my most creative moments in smartphone photography, natively enabling something for which I'd typically need bulging accessories or adapters.
Image 1 of 6
I'm not one to overly scrutinize the minute differences between smartphone cameras. I think most flagships have reached a point of core competency that rivals many point-and-shoots, and then some. The Galaxy S7 is the clear winner in the Android space, and potentially the entire smartphone space, with devices like the G5, iPhone 6s Plus and HTC 10 not far behind. But each has their quirks, and as we move closer to the end of the decade it is increasingly apparent that the tension between sensor size and companies' willingness to thicken their phones is the main barrier to improving smartphone cameras.
While the G5's second camera is not used to augment the first, companies like Huawei, with the P9, are taking that approach, and we should see more of those ideas implemented relatively soon.
Consider this
Consider this: if you're a photography buff, get the LG G5 over the Galaxy S7. Even though the latter has slightly finer fundamentals, I posit that the G5 is more fun to use, and with a bit of tweaking through Manual mode, can produce better photos. Moreover, LG's Cam Plus, while expensive at $69, adds a two-stage camera button, zoom controls and a battery boost for those who want to spend more time taking photos and video.
I'm a big fan of the Galaxy S7, but I find my hands wandering to the G5 when it's time to take photos.
Get the Android Central Newsletter
Instant access to breaking news, the hottest reviews, great deals and helpful tips.
Daniel Bader was a former Android Central Editor-in-Chief and Executive Editor for iMore and Windows Central.