The LG G5 spare battery coffin is a brilliant little charger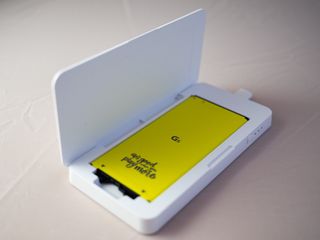 One of the more important features of the LG G5 is the battery. Specifically that it's removable. And because you can swap in a spare battery (opens in new tab) whenever you feel like it, it makes sense to have an extra on on hand. To that end, LG is giving a good many folks who ordered early a free spare G5 battery, complete with charging cradle coffin — and a sweet little adapter to boot.
As you might well have guessed, this isn't just a charging cradle.
Let's take a quick look.
So here's the deal: You pop a battery in the coffin — c'mon, that's exactly what it is — and then charge the whole thing via USB-C. It inputs at 5V at ~1.8A. And perhaps our favorite part — it comes with a handy little USB-C to microUSB adapter, so you can use any aging microUSB charger to power this thing up. (That adapter is definitely going in our gear bag.)
But this coffin also has a USB-A output, meaning you can use it (and the spare battery) to charge other devices. Or, if you want to get really meta, you could charge the G5 without actually swapping in the second battery. You'll be better off putting the spare battery into the G5, though, as the coffin outputs a 5V at ~1A. But in a pinch, you can use this to give a little extra juice to your other devices.
And to that end, there's a power button and LED lights on the side of the coffin, which is how you'll tell it to start charging something else. (And then know how much juice is left in the battery.)
Image 1 of 10
The kicker, though, is that this particular bundle is expensive if you try to buy it, but cheap if you preordered the G5 in the United States. If you buy/bought your G5 before April 30, you have until May 16 to claim all this, for free. (Here's where to do that.) Or you can pay way too much at other retailers, or play the import game.
See at Best Buy (opens in new tab)
See at eBay (opens in new tab)
Get the Android Central Newsletter
Instant access to breaking news, the hottest reviews, great deals and helpful tips.
The coffin. Where batteries go when they die.....to get recharged....Bwahahahahaha

Onite issued some free samples. You can request one for trial in their facebook or amazon. No worse than the original.

This looks like the Samsung charger Posted via the Android Central App

Too bad the LG V10 battery coffin doesn't act as a charger as well. Posted via the Android Central App

Yeah, they upped their game here-- the LG G4 coffin barely tells me that the battery is charged.

Well I pre-ordered my unlocked G5 from B&H the day they put it up (3 weeks ago? 4?) but still have no ides when its ever gonna ship. So I guess this only applied to carrier-based phones?

using this with my V10. the coffin is awesome to bring your second battery with you and keep it protected.

It's sweet that LG cares about the afterlife of its phone #TeamFrosty Nexus 6P

LOL, how cute to call it a coffin, sounds like something a tween girl would say. ;D On a serious note, they want $90? Wow, that's $40 more than the Note 4 spare battery charging kit. Guess they think that USB-C adapter and the ability to charge another device justifies almost double the price.

I absolutely hate lg right now. They accepted my 360 cam promo but rejected the battery cause of the receipt haha. Suckers. Posted via what ever tickles me at the time.

Receipt? What was up with your receipt? Posted via the Android Central App

No idea lol. Like I said, couldn't have been any issue if they accepted one promo and not the other. Trying to figure that out actually. Posted via what ever tickles me at the time.

I seen this before, its that its not recognizing the signature when scanned or a photo. So do a signature with a Sharpe so it can be read better and you should be good to go.

I'll say it, then.
When you put something in a coffin, you don't normally run a charge through it and expect the contents to be up and running in a few hours. I'll swing by the cemetery opposite my local hospital at 4 am though just to be sure. There's only iron railings there.

So glad you said it. /s Posted via the Android Central App

Bro...Lazarus made these batteries. Chill.

I thought it was Icarus...

No, Lazarus. Icarus was the clever fella that flew towards the sun with his new wings and came a cropper, or something.

Ok so he used solar panels to charge the batteries.....lol

Lol. I don't think that's what it said in the Bible from my school days, but you can have comedic licence with that one. :D

Cemetery across from your hospital? I'm not going to your hospital....EVER!

It's true. Bad hospital too. Rumours of a conveyor belt going under the road.
If they don't like ya, or are in a bad mood, or go whoops! ... you're on it.

Must see a picture of this charging an S7!

That's what I have for my Galaxy S5 but it doesn't work as a charger. Though the one I have for the BlackBerry Z10 works exactly like this -except for the usb-c part of course. Posted via the Android Central App

So, you can use it as a modular, refillable power bank. That's pretty cool! I'm sure MSRP is higher than it will actually be sold for, like most things.

Received mine yesterday. Super convenient on the weekends. Posted via the Android Central App

These are nice little cradles... Wish the one for the V10 was as "advanced"... but for $10 it's not bad...

I love smartphones with removable batteries. LG gives us battery swapping lovers hope.

I have and use mine from the same deal LG did with the G4.
Works great and charges fast although my battery usually lasts the entire day. Posted via the Android Central App

So, why is it being called a coffin? It's not because it's where dead batteries go (to get recharged), eh?

Think he was just trying to be funny as the shape is coffin like, has a lid and a battery that lays down inside it. Otherwise, the only thing that recharges in a coffin is a vampire... ba dum tss! ;P

That's all it was...trying to make a funny.

The coffin really comes in handy. I get them for less than $10 on Amazon. They only have it for 4 models, but there might be other manufacturers that make similar ones. Just search for "lemfo spare battery charger" and you'll see them. Posted via the Android Central App

I get both if mine tomorrow! My 360 cams should be shipping soon too. So that's a total of almost 600$ (msrp) I got free for ditching big red and switching to tmobile!? LG made my day with these offers. Posted via the Android Central App

My Galaxy Note 5 and I just sit here and stare with looks of envy. :-\

I stare at my S7e that lasts me more than a day wondering why i would ever need the coffin....

So that you can last double that without having to plug in.

I don't plug in. I use wireless charging!

Well, then so that you can last double the time without having to wait for your phone to finish charging on the pad. I think it's great that your phone lasts all day for you, my personal usage gives me around 12-14 hours when I'm working. If I want to head out after work, having a spare battery really comes in handy since I don't have to wait an hour to let it charge up. I can just keep moving. Having a spare effectively means that i can keep another 12-14 hours of charge in my wallet. I love having that capability.

If you don't use your device enough, then replaceable battery is not needed. For folks like yourself, you are all set. Congrats. But if your a heavy user. If you wanna be 100% carefree concerning battery usage, then replaceable is BY FAR the best solution. No more energy saving mode. No more dialing down the brightness. No more planning to make sure I have enough juice. Just swap (45 seconds) and your back at 100%. I like the battery life on my Note, like wireless chg, and like rapid charge. They are all good. But since leaving my Note 3 and extra cell + wall charger, I have now started to live the life of wondering what my battery level is. Asking where is the mat or where can I get a plug? Swappable battery living is the uncontested winner in current battery tech for power users. Love my Note 5 (minus the fragile glass back), but loss of replaceable cell is a major downer. Especially with a nice charger like the coffin. LOL

At some point your S7e's battery isn't going to maintain the same capacity, something that started happening to a lot of Note 4 users around the one year mark. Or worse it may develop a dendrite (a bad cell) where the battery no longer holds a proper charge causing your phone to randomly shutdown. For those with a user-replaceable battery either issue is an easy fix! :) Besides those potential issues, I highly value a user-replaceable battery simply for the freedom it provides in using my device (Note 4) as hard as I want knowing there's a fully charged spare (or spares) ready to get me back to an immediate full charge, something I've often used when out all day and into the night. :)

You're right and there's nothing wrong with that. I'm not downplaying the use of extra or external batteries. I'm just saying at this moment i don't have a use for it. Besides I'm all for a 10000 mah external for extreme cases. Also i can trade my phone every year and within that one year, there's a warranty.

Absolutely no quabbles with that!

Statement for biggnaa20...

I'm really glad someone wrote about this. I thought all the sites would ignore it. Seems like this is the reason to have a removable battery after all, because only one can be charged inside a phone. So if someone brings a spare, swaps it around 5:00pm, then gets home to charge their phone... What about the first battery... Nice to see an answer to that.

It is very awesome...except for today, when the coffin suddenly stopped charging my battery. Probably a loose wire or something, I'd imagine. Need to look into if I can send it for a replacement or repair (I've had it for all of like 4 weeks, tops).

I got mine (free) when I upgraded to the G5 last month. I'm in Canada btw (from Fido specifically), and it looks like the promotion is still on. Anyway, really like the coffin and spare battery, as I hate using the phone while tethered when the battery is low and being charged. I had an extra battery for my previous phone too but didn't have a stand-alone charger for it, so it wasn't as useful as this setup. My only gripe: the size of the coffin - it's thicker than the phone! Then again, that's just nitpicking.