The LG G5 spare battery coffin is a brilliant little charger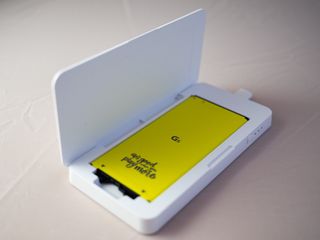 One of the more important features of the LG G5 is the battery. Specifically that it's removable. And because you can swap in a spare battery whenever you feel like it, it makes sense to have an extra on on hand. To that end, LG is giving a good many folks who ordered early a free spare G5 battery, complete with charging cradle coffin — and a sweet little adapter to boot.
As you might well have guessed, this isn't just a charging cradle.
Let's take a quick look.
So here's the deal: You pop a battery in the coffin — c'mon, that's exactly what it is — and then charge the whole thing via USB-C. It inputs at 5V at ~1.8A. And perhaps our favorite part — it comes with a handy little USB-C to microUSB adapter, so you can use any aging microUSB charger to power this thing up. (That adapter is definitely going in our gear bag.)
But this coffin also has a USB-A output, meaning you can use it (and the spare battery) to charge other devices. Or, if you want to get really meta, you could charge the G5 without actually swapping in the second battery. You'll be better off putting the spare battery into the G5, though, as the coffin outputs a 5V at ~1A. But in a pinch, you can use this to give a little extra juice to your other devices.
And to that end, there's a power button and LED lights on the side of the coffin, which is how you'll tell it to start charging something else. (And then know how much juice is left in the battery.)
Image 1 of 10
The kicker, though, is that this particular bundle is expensive if you try to buy it, but cheap if you preordered the G5 in the United States. If you buy/bought your G5 before April 30, you have until May 16 to claim all this, for free. (Here's where to do that.) Or you can pay way too much at other retailers, or play the import game.
Be an expert in 5 minutes
Get the latest news from Android Central, your trusted companion in the world of Android