Lightning Launcher: More customizations than you can shake a stick at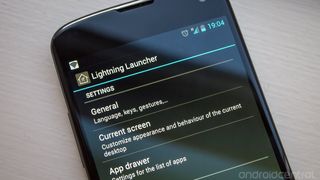 One of the great features of Android is the ability to change launchers, and within that category the ability to go completely off the rails with customization -- Lightning Launcher is one of those options. It's going to take some work, but the incredible set of controls and changes you can make with this launcher may be worth it if you're motivated. Best of all, it's free as well.
Stick around with us after the break and see how far the customization can go with Lightning Launcher -- users looking for a basic launcher with a few extra perks need not apply.
There's not really any easy way to start explaining what Lightning Launcher does. That's not necessarily a bad thing though, as you'll quickly realize the power of the settings and options once you put some time into it. On the face of it, Lightning Launcher looks similar to other launchers. You have an "all apps" button pinned in the center of the dock, and a few normal home screens. The app drawer is vertically scrolling but sticks one page at a time, and is transparent. Things quickly get out of hand -- so to speak -- once you choose to move apps around though, and that's when the fun begins.
You can basically customize every single function of Lightning Launcher, such as app placement, folders, widgets and home screens down to icon packs, fonts, alignments -- to name a few. Starting out with a basic home screen, you can bring apps into the launcher with a long press and a tap. And get used to it, there are copious amounts of long presses required to change things around in this launcher. Long pressing further when on the launcher gives many options for manipulating the apps. You can drag them around, resize their placement, put them in folders and "pin" them. Think of pinning an item as putting it permanently in place no matter how you move the launcher home screens around -- sort of the way the stock Android launcher handles the 5 icons in the dock. You can pin apps and widgets anywhere on the screen, which can be useful but also get things very messy and frustrating quickly.
You'll also notice when moving apps around the home screens that you can create new screens in any direction. You can move up down left or right and create new screens just by dragging an app or widget over. I found this particularly useful as a way to "hide" large 4x4 widgets but still have them available one swipe away. I could put a Plume for Twitter widget "above" my default home screen, and with one swipe down it's in view -- and my other apps and folders didn't get pushed off to the side any further.
And that's just the tip of the iceberg with Lightning launcher. Dive into the settings from the key at the top right of the app drawer and you'll be greeted (or overwhelmed) with the number of options. Luckily the defaults are pretty user-friendly, but if you choose you can configure gestures, two-finger swiping, the layout of apps, grid sizes, how folders are displayed and so many more. The most dedicated among us can even implement icon packs and new fonts, which is a big plus for anyone looking for a unique look. The one hugely important part of the settings is that when you're making changes, you can swipe left to get a full-sized preview of what the changes will be. This will save you countless taps when you're tinkering with it.
Lightning Launcher provides something that few launchers do, and that's the ability to completely transform what your phone looks and acts like as long as you can think it up. The crazy number of settings and options could (and likely should) scare away the casual users. But we're completely okay with that, because there are dozens (upon dozens) of great "classic" launchers out there that provide just a few tweaks for the basic user. For the rest of us that want to take full control of the way the launcher looks, Lightning Launcher is here.
Android Central Newsletter
Get instant access to breaking news, the hottest reviews, great deals and helpful tips
Andrew was an Executive Editor, U.S. at Android Central between 2012 and 2020.
Nova FTW??? Damn, I might have to check this out.

NOVA FTW!
But seriously this looks pretty cool, I am going to give it a try as well. The higher level of customization is very cool, but its going to hard to compete with the ease of use, stability, and overall slick look of Nova.

How does the screens-above-and-below thing work with scrollable widgets?

Normally I wouldn't, but with all these Nova shout-outs I just have to put in my two-cents in behalf of my beloved APEX. :) Lightening looks like something worthy of a look-see.

Just didn't want you to feel alone... APEX FTW! Haven't seen a need to leave it yet but still might give this one a look.

I actually went back and forth between Apex and Nova. For the life of me, I can't remember why I settled on Nova over Apex but I have been using it for the last year. It may have just been the look of the menu or something minor like that. Honestly, they both do all the things I want. I think they are the 2 best launchers out there, although this Lightning Launcher looks intriguing enough to try.

this launcher is terrible

overly cluttered, no structure, ugly, incomplete...

Absolutely agree! Just once could someone invent an app that is high tech but SIMPLE to use and operate? These are great if you are a tech head or Android expert but what about the huge market all these developers are missing out on with all the NON tech people out there. This looks a good app but is so complicated to use, got locked out of my phone in seconds, please give simple, non tech instructions with pics we can see!

They already have those launchers. Nova, Apex, GO, NEXT, Launcher 8, LauncherPro, etc, etc, etc... This launcher isn't for you or the "NON tech" (but really just NON willing to study, try, fail, learn, study, try, succeed as this isn't a "tech knowledge" issue) crowd. This is for people that WANT to delve deeper and really mix things up, even if that means reading, or watching videos, or trying and failing so you can try again and get it right.

It's because your the one who will configure it. Its up to you whether you're going to download the widgets and icons or your gonna configure it using the script editor. Darn dont just say anything despicable if you don't understand and knew how use it.

Choice of Launchers is awesome, but their lack of GLOBAL Badge Notifications (not just SMS, GMail, Calls & a few others) keep me sticking with Nova which supports them (when combined with MissedIt).

That's good to know. Thanks.

I haven't tried Lightning Launcher yet but there is a lightning launcher "badge" add-on app.
EDIT: It's just for phone, sms, and gmail.

i might try this, but i'm a SUPER huge fan of SSLAuncher. I like that in SSlauncher there is no grid, but you can copy/paste short cuts and icons that you create. even whole pages. might give this a try, i love launchers.

I used SSL for a while and loved it. I bought the pro version too. Eventually (like many things), I got bored and tried something else. I LOVED the unbelievable customization available on the launcher, tho. Now I'm on Nova Prime. I'm a big fan of launchers myself. Gotta try the new ones! I'll probably give this one a whirl.

Nova user here too. It's smooth, fast, and lets you put apps in folders in the app drawer (where as most launchers last I checked don't let you do this). Go Launcher did but was slow last I used it.

I was using GO Launcher EX (still have it installed) but I'm trying Lighting for a while. I do miss the app drawer folders from GO Launcher EX :( But the size of Lighting is amazing.

Andrew, is that a theme your using, or how did you get that mirror effect for all your icons?

+1 That mirror affect does look very nice.

I think it's a theme, because I haven't seen any icon packs that produce that same effect.

The mirror effect is a feature of Lightning Launcher.

That's the stock effect on Lightning Launcher.

Here's the setup I made a couple months ago. I've since opted for a simpler, single page style but I do miss the beauty of this one; and the screenshots in this article don't do the launcher's abilities justice :-P : lifehacker[dot] com/homescreenshowcase/forum?post=57272656

I wish there was a launcher for the Note and Note2 which made use of the S-Pen In particular, I'd like a third party launcher which had Samsung's Page Buddy feature, which adds home screens if it detects the pen is popped, headphones are plugged in, device is docked, etc. why don't I use native touch-wizz launcher? There were quite a few things which irritated me, all solved by using Nova. In particular, the way the Samsung launcher wasted a lot of screen space on the Note. Oh, and the page buddy feature automatically chose what icons to appear in the dock, according to frequency of use, which I found very very irritating, as they'd change too often and so you ended up putting your favourites as app shortcuts on the page and then the dock space would be wasted.

I tried playing with this launcher today..I do like a lot of the features, buttthe one feature I didn't see was multiple wallpaper support for different screens and also Live wallpapers didn't appear to be supported so Multi Live wallpaper can't be used. This is a deal breaker for me. If this was added it would be amazing.

I have tried all the famous launchers there and Nova is the best. You know why, not a single bug i have experienced in the 6 months of extensive use. Very fast, small memory and battery footprint. Highly customizable, best mixture of look and performance and usability. I am using galaxy tab 7 p3100, your experience maybe different but give it a try and you will never think again about any other launcher.

I've got to age with the Nova fans. Then again, I've got a unique reason: nova is the first launcher that has the same app drawer as I had in webOS. Everything else else is pretty similar to apex.

I have been using this launcher for a few weeks now.... Originally got it because it allowed me to put my icons anywhere without grid restrictions. However for the life of me I can not figure out how to change the icon pack (eg. change all default icons to a different icon pack at one time). This launcher has great potential but it needs some more easier user friendly features... At times I get frustrated and switch back to Nova!!!
Any help about changing icon packs would be appreciated!"!

It looks as if you can apply an icon pack in the Theme Manager app, in the Tools section. I just started trying this launcher out yesterday. I'm enjoying it. Thanks for the article.

Does it have shutters and covers? I thought not.

Just once I would like a SIMPLE designed app! Love the technology of this app but really? Got locked out of my phone as soon as downloaded! No instructions, so had to delete. We are not all experts or tech wizards.
Android Central Newsletter
Get instant access to breaking news, the hottest reviews, great deals and helpful tips
Thank you for signing up to Android Central. You will receive a verification email shortly.
There was a problem. Please refresh the page and try again.