Light Flow LED Control updated to v3.0.4, fixes for Jelly Bean included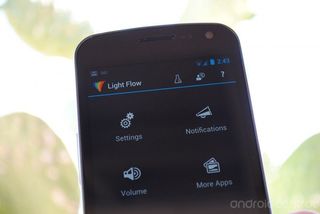 After the roll out of Light Flow LED Control v3.0, Google went ahead and introduced Android 4.1 Jelly Bean. This introduced some changes that needed to be corrected within Light Flow LED Control and now we're seeing v3.0.4 roll out to correct those issues as well as a few others:
Jelly bean fix - this hopefully fixes most of the issues
Gmail switching off fix
Fix for several crashes which playing notification sounds
Fix for Motorola ICS calendar
Fix initialization settings so notifications are enabled correctly
If you've been having issues with Light Flow on your Jelly Bean device, go ahead and fire up the Google Play Store and grab the update. If you're new to Light Flow you'll find the download link below. Keep in mind, there is a free version available use as well in case you want to test it out before going all in.
Download: Paid (opens in new tab), Free (opens in new tab) Thanks, eljedo!
must have app for the GNex! so glad he rolled out the JB support so quickly. The developer is fantastic. I totally tipped this story btw, no cred :( boourns

You never used your username. Updated. ;)

LMAO, thanks to a fellow Canuck! now I'm famous.

Its a Must have ... especially if you have a Motorola

I wish the Evo LTE could use this.

the galaxy nexus is my first phone with an LED, and I would find it very difficult to go back to something that doesn't have a light or isn't customizable. Does the EVO 4GLTE have a light?

Unfortunately far less reliable than it was on ICS & still doesn't play nice with other Apps requiring Accessibility Settings

I agree. Circle gets the Square.

And still having issues on my S3...

Came here to ask if app had been fixed for S3. Thanks for the update. Hope they get it working on the S3 soon!

I agree with eljedo, this is an amazing app and props for tipping the story ;). I laugh when my friends with their CrApple iPhones keep turning their phones on to see if they have a notification.....but its so magical on my tiny screen :p

Was hoping it was fixed on the S3 but alas, not to be yet! Hopefully soon.

I'm hoping so too. I'm working on it, but at the moment can't make much more progress until my imported US S3 arrives (I think it's just left Miami). I've already go a Euro one, but that worked already.

If only I could like posts!

Had to set up all my notifications again after the update, and it still doesn't clear the SMS notification properly... Other than that, it's great. Loved it on the GNex, and still love it on my Razr Maxx...

Why didn't you just restore a backup? I thought I was going to have to redo mine as well, but I just pulled my backup and restored it and it worked like a charm!

Try go into your phone settings, accessibility and uncheck lightflow and then select it again. This may help. If not, get in touch via the lightflow website.

Light Flow is THE most important app I have on my GNex.
A quick restore of settings and I was back in business after this update.

Awesome app for the Galaxy Nexus.

Wow, I didn't even know this app existed. It's very damn cool! Grabbing for my Nexus now. :D

Coming from a Blackberry I really wish it would play well with the US S3. It's one of only a few things I miss from my old storm.
Android Central Newsletter
Get the best of Android Central in in your inbox, every day!
Thank you for signing up to Android Central. You will receive a verification email shortly.
There was a problem. Please refresh the page and try again.