LG announces G Watch, powered by Android Wear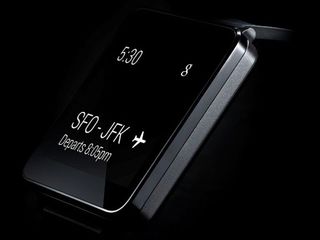 Hot on the heels of today's Android Wear announcement, LG has revealed its first smartwatch powered by Google's wearable platform. The device, teased briefly in today's announcement post, sports an angular design with a reflective black chassis. LG says the watch will be launching in the second quarter, and will be compatible with a "wide range" of Android smartphones
LG's announcement mentions many of the features which were highlighted in in Google's Android Wear demo reel. So you're looking at a wearable that can respond to voice commands through the "OK Google" hotword, as well as presenting relevant info in a similar way to Google Now on a phone.
LG doesn't have any specific pricing to offer for the G Watch, but says it'll "present a low barrier to entry for developers and offer the best Google experience for users."
Source: LG Blog
Alex was with Android Central for over a decade, producing written and video content for the site, and served as global Executive Editor from 2016 to 2022.
NEED. MORE. INFORMATION. Posted via Android Central App

I'm just waiting for Richard Yarell... Nexus 5...enough said

Haha
This thing and the Moto watch totally runs a 360 circle around the Galaxy Gear in every aspect.
Posted from my Nexus 5

Until I see it on a wrist, I wouldn't be too sure about design. It does look promising. And that Moto watch is sexy.

Basically destroys any other smartwatch out there, yes even this "smartwatch" pebble i own! SUPER EXCITED

Here, I'll save you the wait:
"Hands down nothing beats Samsung Galaxy Gear. Nothing. Everything else will suck Monkey Balls." /sarcasm

Wow! Almost thought its was him lol! Nexus 5...enough said

You missed the period at the end of the sentence
It must have been ... Everything else will suck Monkey Balls Period"

Shut up and take my money! Posted via Android Central App

Fine... give me your wallet

Think I prefer the moto 360, but still sexy!

I think a man needs both...for science! Posted via Android Central App

Not sure what you're talking about. I have four arms. So, two more companies need to make smartwatches that I'll actually buy. Then, and only then, will I be truly happy, lol. Posted via my "Gift from God" Note 3, my "Blessed" iPad Mini 2, or my "Risen" Asus ROG"

I am looking forward to the Fossil and HTC watches.
I have always been a admirer of HTC's design and build of their phones and I prefer Fossil for their simple and elegant looking designs of their watches. So maybe you can buy theirs for your other two arms

the moto x does look nicer but at least they are both running android wear which hopefully makes it compatible with most android phones. Only thing that will separate them is pricing.

That didn't take long Posted via Android Central App from Moto X

You think maybe it was planned this way?

This is what I ve been waiting for Posted via Android Central App

"low BATTIER to entry". Can't trust spell checks can you!!

Nice..hopefully Android Wear beat the crap out of Samsung's tizen wearable stuff. Samsung you are just an OEM, make hardware which you are good at and leave the software to big boys like Google. And to Android Central editors, does it matter what OS your watch runs? Yes. Because we want a seamless experience between our phones and watch, want developers to write apps to a single api and those apps should work on any watch i buy in future. I don't understand why you folks don't get it and act Samsung doing its thing for watch is not bad. Samsung want's to control software and wants to be like Google, Apple, Microsoft. But they will not succeed and come back to Google's android wear wagging their tails in a few months. Or they will just make one more watch running android wear as they tend not to put all their eggs in one basket.

Yeah! We hate choice! On a less sarcastic note; Since Google didn't have a good alternative when Samsung built their hardware, they made it themselves. Furthermore, who says you need Android in a smart watch? As long as the API:s in Android (on the phone or tablet) are properly available, the choice of operating system on a smart watch is pretty irrelevant. The absolute #1 priority on a smart watch is battery efficiency, which Samsung showed with Tizen by getting three times the battery life compared to Android despite increasing the processor speed.

Not sure whether stupid or a troll. First, going my sheer numbers Google is a tiny compared to Samsung. Second, considering the batterylife of Nexus phones, one should talk carefully about Google software. Both these are facts, not opinion. Unlike Android, Tizen is more 'open' where a consortium of organizations actually control the Tizen. It resides within the Linux Foundation and not a pseudo-open project like Android where everything is controlled by Google. You think you qualify to tell Samsung what they should do with their billions? Maybe you over-estimate your capabilities, otherwise you wouldn't be posting here, you would have been making 'these' decisions in the boardroom. If Microsoft/Apple/Google controls the ecosystem, that's good. If another company tries to control the same, that's bad. What sort of retarded logic is that? There is a place for many for companies to be successful and do what they think best. And nobody is forcing you to buy Samsung if you don't like it. Go get a Moto 360 or LG G watch if you life. But trolling like this in the forum is not the way to go about it.

Are you new here. Posted via Android Central App

This is not Tizen Central. Further, Galaxy Gear watches are only designed to work on Samsung phones, unlike the wearables which are coming. Perhaps you should go somewhere Tizen is favored.

I'm good and happy with my Pebble. It works well for my basic needs in a smart watch.... that being said, a watch that looks good (hell, decent) that pulls off a high quality, Google interface would definitely be a sure thing for me!

I love my Pebble, too. But honestly, after this announcement and with so many big name companies behind this, I'm concerned for Pebble's future. What they've built so far is amazing, but once companies like Fossil and Motorola start releasing awesome, stylish new watches that have more features...can Pebble compete anymore? Should they consider dumping their own platform and joining Android Wear? I dunno, man. But I know these new watches will probably be getting my vote when they hit the market.

Finally something for my G2! Already looking at Galaxy Gear for the misses Note3. Posted via Android Central App

My advice? Wait for one of these Google Watches. I've got the Galaxy Gear and if I hadn't gotten it as a gift, I'd be a bit disappointed. There are very few useful apps in the Samsung store thing for it. I'm sure the Google Watches will work just as well on the Note 3.

Yeah, and in the event that you switch to a non-Samsung device, the Gear becomes a paper weight. Posted via my "Gift from God" Note 3, my "Blessed" iPad Mini 2, or my "Risen" Asus ROG"

Yeah, there's definitely that, too. I'm kind of hoping that with the tizen update that might come someday, that it'll open the thing up to developers, but I'm not holding my breath. At this point, I'll be getting a Google watch when it comes out, no doubt. It looks soooo much better.

I just bought two Samsung Gears here in Toronto for $100 each. One for the GF for her Note 2 and one for me to install NullROM to use with my CyanogenMOD Kitkat Galaxy Nexus. Will have to get back to you on how NullROM works out.

Yeah, definitely let us know how that works out, brother! If it does work well, then you got a helluva deal! Posted via my "Gift from God" Note 3, my "Blessed" iPad Mini 2, or my "Risen" Asus ROG"

That watch looks exactly like my Sony SmartWatch 2...

There's always (at least) one in the crowd.

You're right, these will knock the Pebble watch right off. Sleep with the fishes.

So since LG worked with Google... Is this the Nexus 2? Posted via Android Central App

Definitely interested in finding out more, especially price. I'm hoping the low barrier to entry rings true.

Well, this is a completely boring design in comparison to the Moto 360.

i think this watch is actually better for screen real estate tha moto 360 looks like pics and text will b a lil smaller and with a round face it looks a lil cut off

Still prefer the moto watch but this ain't bad either.

I think the Moto 360 is the move... but I'll reserve judgement until full fledged announcements are made.

This seems more to my liking. Sleek not gaudy.

True, hopefully priced a little under half the cost of a Nexus phone. Replaceable bands I hope for also.

Sorry but nothing compares to a well crafted Swiss movement... A watch tells time and looks good. Those are wrist computers and look the part Posted via Android Central App

+1 Posted via Android Central App

I like the way the Moto 360 looks because it really does just look like a high end watch but I am liking how this one looks too because it feels more "smart watchy", it's a bit more like our phones and something about it's Nexus simplicity sings to me.

Super excited about all these new wearables and the future of wearables but.... square is out.

Yay great news ! The concepts look great from LG and Moto ( prefer the LG for now, don't really like round watches more feminine ) Good to see the minimal approach with the ui looks to be more unified than android. Funny though, after all this time Google does it again( from the looks of things ) no freakish neon frames and bits sticking out from straps e.c.t ( yes Samsung that's you ). Google simplified the android experience on phones and then into tablets and now it seems its translated into wearables. Only time will tell ( no pun intended ) if the battery tech will hold up and a decent enough screen will be included. Hopefully around 100gbp will keep me interested , anything more and that's silly money for an extra screen. Hope they ditch all this fancy heart rate yadda yadda and use the space for battery ! There are plenty of gimmick sports watches about. A nice sleek serious attempt seems to have made here from moto and lg. Posted via Android Central App
Android Central Newsletter
Get the best of Android Central in in your inbox, every day!
Thank you for signing up to Android Central. You will receive a verification email shortly.
There was a problem. Please refresh the page and try again.