LG V10 Marshmallow update now available from AT&T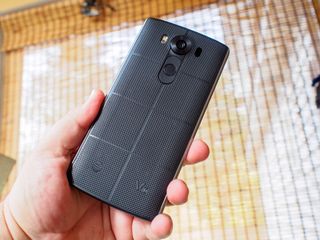 If you're rocking the AT&T variant of the LG V10, you'll be happy to hear that the Marshmallow update is now rolling out. The update weighs in at just over 1GB in size, so you will want to make sure you have enough battery power, and a strong Wi-Fi connection before attempting to download it. The update brings a number of new features to the phone, like enhanced permission controls, Doze and much more.
The update has only just started pushing out, so it may take a bit before you receive the notification on your phone. If you don't want to wait, you can head into your Settings, then About device and check for the update manually. Once you've got the update installed, be sure to hop in the forums and let us know how it is working out for you.
Discuss the AT&T LG V10 update in the forums
Jared started off writing about mobile phones back when BlackBerry ruled the market, and Windows Mobile was kinda cool. Now, with a family, mortgage and other responsibilities he has no choice but to look for the best deals, and he's here to share them with you.
Note 5 please! Posted via the Android Central App

US Cellular's Note 5 has had Marshmallow since March Gold Platinum Galaxy Note 5 on Marshmallow

Can you still downgrade to LP after update? Posted via the Android Central App

No Posted via the Android Central App

I used mm on the V10 and it was great so I don't know why you would go back to lollipop. The finger print reader is also vastly improved over what it was on lollipop. Anyway, I think you can downgrade though but you need LGUP and the huge lollipop KDZ file. Check XDA by Googling return lg v10 to stock. And no, you don't need to root the device. Posted via the Android Central App

Samsung owners attack!!! Posted via the Android Central App

I'm so on it! Posted via the Android Central App

Still haven't got it on T-Mobile Posted via the Android Central App

Do it manually with lgup. Its not hard at all. Can't you also use lg bridge? Posted via the Android Central App

That bridge crap isn't working ~My $0.02~

Come on, what about the Note 5 AT&T!! Happy your getting the updated enjoy. Posted via the Android Central App

Verizon? Posted via the Android Central App

Verizon's had MM for a while now...I think it was the first major carrier with MM on the V10

Samsung Galaxy S6 Edge + Marshmallow update no where in sight :( https://forums.att.com/t5/Android/Samsung-Galaxy-S6-Edge-Marshmallow/m-p...

i dont think its meant for samsung junk

lg is better because lifes good

The possibility of Nexus being choice for next phone is looking better and better. I guess adding unremovable bloat ware is hard than you think. Posted via the Android Central App

After charging $825 for the Note 5 (64gb) you would think AT&T would be able to dedicate some resources to getting us some MM goodness.

The real qusetion is why buy that from att when the unlocked version is about the same $ posted from my lg k7 (and my soon to be honor 5x....)

Payment plan as opposed to forking out the entire price. Also unlocked does not support VOLTE on AT&T.

It really must be a personal thing but I just love the look of that phone. But I digress. AT&T seems to have more LG love than Samsung love. My G3 and G4 both received their respective one up updates in relatively short order. The V10 is post G4 so it makes a bit of sense its M update would lag behind some.

I cannot believe how much better the fingerprint scanner works. Everything else just feels good. Nice update! Posted via the Android Central App

How about my G3 AT&T!?!? Posted via the Android Central App

LG G Flex 2? Come on ATT.

Anyone else's V10 really loud after the update? My ringtone's almost on silent, but you'd never know it when I get a notification or a call Posted via the Android Central App

Mine was loud. I had to adjust the notification sounds manually. I don't know why it's not tied to the ringer volume. But it was louder and I think the display is displaying brighter in the auto setting. Everything is smooth though. Posted via the Android Central App

Took an hour to download about 10 mins to install. Still playing with it but seems to be a big battery drainer so far. Posted via the Android Central App

Why so late AT&T? Posted via the Android Central App

Yeah so far its draining my battery pretty good, usually at 50% battery and brightness on 30-35% it says "12 hours left of battery" but its displaying about 5hours right now! Not too happy. Did notice though my ringtone/notification sounds are much louder. I like it, could barely heard a lot them before except phone calls. Also, my fingerprint scanner is still broken! Will not read any prints, got the phone day one and it broke a couple months ago. It's not a big deal since I use pattern security but will make me think twice about going with LG in the future. The button itself still works, just won't scan anything

The phone is under warranty have LG fix it Posted via the Android Central App

Since the UPDATE my battery SUCKS... Drains so fast.. 48% in less than 4 HRS of just surfing.. No games.. Movies or anything else.. Brightness is around 15..location is off.......WTF LG! Posted via the Android Central App

I regret updating my v10 almost everyday, battery is now about half what it used to be and my phone also has started to get so hot I am taking the battery out and letting it cool down. Also Bluetooth is now always on and no matter what I do I can't turn it off. Not only does Bluetooth stay on it just doesn't work when I actually want to use it. It will work for about a song then randomly disconnect (and no it's not a range issue) I am extremely frusterated and strongly regretting my choice to go back to LG after a previous negative experience with the G3.

Marshmallow on LG V10 ******* sucks. It's ridiculous. Stupid mobile data notification that comes on literally every god dammed time I turn off my ******* mobile data. It's annoying as **** and I'm not the only one who hates it. Why add the extra step?? It wasn't here before...******* pieces of ****.
Android Central Newsletter
Get the best of Android Central in in your inbox, every day!
Thank you for signing up to Android Central. You will receive a verification email shortly.
There was a problem. Please refresh the page and try again.