LG G7 vs. Samsung Galaxy S9+: Which should you buy?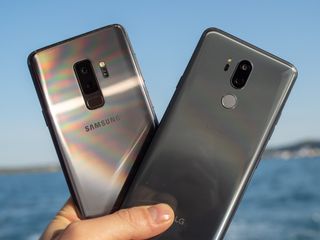 If you haven't gotten yourself a new phone in the last year or two and you feel like you're overdue for an upgrade, you're in luck: 2018 has produced some amazing new phones, and two of them come straight from South Korea.
The Galaxy S9+ is the current cream of the crop in Samsung's lineup, with a sleek and curvy design, dual cameras, and one of the best displays we've ever seen on a phone. It's not hard to see why it's already one of the most popular phones of the year. On the other hand, LG's new G7 ThinQ offers an alternative option for those who prioritize things like high fidelity audio and wide-angle photography, all without sacrificing anything in build quality or other premium features.
So what do you choose when both options are so compelling?
Specifications
You shouldn't judge a phone based entirely off of its spec sheet — there's much more to a phone than the sum of its parts — but comparing the Galaxy S9+ and G7 on paper at least gives you a decent idea of where each device strides (spoiler alert: they're both almost identical).
Swipe to scroll horizontally
Category
Samsung Galaxy S9+
LG G7 ThinQ
Operating System
Android 8.0 Oreo
Android 8.0 Oreo
Display
6.2-inch 18.5:9 Super AMOLED
2960 x 1440, 529PPI
6.1-inch 19.5:9 IPS LCD
3120 x 1440, 564PPI
Chipset
Octa-core Qualcomm Snapdragon 845, four 2.8GHz Kyro 385 Gold cores, four 1.7GHz Kyro 385 Silver cores
Octa-core Qualcomm Snapdragon 845, four 2.8GHz Kyro 385 Gold cores, four 1.7GHz Kyro 385 Silver cores
GPU
Adreno 630
Adreno 630
RAM
6GB
4GB/6GB
Storage
64GB/128GB/256GB
64GB/128GB
Expandable
Yes (microSD slot)
Yes (microSD slot)
Battery
3500mAh
3000mAh
Water resistance
IP68
IP68
Rear Camera
12MP f/1.5-2.4 + 12MP f/2.4, PDAF, 4K at 60fps
16MP f/1.6 + 16MP f/1.9, PDAF + laser autofocus, 4K at 30fps
Front Camera
8MP f/1.7, 1440p video
8MP f/1.9, 1080p video
Connectivity
WiFi ac, Bluetooth 5.0, NFC, GPS, GLONASS, USB-C
WiFi ac, Bluetooth 5.0, NFC, GPS, GLONASS, USB-C
Security
Fingerprint sensor (back), iris scanner
Fingerprint sensor (back)
SIM
Nano SIM
Nano SIM
Dimensions
158.1 x 73.8 x 8.5mm
153.2 x 71.9 x 7.9mm
Weight
189g
162g
What the Galaxy S9+ does better
With the specs out of the way, now we can get into the good stuff. The Galaxy S9+ is the culmination of all of Samsung's design prowess over the years, with one of the best industrial designs in the business. The unique curved glass design and metal frame work together to make the phone feel incredibly well-machined, and it's built to withstand water and dust with its IP68 rating. That glass back also allows for wireless charging — just one of the many perks to Samsung's feature-packed hardware.
The display is also top-notch — actually, it isn't. The S9+ is one of the only flagship phones released so far in 2018 that doesn't feature a notch at the top of display, which is sure to please critics of the design trend pioneered by Apple and Essential. That notchless display is absolutely stunning, with incredibly rich colors and a wide range of brightness, letting you go from nearly pitch dark to bright enough to clearly view under direct sunlight. The curved edges are more about form than function, but they're entirely without purpose; Edge Panels have become increasingly useful over the years, and the curves help trim down the phone's width, making it easier to hold.
Image 1 of 4
A few years ago, Samsung's software would've been considered a huge downside, but these days it's actually a nice add-on to the already great Android platform. Samsung Experience 9.0 is fast and responsive, and offers its own ecosystem of Samsung apps parallel to Google's, the most useful of which is arguably Samsung Pay, which uses MST to emulate a physical card swipe on terminals, allowing you to use it almost anywhere — even at locations that don't typically accept mobile payments.
Like the G7 ThinQ, the Galaxy S9+ touts dual cameras on the back, though Samsung's arrangement of cameras is a bit different than LG's. The primary camera is a 12MP sensor that's capable of dual apertures, allowing it to organically switch between f/1.5 and f/2.4 — you can even watch it happen. In addition, the secondary lens allows for 2x zoom, and when combined with the main camera offers a pretty solid portrait mode. More impressively though, the S9+ takes absolutely stunning low light shots, and in video mode it's capable of shooting at a whopping 960fps for slow motion — though understandably, you'll have to settle for 720p to get those frame rates.
What the LG G7 ThinQ does better
Not to be outdone, LG has thrown every feature it possibly could, new and old, into the G7 ThinQ. It adopts new trends like the display notch — for better or worse — yet it still provides the company's incredibly impressive Quad DAC, which offers better sound through the phone's 3.5mm headphone jack than any other phone can hope to match. Whether you're after wireless charging, water resistance, or something else, the G7 ThinQ almost certainly offers it, along with just about every other hardware feature and the kitchen sink.
Perhaps one of the G7's biggest hardware advantages over the Galaxy S9+ is its fourth hardware button, beyond the power and volume keys. While users and reviewers alike have bemoaned Samsung's Bixby button since it first emerged on the Galaxy S8 last year, LG is taking a different approach with a dedicated shortcut key to the more popular and often more useful Google Assistant. It's also positioned quite a bit lower than Samsung's extra button, making it harder to mistakenly press — that's a big win if you ask me.
Some of the most high profile benefits of the G7 ThinQ come in the form of the cameras. Most people who have used both will agree: wide angle on a phone is more useful and allows for more creative shooting than a zoom lens. LG's phones have been making use of wide-angle secondary sensors for years, and the G7 has the company's best implementation yet. Wide angle isn't all the G7 is good for, though; like the Galaxy S9+, it excels in low light thanks to pixel binning technology, and the phone's AI enhancements (this is where the ThinQ moniker comes from) help it better understand when to automatically switch to different shooting modes to optimize for settings like food, outdoors, and portraits.
The G7 ThinQ pulls ahead in various smaller ways, as well. Though it only has a single rear-firing speaker, the output is shockingly loud — loud enough to fill a room, and with good sound quality to boot. The G7 also provides excellent haptics, maybe the best on Android, and while it seems like an inconsequential factor (and for many, it probably is) it makes the software feel more interactive, more alive; particularly in the camera software, you can feel the interface ticking and clicking at you while you adjust certain settings, almost as if you were interacting with a physical dial.
Oh, and let's not forget LG's renewed commitment to timely and consistent software updates. That's hugely important for users that want to stay up to date with the latest versions of Android and the most recent security patches, and it's something that Samsung historically just can't match.
Which is right for you?
Both phones are absolutely incredible devices, each an accomplishment of different design philosophies. Where the Galaxy S9+ feels like an evolution of last year's S8+, the G7 ThinQ takes a different direction than LG's previous models with a display notch and a larger focus on AI. As for which phone is worth your hard-earned dollars, that'll depend on where your priorities lie in a few key aspects.
If you just can't yet cope with the idea of a notch at the top of your display, the choice is obvious — get the Galaxy S9+. On a less superficial note, you should also grab the S9+ if you're interested in Samsung's ecosystem as much as you are in Google's; Knox is a huge boon for the security-focused, and Samsung Pay allows for more flexibility than any other mobile payment service. The Galaxy S9+ also offers more options for security than LG; in addition to the fingerprint sensor, the Galaxy S9+ touts both iris scanning and facial recognition, and can use all three methods in tandem to quickly authenticate you in any situation.
On the other hand, the G7 ThinQ could be the better option for creative minds that really want to make use of that wide-angle secondary lens. Save for attaching huge and clunky third-party lenses to the back of your phone, there's just no way to get that wide-angle effect on the S9+, and it allows the G7 to capture shots that no other phone can. The G7 is just as great for media playback, as well, thanks to its incredible Quad DAC that was once exclusive to LG's V series, and the loud speaker output. If you're equal parts creator and consumer of content, it's hard to argue with the G7 ThinQ.
If you were stuck trying to choose between these two powerhouses and this comparison helped you make your decision, let us know in the comments below! What phone would you choose, and if you're already rocking the S9+ or you're planning on pre-ordering the G7, what feature or trait do you wish you could take from the other phone?
Get the Android Central Newsletter
Instant access to breaking news, the hottest reviews, great deals and helpful tips.
Hayato was a product reviewer and video editor for Android Central.