LG G6 reportedly enjoys strong early sales in Korea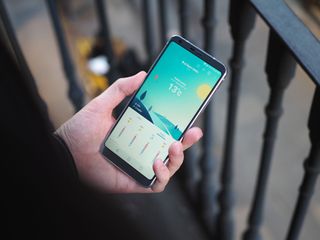 Western consumers may have to wait another few weeks to get their hands on the LG G6, but the new phone is already on sale in LG's home market of South Korea — and, according to report from the local press, doing rather well.
The Korea Herald reports that the G6 sold more than 30,000 units across the country over its launch weekend, with pre-orders exceeding 82,000 since they opened on March 2. Analyst Kim Dong-won of KB Securities is quoted as saying 20,000 units were shifted during the first day alone, "a record high compared to its predecessors."
All of that bodes well for LG's mobile business, which suffered heavy losses in 2016 off the back of weak G5 sales. Should the G6 continue to sell well, Kim says, "LG's mobile business is likely to see a reduction of more than 1 trillion won [$872 million U.S.] in operating losses from the previous year."
The G6's long-term success depends on how major rival Samsung's Galaxy S8 is received. The company took the unusual step of teasing the GS8 during a 15-second TV spot in Korea over the weekend, a move intended to take some of the wind out of LG's sails. The Galaxy S8 will be unveiled at a launch event in New York City on March 29, with sales expected to begin globally on April 28. And while history suggests the phone may go on sale in Korea a little earlier than this, LG still has a vital few weeks to establish momentum.
Get the Android Central Newsletter
Instant access to breaking news, the hottest reviews, great deals and helpful tips.
Alex was with Android Central for over a decade, producing written and video content for the site, and served as global Executive Editor from 2016 to 2022.
Can't help but laugh. ZTE did better.

China is a much larger market than South Korea.

50 million vs 1.3 billion population. interesting how you didnt take that in to account

It has also been demonstrated that ZTE will compromise the security of devices for spying purposes on behalf of the Chinese government, just like huawei and xaomi, which makes them a no go for anyone who works in western R&D or sensitive government stuff. :( which is a real shame, because the ZTE Axon looks pretty awesome.

And that'll be pretty much it.

Harsh but fair. Those numbers aren't even a blip compared to Samsung and Apple.

Haha it's funny that LG says this with every release. Just to gain hype . They said the same thing about the g5 and v20 nether has live up to the hype in sells

Your absolutely wrong about the sale of the V20, it has moved more units than you think Ducati916.
If you were to Google what LG V20 sales you would see that the V20 is still in demand and doing very well. No need to lie or exaggerate about, the V20 has put LG back in the 3rd position for the fourth quarter finishing of with a 18.9% all you have to do is Google it. Just because you and a few others don't care for LG doesn't mean that they aren't doing well, it just means LG's not for you and that's ok!

Please forgive me on the numbers!
Apple was 38.7% Samsung was 20.9% and LG was 14.2% with over 60 million V20 shipped and new location being added.
http://m.koreaherald.com/view.php?ud=20170213000379#cb

Dude there no way I'm hell they sold 60 million v20 , Samsung sold 60 million s7 alone.Hah dude I have to laugh at this fake news just read the article where do you guys find this stuff . I think LG wrote this article

LG sold ~55million smartphones total for 2016, of which the V20 was probably their best phone but not the highest seller. While I really like both the V20 and the G6, their mobile division is not profitable. For a more direct comparison, Samsung shipped a couple hundred thousand S7's during the 2 day launch period (where this article reports 20,000 G6's were shipped and about 80k on a preorder). Most of this has to do with LG's status in China. China has fierce competition between Apple, Samsung, Huawei, Oppo, vivo, Oneplus, and Xaomi. LG has had no real luck there, despite having done fairly well in the US market with the exception of a bad 2016.
https://techcrunch.com/2017/01/24/lg-q4-2016/

Obviously they are going to say strong sales just like every year.

But will it last, or will be be seeing a class action suit like the G4 and V10 for defective hardware?

Lg is very good company. But is not popular like samsung. These both company from Korea and they both have potential.