LG G5 vs. iPhone 6s Plus: Android versus Apple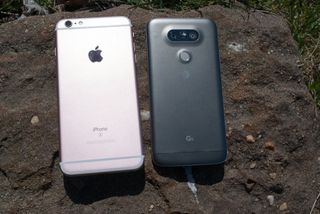 When it comes to comparing the LG G5 against the big competitors out there, we can't forget to pit it up against the iPhone 6s Plus. We'll be seeing if LG's latest big phone has the chops to go up and against Apple's best. We'll be taking a look at design, software, and the camera, so that you can see which phone is really worth the money.
Hardware
From size, to aesthetic, the design on the iPhone 6s Plus and on the LG G5 is very different. You can see it in the size difference, button placement, and even in the way that the phone feels in your hand.
| Category | iPhone 6s Plus | LG G5 |
| --- | --- | --- |
| Processor | Apple A9 | Snapdragon 820 |
| Main display | 5.5 inch IPS LCD | 5.3-inch QHD |
| Storage | 16/64/128GB | 32GB + microSD |
| RAM | 2GB | 4GB |
| Rear camera | 12MP | 16MP main, 8MP wide-angle |
| Front camera | 5MP | 8MP |
| Battery | 3,000mAh | 2,800mAh (removable) |
| Operating system | iOS 9 | Android 6.0.1 Marshmallow |
| Size | 158.2 x 77.9 x 7.3mm | 149.4 x 73.9 x 7.7mm |
| Weight | 143 grams | 159 grams |
The iPhone 6s Plus is the larger of these two phones, in height and width. It stands 158.2mm tall, and 77.9mm wide.. The LG G5 is smaller, without being absolutely dwarfed by the iPhone 6s Plus. The G5 is 149.4mm tall and 73.9mm across. The G5 is a little bit thicker though at 7.7mm versus the 6S Plus's 7.3mm.
The iPhone 6s Plus has volume buttons on the left along with a power button on the right. Under the display is the fingerprint scanner, which also works as a button. In comparison, the LG G5 has a volume rocker seated on the left side of the phone, and the combination fingerprint scanner and power button on the back of the phone. There is a drastically different feel when holding the phones as well.
Image 1 of 5
Image 2 of 5
Image 3 of 5
Image 4 of 5
Image 5 of 5
The G5 has a good solid fit in your hand, and doesn't feel slippery. It honestly doesn't even really feel like the metal it's made of. It's small enough that it's easy to use with a single hand. The iPhone 6s Plus feels exactly like the metal it's made of, when you pick it up. It feels solid in your hand, although it is a bit wide which can make using it one handed somewhat difficult.
Software
Obviously the biggest difference in software is that the LG G5 runs Android 6.0 Marshmallow, while the iPhone 6s Plus is running iOS 9.0. These completely different operating systems, so they work inherently differently. Despite the difference in operating systems, there is a lot of similarity between the two. Especially since the LG G5 has ditched the app drawer in their software this year.
The big difference that you'll notice when you turn on the LG G5 is the sheer amount of carrier added bloatware. No matter what carrier you choose, there are over a dozen apps from AT&T alone. Both phones are quick, and snappy letting you move along without many issues. If you're used to Android phones, trying to use an iPhone can be slightly frustrating. That's really just because things aren't quite where you expect them to be.
Camera
Of course since we're comparing the LG G5 and the iPhone 6s Plus, we've got to talk about the cameras. LG has long made sure that their cameras are on point, even when other aspects of their phones fall short. Apple is another company that makes sure to put extra attention into their cameras. The LG G5 is armed with a 16MP rear camera and an 8MP wide-angle rear camera, along with an 8MP front camera. The iPhone 6s Plus has a 12MP rear camera, and an 8MP front camera.
In terms of functionality, these are both excellent cameras. They work well under different lighting conditions, and deliver fantastic photos. However, the LG G5 has a slight leg up in terms of bells and whistles. While the iPhone 6s Plus gives you easy access to features like slo-mo and time lapse for your videos, there aren't many features for your photos. The G5 however gives you access to tons of photo features, including a full manual mode when you're shooting. The wide-angle lens they've included in the G5 is nothing to scoff about either.
iPhone 6s Plus left/LG G5 right
Bottom Line
The big question you need to ask yourself, when it comes to these phones, is what matters the most to you because they have different strengths. If you're purely driven by specs, then the LG G5 is probably the way to go. It's got more capable internal hardware, the higher grade cameras, and it's a bit of a better fit in your hand than the iPhone 6s Plus. However, the 6s Plus looks and feels nicer in your hand, has the stronger battery, and the larger screen size that many people prefer.
It honestly comes down to what matters the most to you, when looking at picking up a new phone. Where the iPhone may prove to be the more capable phone in getting you through a day, the G5 offers some impressive features to make using the phone a lot of fun.
Jen is a staff writer who spends her time researching the products you didn't know you needed. She's also a fantasy novelist and has a serious Civ VI addiction. You can follow her on Twitter.
Yawn....Android flagships always win this battle. Even the G5

They always when this battle in your head (spoken by a Nexus 6 user). Posted via the Android Central App

Think he meant 'win' Posted from my Nexus 6P

Replace when with win. Posted via Galaxy S7 edge

I knew what he was trying to say....but its still a stupid comment

Apples and oranges, seriously. No pun initially intended.

It's more like apples and a different kind of apples... apples and pears at the absolute most. It's best to assume I'm being sarcastic. if I'm ever serious I'll type "/s" to make it clear.

Why do folks always want to compare every android devices to the iPhone? If an android oem thinks they are competing with the iPhone, then they are obviously not paying attention. The iPhone is in it's own world, it really competes with itself (past generations). Android oem's do not need to compete against the iPhone, not when they have plenty of that going on in their own backyard.

Android versus Apple
God versus man
The man of Steel versus the bat of justice Posted via the Android Central App

Apple in thus one wins Posted from my Nexus 6/Nexus 7 2013/Surface Pro 3

What phone you have 97 Posted via the Android Central App

Read his signature? AT&T Galaxy Note 4

Nope. If Android is the MO, the g5 is the winner. Matter fact, the g5 gets bashed unfairly. Facts. Posted via the Android Central App

97 - And you base this on your vast experience with the G5 I guess? Posted via the Android Central App

It's funny how the 'Phone Vs Phone' articles usually end with a verdict something like 'Well, it depends on what you like...', yet I keep reading them... LOL

Great read but I cringed at the last photo of the two devices face down on a big rock! Posted via a still buttery smooth nexus 7 2013 .

I couldn't agree more. Reviewers are always doing that and it kills me!!

That's MKBHD's phone reviews in a nutshell Posted via the Android Central App

"It honestly doesn't even really feel like the metal it's made of." Well, probably because you're not feeling metal, you're feeling paint. Despite the press release going on and on about "anodized aluminum" and a "metal surface" the surface is paint, not metal.

When you hit a car in a wall, do you hit paint, or metal?

Fiberglass & Plastic, etc Posted via Android Central App

Know what you mean, I was exagerating to prove a point. People confuse metal construction with metal feel.

"People confuse metal construction with metal feel." Then why would LG's own press release refer to "a smooth colorful metal surface" if the surface isn't metal? Why would they say they "take anodized aluminum to a whole new level" when it's not anodized aluminum? The only people confusing metal construction with metal feel are LG themselves, in their own press material.

I'll always read these articles. But it's more like Apple vs Nexus. One suggestion though, with the mobile app and viewing the pictures - the pictures are always in a vertical lineup. So when someone says the right one... I still scratch my head... And assume their talking about the bottom picture. Even then sometimes that doesn't work. Can you please label them with a watermark or something similar?
Anything will help. Thanks. Posted via the Android Central App

Is is weird to say that I personally think the iPhone looks better even with those antenna lines? (I live by 3 words. fastboot flashing unlock)

And that's why Apple's design look has been copied from Samsung since the debate of the first iPhone. More and more manufactures are copying Apple's design of the iPhone 6. Heck even there Mac laptops and desktops are being copied with their design. Personally the iPhone would look much better if they would reduce the side and top bezels. Makes the phone to wide and big. Posted via Android Central App

I would agree with that, but then I'm used to HTC's anyways. I've always considered the antenna bands an accent instead of a distraction, even though they are bigger on the iPhone. My current phones in order of physical attractiveness are: S7 Edge, HTC M8, iPhone 6, iPhone 5c. I consider the Edge and M8 pretty close, with the iPhone 6 being nicer than average, and the iPhone 5c being ugly. Posted via the Android Central App

Yeah, an iPhone may get you through the day but it's just not fun to use. I used one for a year and a half and couldn't wait to come back to Android. Posted via the Android Central App
Android Central Newsletter
Get the best of Android Central in in your inbox, every day!
Thank you for signing up to Android Central. You will receive a verification email shortly.
There was a problem. Please refresh the page and try again.