LG G5 vs. LG V10 — Which LG phone is the best?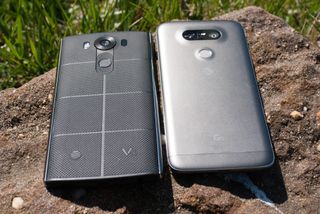 It's time for a quick comparison between the LG G5 and the LG V10. Two LG smartphones that are fairly different in terms of what features matter most, and armed with great cameras. We're gonna take a look at them head to head, and see if this year's G5 can beat out last year's V10.
Design
While both of these are LG phones, they are dramatically different in terms of design. From the onset the sheer difference in size between the G5 and the V10 is apparent.
| Category | LG V10 | LG G5 |
| --- | --- | --- |
| Processor | Snapdragon 808 | Snapdragon 820 |
| Main display | 5.7-inch QHD | 5.3-inch QHD |
| Secondary display | 2.1-inch | None |
| Storage | 64GB + microSD | 32GB + microSD |
| RAM | 4GB | 4GB |
| Rear camera | 16MP | 16MP main, 8MP wide-angle |
| Front camera | 5MP Dual Lens | 8MP |
| Battery | 3,000mAh (removable) | 2,800mAh (removable) |
| Operating system | Android 5.1.1 Lollipop | Android 6.0.1 Marshmallow |
| Size | 159.6 x 79.3 x 8.6mm | 149.4 x 73.9 x 7.7mm |
| Weight | 192 grams | 159 grams |
The LG G5 is the smaller of the two phones by a pretty significant margin in every dimension. It's 149.4mm tall and 73.9mm across. The V10 is huge comparatively at 159.6mm tall and 79.3mm wide. Likewise the G5 is 7.7mm thick, versus the 8.6mm the V10 is rocking. The V10 is quite a bit heftier as well, weighing in 33 grams heavier than it's opponent.
When it comes to the feel in your hand the G5 has a comfortable feel, that isn't slippery in your hand. The V10 doesn't have nearly as comfortable a fit in your hand, simply because it's so large. Thankfully the textured back of the V10 makes it easier to keep the phone from slipping out of your grip at in inopportune time.
Image 1 of 5
Software
When it comes to software, you'll notice a pretty sizable difference between the G5 and the V10. That's because while the G5 is running Android 6.0 Marshmallow out of the box, V10 launched with Android 5.1.1 Lollipop and is just now starting to see updates. There is a big similarity though, both of them are saddled with a significant amount of carrier added bloatware.
That isn't their only similarity either. Both the G5 and the V10 have a fingerprint sensor in the back of the phone.It's placed well, and intuitive to find. There's been a fairly big disparity between the two, though. The V10 seems to work slightly better in this regard — particularly with the Marshmallow update. But I've had issues with the G5 — it still doesn't recognize the fingerprint about half of the time.
Looking at the G5 you can see the changes that LG has made in the software as well. Most prominently is the lack of an app drawer, which people seem to either be pretty okay with, or hate with a passion. They've also added the LG friends manager, which allows you to easily communicate with your LG accessories.
Camera
LG is known for the fantastic camera's on their smartphones, which of course means that we need to do a camera comparison. The V10 rocks a dual lens 5MP front facing camera, and a 16MP rear camera. Meanwhile the G5 has a 8MP front camera, with a 16MP rear camera and an 8MP wide-angle rear camera. Each of them has their own strengths, and produces great results.
LG G5 left / LG V10 right
In shade in seems like the colors from the V10 seem to wash out just a little bit, but it does produce great pictures in good light. The big difference in photos here is whether you're a bigger fan of the wide angle lens available on the G5, or the second front facing camera that the V10 has access to. Both of these cameras give you great results, and have access to a full manual mode. The G5 does have the better overall camera set in pure terms of specs though.
Audio
Our last big comparison between these two LG smartphones is the audio quality. That's because the V10 gives you access to hi-fi audio when you are listening on your headphones. To some people that might not really be a big deal, but if you spend a lot of time listening to music on headphones this can make a serious difference.
The problem being that the experience with hi-fi really depends on a dozen different factors. The type of headphones or earbuds, what you're listening to, the quality of the music when it was recorded ... the list keeps going. While even casual music lovers may be able to discern the clearer sound that the V10 produces over headphones, they're might not notice it at all. The G5 doesn't have access to hi-fi audio, but still gives you a good sound that isn't tinny or muffled.
Which should I buy?
So when it comes down to it, which phone is the better one? Overall it seems like the G5 wins out over the V10. With a better camera, more convenient size, and better overall specs. However, if you're a real audiophile, or you don't mind the larger phablet size, the V10 might be in your best interest. As always it comes down to preference, and deciding which features are the ones you want to focus on.