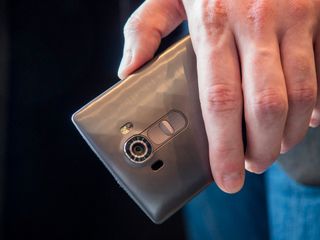 Now that it's officially official, it's time to get inside the LG G4. Way inside. And there's no better place to start than with the official LG G4 specs, which we present to you thusly:
The big-ticket item, of course, is that the G4 uses the Snapdragon 808 processor instead of the 810, which has already been used in the LG G Flex 2. The explanation, LG tells us, is that the 808 has been "specially tuned" for the G4. That's a little bit of a line (processors generally aren't slapped into a phone without some sort of customization), but it's also not all that surprising to see given what we've experienced with the 810 thus far.
So the big difference here is instead of four high-powered A57 cores and four low-power A53 cores, we've got half as many A57's. We'll have to see how it works out.
LG G4 specs
Swipe to scroll horizontally
| Category | Features |
| --- | --- |
| Processor | Qualcomm Snapdragon 808 with X10 LTE |
| Operating system | Android 5.1 Lollipop |
| Display | 5.5-inch Quad HD IPS Quantum Display (2560 x 1440, 538ppi) |
| Storage | 32GB eMMC ROM, microSD card up to 128GB |
| RAM | 3GB LPDDR3 RAM |
| Rear camera | 16 megapixels with f/1.8 aperture / OIS 2.0 |
| Front camera | 8 megapixels with f/2.0 aperture |
| Battery | 3,000 mAh removable |
| Size | 148.9 x 76.1 x 6.3-9.8 mm |
| Weight | 155 grams |
| Network | 4G / LTE / HSPA+ 21 Mbps (3G) |
| Connectivity | Wifi 802.11ac / Bluetooth 4.1LE / NFC / USB 2.0 |
| Ceramic colors | Metallic Gray / Ceramic White / Shiny Gold / |
| Leather colors | Black / Brown / Red / Sky Blue / Beige / Yellow |
Android Central Newsletter
Get instant access to breaking news, the hottest reviews, great deals and helpful tips
Why 808 instead of 810?
heat issues?

You must not have followed the One M9 and G Flex 2 issues, or the fact that Samsung ditched the 810.

I guess cause of the heat issues and problems they had with the Flex ... I think that's only a spec we'd notice on paper, and I'm glad LG didn't succumb to pressure of tech nerds judging a device on paper without even testing it out. I'd be surprised if there's a noticeable difference, and looking forward to the reviews Posted via the Android Central App

Well according to LG they've done more development with the 808 processor instead of with the 810, thus they are more confident in releasing on a platform they are more familiar with. Of course that's all a cover up. ALL the idiots and experts know that they ditched the 810 because of overheating. It got so hot during testing that it dried out the leather back and broke the seal on the battery. Also Samsung ditched the 810 because of overheating as well. They just happened to have an Exynos lying around that they were able to rewrite the code for it at the last minute and have the production capacity magically increase for release. If anyone tells you that Samsung was planning to use the Exynos instead of the 810 for reasons other than the overheating, they are wrong. Also, look at the number of M9 phones that have overheated due to the 810. Believe me no one wants to use the 810 because it heats up to dangerous levels that cause hazardous conditions. Posted via the Android Central App

But that's what thermal throttling is for, lol. Posted via the Note 4 or Tab S 10.5

I heard that some of the cores went into a runaway condition and couldn't be stopped via throttling. The meltdown is inevitable. War 810!!! Posted via the Android Central App

Jesus Christ *little kids voice* Posted via the Android Central App

Glad they didn't use the buggy 810. Any word on QI charging?

According to GSM Arena it supports QI charging and fast charge 2.0

They're wrong. No quick charge Posted via the Android Central App

Awww I checked yesterday...and it did say the lg g4 supports quick charge...and qi wireless albeit you need a circle case...

So there's no 2 variants like LG did last year? Ie 16gb with 2gb ram and 32gb with 3gb ram. If it's just a 32gb model then great. Posted via the Android Central App

The leather back is horrible

I really like the leather back. If I end up getting this phone, I'll definitely get leather.

+1 Posted via the Android Central App

+1 Posted via the Android Central App

2 clarify I +1 that the leather looks butta$$ ugly Posted via the Android Central App

Ya , the leather needs to go back to the cow where it came from! That shit don't belong on a cell phone, let alone the one that looks like the G4 looks! WOW, wtf were they thinking? "Hey guys, lets put a whole hide of cow leather on this ugly ass plastic phone and it will sell millions"! Damn LG

I went on release date...tmobile only had brown leather or black...brown leather looked ridiculous. Id hate to hold that up to my face... ...although...i wouldnt mind having a black leather back to switch around when i want to feel special or fancy. Haha

If only speakers were front or bottom facing...
I can't buy a phone with rear facing speaker Posted via Android Central App on 1+1

I'm with you. that's the one other thing I really wanted in my next phone.
can't seem to find anyone that make, for me at least, the perfect phone.
g4 is close, though had my highest hopes for the z4.
guess the g4 will just have to do

I get if you like front facing speakers, though that won't happen on an LG as they are all about fitting the nice 5.5 inch screen into a smaller body
But why is bottom better than back? at least with back you can hold the device while playing a game or watching a movie and not worry about muffling the speaker

I think it would be interesting if one of the phone makers tried using the one front and one back or on bottom at same time.
I don't care about boom sound, but would be nice to not have to cup my hand anymore to hear stuff when I'm watching a video or using the speaker phone.

I honestly don't think bottom is any better than back, it's still not directed at you and easier to muffle than a back speaker.
I'm constantly muffling the bottom speaker on my iPad, I don't have that problem with my G3 and the G3 speaker is pretty loud and good quality.

I bought a PlayStation 4 to play games. If I wanted Portable Gaming, I'd get a PlayStation Vita or Nintendo DS. Absolutely no need to game on a smartphone, and there are BT or Wired Earbuds for sound, which are always better than the external speakers on a smartphone (even on an M8, my earbuds are better and they're stock Apple and Samsung Earbuds). Bottom is definitely better than back. Put it on a table or in a slip case and your phone can still emit uninterrupted sound. That matters more than how you hold it when you're playing some game on a smartphone.

Do to the curve the phone isnt flat on a table so the sound bounces off the table at you actually.. Posted via the Android Central App

yep, same with my g3 I can listen to it lying on it's back on a table just fine.
really flat phones have that issue, like the S6 they move it to the bottom because they are so flat you have to.

There is a surround sound mod for the lg g3 that makes media playback come out through the earpiece. It makes it really nice to have both. And no it won't blow your earpiece out.

Honestly...way louder than my htc m7. I guess you can say...crunchier? More punch... Not the cleaniest imax experience....but better than 98percent of the other phones out there... Coming from iphone 3s...4s...htc one x...one m7...lg g2...one m8....lg g3...lg g4. Lg g4. Loudest and best for blasting obnoxiously. In public.

Why can't they make a smaller version too? All of these companies are getting a bit ridiculous with screen sizes. Otherwise the phone sounds pretty good Posted via the Android Central App

I agree. 5 inches (or a phone the size of the nexus 5) is the largest phone I will own. I had three nexus 6 and it was too big.

Yeah, I would absolutely love a 5", 1080p version of this, with specs otherwise unchanged.

I think there will probably be a smaller G4S in the not to distant future. Posted via the Android Central App

Sadly, this one is even bigger than G3. via AC App on VZW Moto X DE/N7

I want this. With leather. Now. I have the G3, and the size is great. Screen is very usable, even one handed, and the form factor with the very small bezels makes it very pocketable. The 5.01 upgrade went pretty much without a hitch and after a factory reset has settled right back into a nice 18+ hour battery life on average. Overall I love my G3, but the display improvement and the camera improvement with no reduction in the battery makes it a no brainer.

This! I agree with you on all points. I had a G2 and went to a G3 (difference was like night and day) and still can't wait to get my hands on the G4. If they keep improving like this, I will keep buying!

Same here,g2 was my first android to my current g3 and I was talking myself into the note 4/5...but that damn leather and kickass camera and screen. Posted via Android Central App

My thoughts exactly...and now that i jumped the lg g3 bridge and landed in lg g4 waters...ive never been happier..

Very intrigued, especially excited that they mentioned more than a day of battery life, that's great.
Very well may be my next phone

damn it, they pulled a sony.
their site says wireless charging requires their circle case.
so it'll be overpriced and limit cases choices if you want wireless charging. that blows

Just buy the Qi back...there will be options. Mine was 7 on ebay..works like a charm on my G3. Posted via the Android Central App

That stinks - no wireless charging out of the box. I was hoping this would be my next phone but I am just too used to wireless charging on my N5 to go back to plugging a phone in. Looks like the S6 may get the nod unless I can hold out for the prospects Google might announce a true N5 successor in the coming months (not holding my breath though).

Looks like a G3 with a leather back. I'll wait for the G5, thank you.

Missing out an great phone because it doesn't have a dramatic aesthetic difference that's all on you.lol Posted via the Android Central App

Well, if it's all on me, then i'm happy. I've got the G3, so i see no reason whatsoever to get the "jumped up" G4. Waiting patiently for the G5.

I see your point, I however am on the G2 and I definitely want to get rid of it. The best one I see to go to now is the G4

Then go for it. The specs for the G3 and the G4, are almost identical. Of course, the G3 does't come with a leather back. HaHaHaHaHaHa.

Nice no 810, AC editors will be disappointed to hear that since they kept on saying everything fine with 810. Wonder why LG went with 808 if everything was perfectly fine with 810.

You didn't notice the sarcasm in his commant? Posted via the Note 4 or Tab S 10.5

I bet AC is funded by qualcomm Posted via the Android Central App

They're funded by pretty much everybody

The evolution of smartphones into point and shoot cameras. GG Posted via the Android Central App

Again no gpu listed in the specs. I think I'll research some other Android sites to see if they are more thorough in their reporting. I dislike getting a report on a new phone here at Android Central, and then have to google a search and then navigate to another site to get the complete details/specs...

It's the adreno 418. Would have been cool if they had a custom soc. The 808 with the adreno 430!!! Posted via the Android Central App

Thank you for the gpu info! The 808 paired with the adreno 430 would have been nice. I think that the adreno 418 may keep me from considering this phone.

Ddr3? Ugh. That's right the 808 doesn't support ddr4 Posted via the Android Central App

LOL, like the difference in DDR3 and DDR4 would make any face front difference in the daily use of this phone, whatsoever.

Do they use the new faster internal storage like Samsung?

Probably not. Posted via the Android Central App

No, they used eMMC flash. They also used DDR3 RAM too. The 808 is also pretty inferior to the exynos 7. Honestly, this phone really has the specs of a 2014 flagship. But the display does look amazing and it does have a removable battery and expandable storage Posted via the Note 4 or Tab S 10.5

Bigger size and weight, no fingerprint scanner, no out of the box wireless charging, no fast charge. Much higher price. Meh. Posted via the Android Central App

Fingerprint...meh
Replace the battery...yes
MicroSD....yes
Leather....yes
So good options there...just want to see the camera. Posted via the Android Central App

Apt x was not mentioned, IR port either. Anyone know if the g4 has it? Posted via the Android Central App

LPDDR3 RAM. That's a bit disappointing since the Galaxy S6 has the new LPDDR4 RAM. Posted via the Sailfish iMore app

A flagship phone that's....plastic... Posted via the Android Central App

What's wrong with plastic? It doesn't crack like glass, and doesn't bend/scratch like metal.

This may replace my nexus 5 come july when i have the $$. I want to see if it lags as bad as the g3 did.

Another underpowered and overpriced effort from LG. The G2 was the last real flagship. Posted via the Android Central App

Sure was and that's why I still own it and it's a part of my 6 phone arsenal. ( I admit to my addiction ) But in all seriousness, the G2 was what really put them on the map 4 me! As soon as I held that phone I knew they had a winner. Now they are going back downhill with the G3 and 4... And yes everyone, i owned the G3 so I can make that statement. I'm a damn phone whore and I need AA for cell phones! ;)

The G3 had lots of downsides going from the G2, like much worse screen, same size battery but in a larger phone, etc. The G4 is what the G3 should have been.

I'm 100% percent certain on buying this phone. Posted via the Android Central App

Not up to my expectation but i like it Posted via Android Central App

Memory stil eMMC & ram is DDR3??? no wireless charging & quick charge... No fingerprint scanner.. LG G4 is so 2014... GS6/edge FTW☺

Like you are going to actually see the difference in the flash storage and memory used in a smartphone in normal tasks... I'll take the larger battery, better camera, swappable batteries, MicroSD, and more comfortable to hold over the S6.

Has 2014 specs but performs better than the LG G Flex 2 and in a recent video, even the Galaxy S6 Edge when it came to UI and camera launch times. Optimization FTW, mang. Next phone confirmed.

They used 808 snapdragon processor instead of the 810 due to over heating problems, this doesn't really bother me that much as this is a great device!
Plus Samsung ditched the 810 processor anyways
Android Central Newsletter
Get instant access to breaking news, the hottest reviews, great deals and helpful tips
Thank you for signing up to Android Central. You will receive a verification email shortly.
There was a problem. Please refresh the page and try again.