LG G Watch starts to ship to eager wrists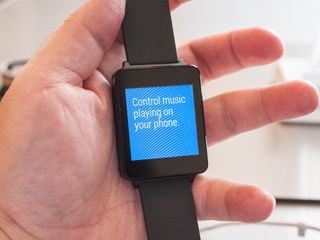 Just as promised, Google has begun to ship out the LG G Watch, matching its original promise of a July 3 ship date. Various members in our forums are receiving shipment notices as of today, Thursday, July 3, that Google is beginning to ship out the watch, though no delivery date estimate accompanied the shipment notification.
Did you order an LG G Watch or a Samsung Gear Live? What features are you most excited about?
If you did pre-order an Android Wear smartwatch, be sure to check out the list of compatible apps for your watch. Also, you can check out Phil's tips for getting started with Android Wear while you are eagerly awaiting delivery of your watch.
Source: Android Central forums
Still waiting for my shipping confirmation. Posted via Android Central App

Shipped! Posted via Android Central App

Got a shipping confirmation for the Gear Live over a couple hours ago.

+1, but only estimated to arrive on July 9...

Same here, estimated July 7th delivery

What about those who won one in a contest? :-) Posted via Android Central App

Mine hasn't shipped, but I don't know if that's purposeful or not. I called in yesterday to cancel it as the reviews convinced me I'd rather get the Gear Live, which I figure I'll snag at Best Buy on Monday. The website wouldn't let me cancel it, so I had to call, and she said she'd contact the shipping company and see if they could pull it. I've heard nothing since. So I'm kind of in limbo.

Waiting on that Moto 360 still Posted via Android Central App

I'm holding out for a moto 360, got a pebble a few months back to satiate my hunger. I love the concept of essentially having Google Now on your wrist. It's a dream come true. Posted via Android Central App

Of course those of us who paid for overnight shipping have not received a notification and we won't receive it until Monday.... Dumb move on my part. Posted via Android Central App

I also paid for overnight shipping.... Why do you think that they didn't send a notification to people who chose overnight shipping? This is VERY annoying... I contacted them via "live chat" and the lady said it would be shipped today... here hoping!

same here, overnighted it and got no notification which means I probably wasted my money to upgrade shipping. i knew it was a gamble and i'm pretty sure i lost lol BTW i placed my order as soon as it went live on google play.

Also paid for overnight shipping of the LG. Got my notification this evening.
Per UPS: Scheduled Delivery Updated To Monday, 07/07/2014, By End of Day

4th of July! They don't ship on holidays. But that does make me a little P-d off that they would start shipping on a holiday eve.

I received my confirmation earlier this afternoon. Really excited Posted via Android Central App

When did you place your order?

The day the orders opened on the play store, sometime last week. I think
Posted via Android Central App

Mine is supposed to get here Monday and I paid for the cheapest ground shipping. Posted via Android Central App

Well that sounds promising, I did the same shipping, so hopefully I get an update on my tracking info saying the same thing soon. That'd be cool.

It all depends on where it actually ships from. For instance, I have 3 Amazon warehouses around me (I think it is 3, could be just 2) so if I am buying direct from them, I never upgrade the shipping. 9 out of 10 times I get it overnight or on day two.

That's weird... I've been ordering from Amazon for the past 6+ months now and I've noticed that if you are NOT a Prime member... they usually hold your items from shipping for up to a week...

Google Play stuff always ships from UPS Airport hub in Louisville, Kentucky.

Add me to the list of launch day overnight shipping fools. Posted via Android Central App

4th of July! They don't ship on holidays!

My Gear Live shipped today!

I can't decide! Why did you guys get the one you did!! Posted via Android Central App

because it matches my LG N5? larger battery for me and prefer the charging method. it's a stop gap measure until the moto360 comes out and then i'll give it to my nephew.

I think the Samsung looks a bit more premium Posted via Android Central App

I chose it because I did not want to wait until the Moto 360 released until I could try Android Wear out for awhile. If I end up not liking the G Watch very much, then I can always sell it and put that towards the 360 at the time.

I picked the G watch cause I think other bands will match it better. It doesn't have a predetermined curve. Drop in charging and bigger battery. Although the amoled on the Gear live is a benefit ( power wise supposedly) Posted via Android Central App

I had the original gear which I liked in the beginning but started to realize all the flaws after some use. I than went with the pebble which I love. After having two rectangular watches I really like that style. I also like how you can change the wrist strap. I did it on my pebble and it totally changed the look and feel of the watch. There are a few pics floating around with different bands on the LG and it makes it look even nicer. I know you can do it on the Live but due to the shape i don't feel it will look as good. Not sold on the gimicky heart rate monitor because I've used it on the fit and that's all it is is gimicky. I also like the LGs bigger battery, the charging cradle, and the way it dims the display compared to the Lives, there is a difference, look it up. Should have my LG by the 7th.

You can ship these wrist watches but not your phone LG?

Ordered mine within 2 minutes of the page going live paid for overnight shipping and still don't have confirmation of shipment. Posted via Android Central App

Just got my shipping confirmation for my LG G Watch!! I did overnight shipping but still probably won't get until monday. Excited!!!

I just received my shipping notice for my Samsung Gear Live. It looks like Google Play is shipping both models out a bit early!

Won't make any difference to me... I hear you have to have a certain software upgrade to your phone. I have the LG optimus G pro unlocked... and LG has not sent any software updates. For those of us using another carrier besides AT&T (I am not going to ripe off att) Posted via Android Central App

I just got my shipped out email today and it's for the samsung gear live

Just got my tracking information for the Gear Live.

So Google says watches will start shipping July 3rd and people actually paid for overnight shipping? The day before a holiday? My faith in humanity continues to tumble.

I knew full well that one-day shipping meant Monday, but I need this thing for a trip next week, so I couldn't risk it being delivered later than that.

I did one day shipping hoping that it would ship early while still knowing that I would get the following monday.

I paid for overnight shipping on a SLR and its being delivered Saturday..
What's your point. Over night should be red tag and delivered in Saturday. Unfortunately that's not the case with the google shipment because its not overnight shipping. Its 1 business day shipping, very misleading.
Posted via Android Central App

No disrespect to anyone, but you guys and girls have to be the only people on earth to have bought those piece of shits watches. Or you people work for LG or Samsung. Because u know no one that would pick those over moto 360.

Well those who choose to wait for the 360 can read everyones thoughts on Android Wear while waiting. I did not feel like waiting until the 360 came out to get my hands on some real, hands on use with Android Wear. It's not like people could not resell it and put that money towards the 360 in a couple of months. It will be ok, relax.

Oh, disrespect is taken! Jk. Relax dude. I am an early adopter. So what? Posted via Android Central App

Rumour is it will be double the price, and im sorry but that stupid looking bottom bezel makes it a fail in my eyes. Most over rated device since the N5? Possibly.

Well I bought my LG G Watch because I'm very interested in Android Wear and I like the way it looks. What's the big deal? I'm sure other earthlings might even think the same.

Really, no disrespect, hmm? I think you don't know what respect is. You do realize that it is actually possible to buy more than one watch right? Sounds like someone is just seeking validation of _their_ choices to me. But, hey no disrespect intended.

or to turn the tables, though i do not really believe it, he is paid by Moto to put the others down. No disrespect intended...

Really your buying this. When will they get away from this blocky ugly stage. Posted via Android Central App

Yeah with the project code name of "dory" its clearly the nexus of the smart watches and the build quality is great. Why wait for anything else if your a nexus person. Sorry but Samsung can't tempt me and neither can Motorola full well knowing I'll be paying handset price for an notification centre watch. When you get a g watch / Samsung live your realise how pointless it is forking out for the 360 Posted via Android Central App

Buying any device from the Play Store is a painful experience that google should be ashamed of. In the UK at least delivery costs too much, it gets dispatched seemingly at random and it turns up unannounced when they can be bothered. Whatever you do dont be out because getting a redelivery is a nightmare. Returning an item is even worse and reporting a fault worse than that, and if you need to call them for some reason.. Ugghh, it less painful to let them keep the money.

Paid for two day delivery. Will be here Monday. UPS sucks though so it won't get here till 8pm

LG G, Got shipping notification and it is in transit., ground shipping, estimated to 8'th to Florida.

These will be in best buy on Monday, why preorder and pay for shipping?

Some of us live in the boondocks and are 2 hours from the nearest Best Buy. I know, it sucks for a technophile.

No way. I could have just stopped and picked one up? I feel foolish. Oh well. Monday anyway. Posted via Android Central App

Yeah haha. I was going to preorder, but found out they will be at best buy the same day :)

Mine shipped too delivery expected by july 9 end of day

Got mine last night! Its already here but I can't get it till Monday because of 4th of July holiday :(

Just got my shipment tracking for my Samsung Gear Live today! ! Posted via Android Central App

Mine says July 7th. Followed the progress as it went from ups depot to depot. Monday the 7th was when the software was to be released so.... LG G watch for me to go with my LG phone and LG tone's. :) I picked 2 business days cause no delivery Fri and it scheduled for Monday. And I ordered Mon the 30th
Posted via Android Central App

Got mine already, enjoying all the bugs and poor UI and all the sync issues. Hope they fix this before everyone else gets one Posted via Android Central App

UPS doesn't deliver on July 4th. Posted via Android Central App

This watch is the ugliest of them all! Posted via My Galaxy S5...
Android Central Newsletter
Get the best of Android Central in in your inbox, every day!
Thank you for signing up to Android Central. You will receive a verification email shortly.
There was a problem. Please refresh the page and try again.