Lenovo Yoga Tab 3 Pro hands-on: Smaller and more refined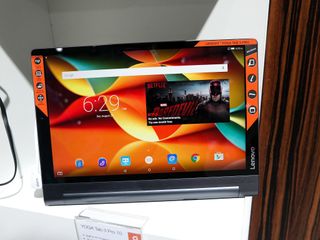 At IFA 2015, we got a hands-on look at the Lenovo Yoga Tab 3 Pro. Lenovo is calling the ultimate video tablet. It's got a 10-inch display, a built-in 70-inch projector, and four front-facing speakers. Watch our hands-on video to see it action.
An improvement in the Lenovo Yoga Tab 3 Pro over its predecessor is the placement of its projector. It has moved to the kickstand. It is rotatable up to 180-degrees so you can beam it to a wall or lay it flat to project to the ceiling. The display consists of a 10.1-inch QHD (2560x1600) screen at 299 pixels per inch. There are also 13-megapixel rear and 5-megapixel front-facing cameras.
The Lenovo Tab 3 Pro runs Android 5.1 with Quad-Core Intel Atom x 5-Z8500 processor up to 2.24 GHz. It has 2GB RAM with up to 32GB internal storage and expandable with a microSD slot. You also still get the kick-ass speakers, though for the Pro 3, Lenovo put the subwoofer along the front with the speakers, thus allowing a slight redesign around the back.
The Tab 3 Pro feels pretty sleek with premium materials such as aluminum and a leather-like fabric back. Lenovo placed the large battery and kickstand on the side of the device, shifting the center of gravity. It's also thicker than it's predecessor as Lenovo tells us it had to put two batteries in this time round to commit to the 18 hour battery life claim. There are multiple ways to use it. You can hold, tilt, stand, and hang, just as with last years models.
The 10-inch Lenovo Yoga Tab 3 Pro will start selling in November for 499 Euros. An LTE model will also be made available in the future. Are you interested? Sound off in the comments!
Battery life is amazing Posted via the Android Central App

Me. Likey.. What's the resolution when projecting 70"? Could be fun to have outside movies at night. Posted via the Android Central App

Very appealing tablet. Pretty sure I'll continue to use my Tab S 8.4 Would like to know resolution of projector too.

Anyone else see the girl in the background, sitting on the floor and putting on lipstick(?) less than a minute into the video? I guess it only goes to show that our 30 seconds of fame can come at any time... :-)

Haha she's actually some kind of presenter from Taiwan. Mark and I kept getting in the back of her videos!

Will there be a version with Windows, like the previous ones, too?

I have last years 13" and it's an excellent tablet for watching media (particularly sports in the kitchen while cooking). I never use the projector because the 13" is plenty big enough. A word of warning - Lenovo insist on having all the apps in folders on the screen (no app draw), so it's like an Android tablet pretending to be an iPad. I suppose you could root it - but then you might loose the Projector functionality… Anyway - I don't regret buying it.

What would happen if you threw something like apex on it? I assume the drawer is there, just hidden Check out the new Nexus! https://youtu.be/u3uFOavLo_w, not a Rick roll

Yes, I considered a launcher… but I ended up just living with it until I just got used to it…

Just use nova launcher Posted via the Android Central App

Um, that may be true for your version, but the device in the article definitely has an app drawer.

Had a yoga 2 tab. Crashed to factory settings numerous times. Twice took it back to my retailer. Got money back. Bought galaxy note A. No probs. Posted via the Android Central App

I wish they kept 13 inch from last year.

Should be able to watch a movie with a couple friends tho I'd like the projection to be higher than just 50 lumens. Came across the previous model yoga 2 in action compared to one by AAXA pico projectors, pretty cool https://www.youtube.com/watch?v=PtB_KQVfvLY
Android Central Newsletter
Get the best of Android Central in in your inbox, every day!
Thank you for signing up to Android Central. You will receive a verification email shortly.
There was a problem. Please refresh the page and try again.