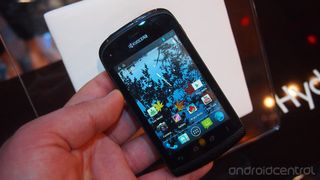 Earlier this morning at CTIA we saw Kyocera announce two new devices, the Kyocera Hydro and the Kyocera Rise. The aim of these devices was pretty evident, featuring 3.5-inch displays it was rather obvious that they weren't debuting some flagship devices, but that also doesn't mean that we should write them off without a fair look at them. First up is the Kyocera Hydro, their submersible Android device that is geared towards rugged users.
While the display may only be 3.5 inches, it's tempered by the fact that Kyocera opted to include an IPS display on this device. Some may find it to be a bit small, but aside from the personal preference there, Kyocera has done a rather nice job with the display. Right off the bat the one thing you will notice is the choice they made in regards to the buttons under the display, and unfortunately they have decided to go with four of them instead of three. This style decision is one that many may not enjoy, but it is there and we can't change that now.
Touring the hardware there isn't much different from other devices except when you flip it over you will notice the rugged design on the back. At the bottom of the battery door is the lock that helps create the waterproof seal for the device, since it is able to be submerged for up to a meter for 30 minutes without causing any damage to the device. Up at the top you have the 3.2MP camera which by no means is the greatest on the market, but it will do the trick.
Overall they have left the software of the device pretty stock, minus the lock screen, which they have customized in a way that will please some and annoy others. The lock screen has a large unlock button in the center, and right below that is the shortcut to the camera. To unlock the device, or access the camera you will need to flick the icon, which I found to be pretty easy to do, not an excessive force or repeated attempts were required.
Inside you have a 1GHz processor to help the device move along fluidly, along with 2GB of internal storage space for your favorite apps and files. The device allows for added storage as well via micro-SD which is under the sealed battery door. While far from a flagship device, the Kyocera Hydro is definitely a powerful little device that is sure to please the crowd of Android users looking for something a little more rugged. Hit the break for a quick video tour and some more hands on shots.
Image 1 of 6
Jared started off writing about mobile phones back when BlackBerry ruled the market, and Windows Mobile was kinda cool. Now, with a family, mortgage and other responsibilities he has no choice but to look for the best deals, and he's here to share them with you.
Whatever.. I want my Echo 2 with quad screens!

Wheres the dunk test?? :)

Couldn't resist: Title says "Hyrdo", article says "Hydro".

About that 4th capacitive button, you all remember the HTC one series with the 3 ICS buttons as capacitive instead of onscreen like the Galaxy Nexus, it had the issue where if it encountered an app that didn't have support for ICS action bar, it had a lone legacy menu button on the bottom of the screen, well this solves that issue, by putting a 4th button on the bottom if you use a legacy app you won't get that out of place menu button at the bottom of the screen. As apps get updated to support the action bar, the menu key won't be necessary, but until then OEM's are doing what they can.

It's nice to see somebody putting in features that people actually need. All phones should be somewhat water resistant. It's inexcusable that they aren't cosidering what they cost and how they are used. I answered my EVO3D during a workout and even though I was fairly careful sweat got under the glass. Several days later it dried out but stains remain. If these are cheap, durable, and reasonably competent they may sell a lot of them. I liked my Kyocera dumbphone back in the day, for an economy phone it offered a solid experience that surpassed expectations, hopefully these will too.

Where's the love for Team Hydro? (all text below this line written by KSmithInNY)
Someone should tell them to donate one to each member of Team Hydro to build a development community for the device. I can see the viral video now: "At Kyocera we understand the reasons carriers and other manufacturers lock down their devices and limit the development community, but that doesn't mean we agree. We've partnered with Android Central and Team Hydro to ensure our users have options ... PLENTY of options!
::cut to hydro running hydrorom, showing power notifications, custom theme engine, freed system rescources, etc etc etc etc:: Yeah, we get it!" VIOLA!!! Internet history is made!

Amen! Hook it up Kyocera!!

hello friends , good news for all window shoppers !!!!! DON'T MISS OUT!!!!
good news for all window shopper !!!!!
Smart-phone Reward System!!!!!!!!! Exclusively for bangalore , delhi and mumbai users!!!!!i think this is gonna be a bolt from the blue for all window shoppers!!!! for more details check out the below mentioned link!! :) URL : mintmapp.com/mobile
Android Central Newsletter
Get the best of Android Central in in your inbox, every day!
Thank you for signing up to Android Central. You will receive a verification email shortly.
There was a problem. Please refresh the page and try again.