Kyocera Echo gets Gingerbread upgrade, doesn't have NFC, can't make waffles; Update: And may brick your phone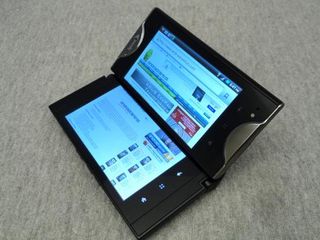 Update: We've gotten numerous reports in the comments on this post, in our forums and at Sprint's forums saying this update's bricking phones. Sprint acknowledged earlier in the day that there might be issues, but we've yet to receive a follow-up. For now, we'd hold off on installing this update.
Sprint and Kyocera this morning confirmed that the dual-screen Echo -- read our full review -- is getting its Android 2.3 Gingerbread update. On top of the OS bump, it's getting an update to Swype 3.0, as well as a new "Eco mode" to help out on battery life -- something the Echo desperately needs. (Remember that it actually comes with two batteries and a spare charger.)
Something the update doesn't bring, contrary to earlier reports, is some hidden NFC capability. No great surprise there -- if the Echo had an NFC chip in it, we would have heard about it by now.
But don't let that cast a dark cloud over this update. If you've got an Echo, look for the over-the-air-update to start pushing right ... about ... Now!
Source: Sprint
Get the Android Central Newsletter
Instant access to breaking news, the hottest reviews, great deals and helpful tips.
But I want my phone to make waffles! Without that ability, it is a HUGE failure. That being said it is nice seeing this phone getting Gingerbread.

Who even has a echo? But im glad to see that gb got to it but what about the gingerbread update for my epic and its been out way longer.

That's cause Samjunk sucks with their updates. Duh.

Having Gingerbread on my Echo seemed really cool, but when I got my update this morning it bricked my phone and it looks like it is happening to other also. http://community.sprint.com/baw/message/319895#319895

Lesson Learned? don't buy products from Kyocera

As far a office printers are concerned, I wouldn't buy anything but a Kyocera! As far as cell phones, they are still learning. But I would be open to trying one.

I'm surprised that people are actually buying these. The bezel alone makes my fingers tired. It is bigger than some screens!

Got the 2.3.4 update 1:30 this morning, Downloaded over wifi and installed in 12 mins. All went well with no problems.

mine bricked too. Called Sprint, rep was not aware of issue, referred me to a store.

LOL I remember when it was cool to declare this phone a "Fail" - that it would be cheap, wouldn't work, get horrible reviews, and most hilariously, that it would NEVER EVER get an update. Wrong on every account. Just goes to show that most people here just parrot what the post above them said. HAHA to the haters.

So there actually are people who purchased this phone and continue to use it??? Well I'll be damned. I personally havent sold one. Saw three come back a day after launch with issues...

If they would have figured a way to put both screens together without the big black bar in between, this would be a great phone.

They tried something different and it failed, don't rag on them guys. Or would you rather oems like HTC keep releasing the same freaking phone every couple months? I welcome risks like this.

Lol what did you expect from a phone, from kyocera ? Lmao

So just wondering, will android central be updating use if this issue is resolved...? Thanks! <3
And fyi the echo is amazing and I am sooooo glad I got this phone.

I bought my Echo on 7/27 with a new 2 yr., I received the 2.3.4 gingerbread update on 8/1... I downloaded it over wifi and made sure my phone was completely charged before doing so, Installed in under 15 mins. Installed just fine, Runs perfect no problems at all.

I just got my.echo today switch from epic ... I love it ... Had palm pre evo
and then epic I like this the most to bad no deb support but still awsome.without.... Btw those.other phones R in my house.collecting dust.