Kwikset Kevo — an almost awesome smart lock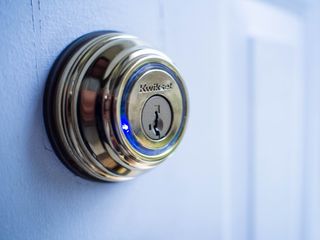 The folks at Kwikset have been trying to make locks and deadbolts smarter for a while now, and as a result their products are usually considered some of the best for people looking to add some smarts to their home. Their latest smart lock, the Kevo deadbolt, is an attempt to take what they've learned so far and make the act of locking and unlocking the door more natural. You basically make your smartphone the key, and assuming you keep that key in your pocket you need only reach out and touch the lock when walking up to the door to unlock it. It's simple, reasonably user-friendly, and Kwikset's software for Kevo extends this functionality in a way that makes a lot of sense.
To accomplish this, Kwikset basically walked away from all of the things that made their existing smart locks functional and user-friendly.
This, as well as some painfully absent device support, is where things start to go wrong.
Your smartphone is the key
We've seen plenty of smart locks that have you log in to an app and tap an unlock button, and the lock on your house either locks or unlocks. It's a cool idea, but also means your login being compromised grants someone access to your home. Kevo functions through Bluetooth proximity authentication, making so an authorized device has to be physically near the lock in order to unlock the door. The Kevo app includes some basic security functions, like not allowing access if the device has been inactive for 30 minutes, but the basic gist is you can have your phone in your pocket and just touch the deadbolt with your finger to gain access.
Because this deadbolt relies on there being a trusted link between your phone and the lock, Kevo's authentication mechanism uses digital keys that the owner can issue to other users. It means you're not sharing a login for a smart lock, which is great, but it also means each users needs to go through the process of installing the app and creating an account. Kevo also only offers two of these digital keys with the purchase of the lock, and requires a $1.99 purchase for each additional key. Even if you can wrap your head around needing to pay for additional authentication tokens to your front door, the actual purchase process is downright painful since Google's in-app purchasing mechanism isn't currently being used. On a more positive note, Kevo makes it easy to revoke keys when necessary, and those keys can be re-issued as needed.
This added Bluetooth functionality is a clever twist on the smart lock, and it works great as long as your device is supported. But as a result there's currently no easy way to remotely unlock the deadbolt if you're not home and you want to let someone else in. The closest thing you get is the ability to issue temporary keys to someone who might need to access your home while you're not around. These keys expire after 24 hours, and unlike the regular keys you have an unlimited number of these temporary tokens. It certainly not as simple as a lock that is connected to your home network through a smart home hub that can be accessed remotely, but on the other hand Kevo requires nothing but what it is in the box to function.
Supported devices, or the lack thereof
Kevo's entire strategy relies on most devices supporting the technology needed to communicate with the lock, and according to Kevo the list of supported Android devices is more than a little thin. While every Android phone has Bluetooth, and most modern Android phones offer some form of support for Bluetooth Low Energy, Kevo requires the host device support both the Peripheral and Central profiles in Bluetooth Low Energy. Unfortunately, most Android phone prior to Android 5.0 only supported BLE Central. With Lollipop rolling out to more phone every day, the list of supported devices should grow significantly, as in theory any Bluetooth 4.0+ device running Android 5.0+ should play nice with Kevo.
Unfortunately, progress in adding supported devices to Kevo is dismally slow, and it's fairly clear the folks at Kwikset are to blame for delays. The Kevo app currently only supports the Nexus 6, Nexus 9, Samsung Galaxy S5, and HTC One M9, which is an odd group to say the least. A quick look through the Kevo app Alpha group reveals a list of devices, most of which have recently been updated to Android 5.0, that users claim function correctly with their lock but are awaiting an official evaluation from Kwikset. If you're brave and want to rely on maybes to access your front door, the Alpha group says most popular Android phones work fine, the most notable exception being the HTC One M8.
It might maybe one day be a cool idea
While the hardware execution and the general concepts behind Kevo are things worth taking a look at, the platform feels half baked for anyone that doesn't fit the handful of use cases being supported here. Installing this lock on my front door meant uninstalling a Z-Wave capable deadbolt made by Kwikset, and while my current deadbolt lacked Bluetooth proximity detection and a convenient touch ring it works with every device I've ever thrown at it. My existing lock also has a keypad, so people without smartphones (like my children) and people who don't regularly install apps and create accounts for smart things (like my father) can quickly enter and exit my home when I've given them permission to do so. For my personal use, Kevo feels like a step backward.
Beyond that, however, it's clear Kwikset isn't really ready to support Android. The meager list of supported devices and frustrating purchase setup for digital keys in the app need to be addressed, and beyond that a non-local method of unlocking the door would be nice. Kwikset claims to be releasing an accessory in the future to connect Kevo to your local network, but since you're already paying over $200 for this lock in most places it's not easy to justify the additional expense for something you can already get from other products. The Kwikset folks have a lot of great ideas with their Kevo lock, but it's unlikely to be a product I recommend anytime soon.
Sign up for Black Friday email alerts!
Get the hottest deals available in your inbox plus news, reviews, opinion, analysis and more from the Android Central team.