Korean Galaxy Note 2 sales reportedly top one million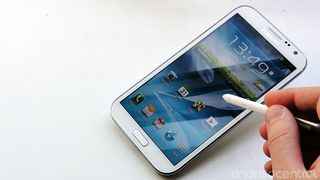 It's no secret that Samsung's Galaxy Note 2 has been a big seller around the world. Last month brought news that the 5.5-inch device had shifted five million units worldwide, and now reports from the Korean press suggest that one million of those were sold in Samsung's home country. The Galaxy Note 2 launched in Korea just over three months ago in late September, preceding a wider international launch in October.
Korean news site MK reported the one million milestone today, while also stating that the Note 2 is selling three times as fast as its predecessor. After hitting one million units sold globally before the end of 2011, the original Note went on to sell ten million units in ten months.
With smartphone screen sizes set to increase in 2013, it'll be interesting to see how the Galaxy Note 2 fares in the face of the big-screened competition. Rumors suggest that Samsung is planning to diversify its Note line with a new tablet, possibly in the 7-inch area. Whatever's announced and however big it is, we'll be covering it in full in the new year.
Source: MK
Android Central Newsletter
Get instant access to breaking news, the hottest reviews, great deals and helpful tips
Alex was with Android Central for over a decade, producing written and video content for the site, and served as global Executive Editor from 2016 to 2022.
What can I say? The Note 2 is just amazing. I remember people saying 4.5 was too big and now thats a lil less then the norm. By the end of 1013, 5+ inches will be the new IT size.

I showed my wife the Note 2 to replace her old Incredible. First she laughed. Then when she realized I serious, she was insulted. She said it was a total geek phone. NFW.

Always glad to see a smartphone other than the IPhone is selling millions!!!

The Galaxy S3 should be up to at least 40 million sales worldwide at this point. The Note 2 is fairly new, but really is "too big" for some people, so won't sell quite as many. The price difference and lack of significant deals for the holidays also hurt sales of the Note 2.

I'm pretty sure that the Galaxy Note 2 is selling well in Korea by the millions. Pretty sure it's selling by the millions in the States that basically means a superb product something that will grow larger come 2013. Rather people like this or not the direction of smartphones have forever changed and it will get bigger thanks to Hauwei. Samsung will never be beat.

1. If you could read, you'd know it only just topped *one* million in Korea, not "millions", as the article clearly states.
2. You say "Samsung will never be beat" and yet just a year ago you were going on and on about "Samsuck" and how "boss" HTC was "ruling this space". Never say never, idiot.

my classmate's sister-in-law makes $82 an hour on the laptop. She has been fired from work for 10 months but last month her income was $17081 just working on the laptop for a few hours. Here's the site to read more (Click on menu Home more information) http://goo.gl/S4x5f

Really thought they would have sold more than that.

this is sales number only in korea. note 2 sold 5M units sold in 2 months around nov 26th

The Note 2 is a fantastic device. After using the N2 and the Galaxy Note 10.1, I can't see myself using any other phone or tablet without a stylus that's at least as functional as Samsung's Spen.

This is exactly where I am. I have both the Note 10.1 and 5.5, and to be honest, these two devices have me about as satisfied technology wise as I have ever been. Knowing me, and my like of new gadgets, my friends and family asked me what new gadget I purchased for Christmas this year, and my response was, "nothing." I keep looking at other tablets, phones, eReaders (that's the gadget junkie in me), but to be honest, since I own these two powerhouse devices everything else seems like a step down. Samsung has really put a damper on my normal spending spree!

My wife picked up a white one two days ago. She loves it. Her last phone was an EVO Shift. She finally got rid of the physical keyboard after trying out the Photon Q and hating it. It is a very nice phone. I have the EVO LTE and although I find the Note 2 to be a little too large it makes me wish I had known to wait a month or so for the GS3 before getting the EVO at launch. The feel of the Note 2 and the GS3 is so solid and there are no sharp edges. The color of the back is also way better than the EVO. Oh well. I'm sure I'd feel the same way had I gone with the GS3 as well. The grass is always greener on the other side.

I kept insisting that increasing screen sizes was the way of the future a couple of years ago but not many people agreed. When ~4" phones were the norm (Galaxy S, Nexus S, Evo 4G, Droid Incredible), no one would have thought 5.5" could be so popular. Now what seems impossible? 7" phones, but who knows, in a couple of years maybe that'll be the norm. At the very least if you want a high-end Android device in a couple of years you'll have no choice but to go with 5.5-6". If you don't mind settling on midrange specs then you'll have a huge range of 4.5" phones.
Android Central Newsletter
Get instant access to breaking news, the hottest reviews, great deals and helpful tips
Thank you for signing up to Android Central. You will receive a verification email shortly.
There was a problem. Please refresh the page and try again.