KitKat rolling out for LG G2 on Sprint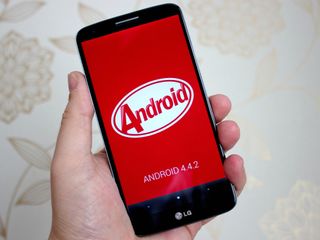 Congratulations, LG G2 owners on Sprint, it's a KitKat. Today Sprint is pushing an update for the G2 smartphone that brings the handset up to Android 4.4. We don't have a changelog yet, but we can expect the update to bring several under-the-hood improvements as well as support for Google Cloud Printing. Or at least that's what happened when KitKat was pushed out earlier this week for the LG G2 in Canada. LG G2 owners, if you're seeing KitKat today, let us know what you think!
Source: Sprint, Thanks to jstasen in the forums and larry for the tip!
Get the Android Central Newsletter
Instant access to breaking news, the hottest reviews, great deals and helpful tips.
Derek Kessler is Special Projects Manager for Mobile Nations. He's been writing about tech since 2009, has far more phones than is considered humane, still carries a torch for Palm (the old one), and got a Tesla because it was the biggest gadget he could find. You can follow him on Twitter at @derekakessler.
Verizon, I am extremely disappoint... Posted from VZW G2

You shouldn't be with that LG crap ui and Verizon boat. It takes time to update that and Verizon to test on their pervious network. They care about customers and don't want to push something that has bugs. As few people here and editors say does your phone work currently, then why you care for updates? /s Posted via Android Central App

Stop with that BS dude...VZW is always behind on OS updates (with Android) because they want folks to get newer phones and not stay with that they have. They're a giant player on the mobile market and they can do that...now it's up to people to withstand the OS update lag that VZW uses...

Sarcasm went over your head Posted via

Last sentence made it seem as if he was serious.

Wooooooooooooooooooooooooooooooooooooooooooooooosh!

Lmao Was it over when the Germans bombed Pearl Harbor? Hell no!

Yep. I was hoping their quickness in pushing updates to the Moto phones was a sign of things changing. Guess not. :( Posted via Android Central App

Finally! Just got this phone a week ago, and I love it! Posted via Android Central App

Coming from HTC One to LG G2 about 2 weeks ago & loving it, not seeing the update yet though

Hopefully really soon there will be a thread on XDA that has the file to download. Posted via my SPARK enabled Sprint LG G2, K00949438Yd FRAMILY!

I'm also coming from an HTC One to the LG G2... I love this phone! Best phone I've ever had!

It hasn't updated here yet.
http://www.lg.com/us/support/product-help/CT10000003-CT10000027-13867999...
So the push may not have started yet.
Posted via Android Central App

Never mind... :) Posted via Android Central App

Still love my LG Optimus G after a year. I guess this confirms no KitKat for the "G1." -sigh-

The update was confirmed by lg a week or so ago. Its coming around summer time Posted via Android Central App

Hopefully now with the official kit kat roms rolling out it can be merged into the G2's version of CM 11 and i wont' suck so much...love the phone and love CM but damn is this phone unreliable when combined

Ive been experimenting a lot with several custom roms on my HTC One including cm 11 nightlies & have learned the hard way that they ALL suck. Told myself when i got the G2 a few weeks ago, no more roots or customs for me

You should still root the phone, but there's no need for custom roms, imho, when Xposed does everything you want it to. Keep it stock, utilize xposed and make the phone yours while keeping it totally stable on stock rom... This phone is a beast! Haven't received kit Kat, because I'm on Verizon, and I don't really care. Only thing I'd want is knock code, otherwise this is the first phone I've ever had that I'm not dying for an update, to improve performance or anything like that. Posted via Android Central App

No issues with HTC one ROMS Posted via Android Central App

'Bout damn time. :)
Just kidding. End of March has always been the rumor.
That it is the actual last day of the month makes me crazy.
Mav.

Anyone wanting to keep root and custom recovery should wait to see what damage it does those setups. I know the D800 AT&T models got nerfed big time. Posted via Android Central App

Yeah that was cuz of Loki. Loki is not a thing on the sprint variant Posted via Android Central App

Cool I did not know that, thanks. Posted via Android Central App

Glad to see this. Wonder if it will have the same bugs as T-Mobiles update. Google music randomly stops is probably the most annoying issue to me. It makes the G2 perform better overall. No major changes other than white icons. If you're using Nova launcher you can now get the transparent bars without root. Posted via G2 + Nova

Google Music randomly stops on stock JB right now. It's the MOST annoying bug ever. In fact, it's really the only bug I have on my Spring G2. Hope KK squashes it.

Perfect, my G2 arrives tomorrow! Hopefully it will update when I activate the phone. Posted from my Motorola MicroTac via the Android Central App

Meanwhile I'm here on the UK on Three and still no update... April is almost here and I'm stuck with 4.2.2 and to sweeten things up i factory reset my phone and from 32gb internal I had all of a sudden I'm now with 16gb internal even thou the hardware info in about us says 32gb... Very bizarre

I got it on my international version or so I think because I live in Saudi Arabia, it is available since three days ago

It's live, showing zvc
Posted via Android Central App

Still not showing up for me. Posted via Android Central App

Finally, now you guys can stop complaining every time the One or the S4 gets an update.

Just a heads up for all you updaters, you may want to decline updating the LG apps and disable the LG apps auto update. Once you are on kit kat, a bunch of LG apps will try to update and one of those updates disabled the voice recognition in Google Now. At least it did for me on my T-Mobile G2. YMMV. Had to factory restore to get it working again, then disabled the updates. Other than that, I have been loving this update and this phone even more. Posted via Android Central App

Is it out in michigan yet Posted via Android Central App

I don't think roll-outs have anything to do with geography. It is quite random. I didn't get the last roll-out until a week after it was announced.

I just checked the database, and Michigan is not scheduled to get the update until April 11th.
When they do an update, they randomly pull the states out of a hat and send the updates in that order. Sorry. Michigan was picked to go 47th for this update.
Just be thankful that you do not live in Iowa - they were the unlucky ones to get pulled 50th this time and they will not see it until April 20th.
Posted via Android Central App

What about Illinois? Posted via Android Central App

Sorry, just pulling the guy's leg. Rollouts are not, and have never been, location based. No one knows for sure if it goes by serial number, or some other data. My wife and I have had the sender type of phones for the last 6 years and when Sprint releases updates half the time she gets them first and half the time I get them first. The Spark update that just are out, I got it a full week after she did. Posted via Android Central App

Evil...:-) Posted via Android Central App

If you ever read the forums on update days it always cracks me up. People always say "Nothing in Dallas yet", "Still no update in Las Vegas ", etc. Sounds like the scene from " War Games" where everyone was supposed to have been vaporized by the Soviet ICBMs and they start calling out "we're still here!". I don't know where in the world people picked up on this idea that updates are location based, but every update cycle it's the same thing no matter how many times people try to dissuade them from believe that. Posted via Android Central App

Can someone explain this sorry im not quite understanding Posted via Android Central App

Over the air rollouts are not sent or made available to all phones at the same time. Instead, phones are given the update in seemingly random order.

Not showing up Posted via Android Central App

Still no update Posted via Android Central App

Dude chill! It will come! Nexus 5...enough said

He doesn't get his until April 11th, that's when Michigan is getting it. However if he were to drive down to Ohio, he could get it today.
Posted via Android Central App

Where did you see that at Posted via Android Central App

I would eat my hat if someone actually drive to another state to check for an update

LOLLLLLLLLLLLLLLLLLLLLLLLLLLL

Finally!!!! Posted via Android Central App

Cool, I should have one of these very soon. Asurion is replacing my battered Galaxy S3 with this because they don't have any Galaxy devices available atm.

I got it about 2 hours ago. Posted via Android Central App

Anyone knows when the lg pro2 coming to the states Posted via Android Central App

Dude, you are REALLY posting in the wrong place. The status of the pro2 has absolutely nothing to do with the KitKat update for the US Sprint LG G2. Try to stay on topic. When the pro2 does come, I heard it's releasing with froyo. :)

Lol! Posted via Android Central App

Froyo? nah man cupcake for life

It just hit my Sprint phone when I walked onto campus. Long update via the wifi. Notice that the color from my top status bar is gone...all white. Be prepared for a long round of app updates....seemed like all apps want an update now of course. Will see what bugs it has soon I suppose.

I got the update a couple of hours ago. I haven't installed it yet. Been backing stuff up and copying files over to my PC. My 32GB phone has only 3GB remaining! It's a pretty big file - 618MB. I think the only reason I got it is because I'm on wifi. If I was on the Sprint network, I'd have got it tomorrow. Sadly, only half kidding!

Well no update yet but it is sprint. Waited nearly 3years for 4g, go figure.... Posted via Android Central App

Anyone in the Chicago area receive this update yet??

Just got the update today, April 8th. First, I'm glad it doesn't have that crazy looking red screen with Android 4.4.2 going across it. I would have quickly changed that. I've been playing around for a bit and so far so good. One thing I noticed that I really like is the display of the home screen. It now goes to landscape. This could be because I finally found an option that allows me to do this, but none the less I am happy. If I could knock and the screen comes in landscape, that would be even better. But can't have everything, right? Placing apps inside a folder seems to work smoother as well. Before, my folders were jumping all over the place when I would try to group things together into one folder. I don't think I will be needing a different launcher, either. I did have one installed on my tablet but it was getting hard to find all my apps and couldn't always add to a folder. Tried using a kitkat launcher and it made my icons larger than I really needed or wanted. All in all, very pleased with the update.