Kick up dirt in 'Colin McRae Rally' for Android [Retro Review]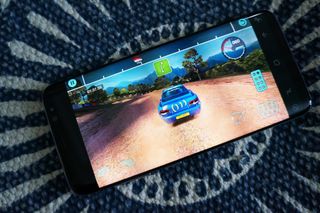 It's hard to find pure racing games on Android — games that don't bog you down with in-app currencies to monitor, put limits on the number of races or lock you into switching lanes. Is it too much to ask for a game that just delivers honest-to-goodness racing?
Play Colin McRae Rally on GameStash
Surprisingly, the answer for me is a game series that's been around for 20 years — Colin McRae Rally. I remember first playing the first game in the series on PC or PlayStation and it was one of the top-notch games of its time. Unlike traditional racing games that focus on street racing or traditional racing circuits, Colin McRae Rally was one of the first games that I ever played that focused solely on rally racing on dirt tracks.
Colin McRae Rally would be revitalized on mobile in 2013, with the developers at Codemasters launching an updated version of the game first on iOS and a year later on Android. It's a game that obviously strikes a nostalgic chord for myself, but also delivers a much more pure racing experience than other racing games for Android.
Just race, man
This game is no-frills racing. The menus are subdued and basic, and you can get straight to racing within a minute of launching the game. There's a quick race option that just throws you right into a random stage with a random car, or you can dive into championship mode where you play through the games' eight rally series (which includes the first introductory rally).
Each rally is broken up into six stages. Each stage takes about four minutes or so to complete and it's a pure race against the clock — there are no other cars on the track. Just like true rally racing you get track information about the upcoming turns and jumps from your co-pilot, which gives the game a good sense of realism. You've got to drive smart as your car acquires damage if you drive it like a maniac, and you only get a chance to repair things after two stages.
The early rallies are pretty easy to cruise through like a wrecking ball. You can crash into trees and take huge jumps that toss your car like a matchbox toy and still end up finishing in first place, but that's intentional so that the game can ease you into the racing style before upping the difficulty level.
Best racing physics on Android
The biggest draw for me is the racing physics. Rally car racing is all about ripping down dirt tracks and drifting through tight corners at high speeds, and Colin McRae offers a great sense of speed and control — in spite of the touch controls which are less than ideal. You also have the option of tilt controls, but I've found that tapping the steering buttons offers much better control than tilt ever could.
Are the physics perfect? No. If you slide off the track a bit and graze a young tree, your car reacts like it just slammed up against a steel girder. At first, it's kind of jarring, but once you accept that every tree is going to act the same and stop you in your tracks it just makes you more careful to not fly off course. As you progress through the championship mode, you damn well better learn to stay on course or else your opponents will leave you in their dust.
Fun to be had
Ultimately, I think I've had the most fun playing Colin McRae Rally Racing over any other racing game I've played on Android. Part of that is due to my previous experience with the series, but it's also because this is a pretty good port of a really good racing game.
Sure, it would be nice if there were more cars and more tracks but if any of that was also linked to loot boxes or in-app purchases I'd be much less inclined to recommend it.
Colin McRae Rally seems to have been removed from the Google Play Store, or simply may no longer be available in Canada for Android, but fortunately, it's available as part of the GameStash library.
Get the Android Central Newsletter
Instant access to breaking news, the hottest reviews, great deals and helpful tips.
Marc Lagace was an Apps and Games Editor at Android Central between 2016 and 2020. You can reach out to him on Twitter [@spacelagace.