It's almost 2020 — how's your Galaxy S10 battery life holding up?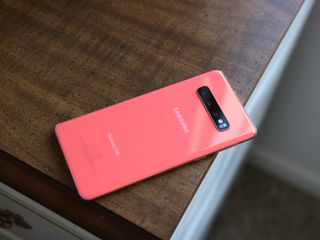 (Image credit: Joe Maring / Android Central)
Believe it or not, we're quickly coming up on the one-year-anniversary for when the Galaxy S10 series was released.
The S10 has stood out as one of the year's best phones, offering a gorgeous AMOLED display, premium design, powerful triple rear cameras, and more. Almost a year after its launch, however, how's its battery life doing?
Some of our AC forum members recently got to talking about their S10 endurance. Here's what they had to say.
What about you? It's almost 2020 — how's your Galaxy S10 battery life holding up?
Joe Maring was a Senior Editor for Android Central between 2017 and 2021. You can reach him on Twitter at @JoeMaring1.
It's good for most people. I always carry 2 phones with me and still have to charge them twice a day. If I use them like "normal" I can get a 1 1/2 day with the S10+.

Why not buy a dual SIM phone? I use one all the time.

Im currently us 2 phones too and both are dual sims, one is for work and one is for private (family & close friends) so when Im not at work or really need to disconnect from work for a bit just turn off the work phone and my stress level wont shoot thru the roof

When I first got the phone, I could go all day without charging. As of now, I have to charge it by 7-8pm before it dies. This is for the S10+

Well, I've had mine since the release date & the battery is as good since day one. I'm a very heavy user & get on average 7& a half hrs SOT. For my uses that's just fine. Plus I use battery packs and never charge it overnight, I think that weakens the battery? But that's just my opinion. I top it off before bed and shut it down overnight. I've been doing this for the last 8yrs & never had a problem with any of my flagships!

Using the S10 5G feels just as good as the day I got it never have to worry about charging and I'm a heavy user. Accubattery reporting 10 hours of screen on time maybe a bit less around 8.

My battery still very good. Very pleased with my S10.

So. I'm my opinion, I think this is sad. Everyone is adjusting there phones to squeeze out battery life. It's almost like an addiction right? Hahaha. Seriously. I have a Note 10 plus. To me if you pay this much for these phones. You should have premium expectations. In other words if I want full brightness, then I should still get good performance and battery life at full brightness. If I want to be heavy surfing on the web, I better get long battery life...people don't settle.

Who's everyone? Cause that's not me

I feel sorry for everyone that bought a Note 10+! I bought my Asus ROG phone 2 that came out at the same time for $200 less and still got specs which put Samsung to shame!
6000MAh battery! I go 3-4 days before charging!
120Hz AMOLED screen! Twice the refresh!
Snapdragon 855+ chip, 15% faster!
Everything good that the note10+ has, the ROG phone 2 has! AND the ROG phone 2 has soooo much more! I can name dozens of advantages! Ultra sonic air triggers! Quad Wi-Fi antennas! No NOTCH! 30 watt charger in the box! Bottom AND side USB charging! Superior forward facing Dolby Atmos stereo speakers! Copper vapor chamber and heat sink! Included external powered cooling fan! RGB LED lighting! OMG! Note has none of this! And more!

But it doesn't have the one feature ESSENTIAL for ME 😃. THE S PEN. The S Pen makes me always choose the Galaxy Note phone in preference to any other device. I'm presently using the Note 9 and the Note 10 Plus as my daily drivers. Whenever one's battery level drops to 40% during the day I switch to the other. That's usually by 1400 HRS.

My battery is as good as it was the day I got it. I get a full days use with leftover and charge overnight. No issues at all. I got the plus model for the bigger battery.
Android Central Newsletter
Get the best of Android Central in in your inbox, every day!
Thank you for signing up to Android Central. You will receive a verification email shortly.
There was a problem. Please refresh the page and try again.