Is it worth buying the Galaxy Note 10 in 2020?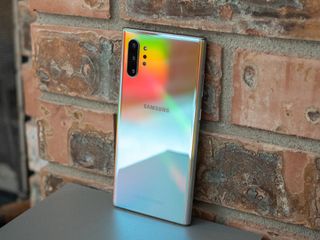 (Image credit: Android Central)
Samsung's Galaxy Note 10 and Note 10+ were two of the most powerful phones to be released last year, offering top-of-the-line performance, an incredible AMOLED display, the wildly popular S Pen, and much, much more.
It's now 2020, however, and all eyes are on what Samsung's going to do with the upcoming Galaxy S20 lineup. And, after that, it'll be time to look forward to the Note 11/Note 20.
Even so, someone in our AC forums recently mentioned that they just picked up the Note 10+ and have really been enjoying it.
That got us to thinking — Is it worth buying the Galaxy Note 10 in 2020?
Joe Maring was a Senior Editor for Android Central between 2017 and 2021. You can reach him on Twitter at @JoeMaring1.
Without a doubt, my Note 10 has been the best overall phone I've ever owned. I came from a Note 9 which was also a fantastic phone. But the Note 10 took everything the Note 9 had and put it in a more pocket-friendly and single-hand friendly package. The battery lasts all day without top-offs, the screen is still the best in the industry (among 60 Hz panels), it has gobs of RAM and has no problem flipping between apps, 256 GB storage which I will never completely fill up, One UI 2.0 is actually enjoyable to use and disabling unused bloat is brain-dead simple (you don't even need root), it integrates well with my Samsung Buds, and phone call & speaker quality are phenomenal (yes, I actually use it as a phone). If there was anything I'd change, I would add a headphone jack, microSD slot, and I would trade some thinness for more battery, just because you can never have too much battery. Other than that, I think it is damn close to being perfect. Absolutely zero regrets buying this phone.

What about all that crappy Samsung bloatware?? *And if you got it from a service provider, what about their crappy bloatware?? If they make a Android One Note 10, then yes!!

But some of that bloatware helped Android evolved.
Without Dell and then Samsung taking the large phone and make it a thing, would we have native multitasking or multi screen in Google os baked. Google android is is kind of boring and bland in the feature game in it's native form.

You obviously didn't read my entire post. Any bloatware can be disabled or uninstalled with CCSWE App Manager, which doesn't require root. I bought a Verizon-branded Note 10 because I wanted Wi-Fi calling, visual voicemail, and I use Verizon's free call screening (which is actually pretty good). I disabled all the other Verizon crap. If you don't want any carrier stuff whatsoever, then buy the unlocked model. Pretty simple. And a "Android One" Note would neuter what makes a Note a Note. People don't buy a Note because they want a "pure Android experience". You buy a Note because it offers an experience that no other phone can duplicate. If you want "pure Android", then buy a Pixel or Nokia.

I thought it included a microSD slot!!?? also, will Verizon wifi calling work on an unlocked phone?

Verizon Wi-Fi calling and visual voicemail are not supported on unlocked phones. The Note 10+ has a microSD slot. The "regular" Note 10 doesn't. Tbh, I don't really miss the microSD slot because 256 GB internal storage is plenty for me. However, the Note has always been Samsung's top-of-the-line phone and I think separating the Note 10 models into two tiers was a bad decision and a pure money grab.

My note 9 does all the things you're saying about the note 10...using many apps without problems 128gb of storage which will never be filled up, battery lasts all day.. Etc. Etc.. I guess it depends how you use or configure your phone... Plus the noet 9 has earphone plug, SD card.. And new ui update... Anyway good you enjoy your phone but don't see those reasons for being good points.. Especially if you miss the SD card and earphones... I liked the design and camera tricks but didn't see enough of anything new to warrant an upgrade from 9 to 10.

You're asking if a phone that was released less than 5 months ago is still worth buying? If it was worth buying when released on August 23, 2019, has some earth-shattering event occurred that has now rendered it obsolete?

I agree. This post is just to get people talking about the Note 10 because there is nothing else to say at the moment.

Me like note 10 plus. Would have held on to the Note 8 if they hadn't cut off support though....as long as they keep finding ways to discount these phones however, I will be quiet about the forced 2 year obsolescence...
Android Central Newsletter
Get the best of Android Central in in your inbox, every day!
Thank you for signing up to Android Central. You will receive a verification email shortly.
There was a problem. Please refresh the page and try again.