Most entertaining running and walking apps for Android in 2022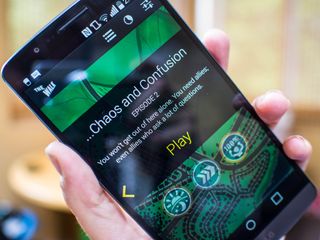 Fitness apps are nothing new, but getting motivated to work out can often be the difficult part. That's where the emerging genre of interactive fitness apps comes in. These apps use your activity to tell you a story, motivate you, and make your workout seem more like a game. There are plenty of them out there, but we went ahead and weeded through them to find the apps you definitely don't want to miss.
Runtastic Story Running
We've talked before about how Runtastic is a great fitness app, particularly for runners. It's filled with enough features that you may have missed Runtastic Story Running, which lives in the app itself.
Story runs are considered a premium feature, with varying run times usually totalling 30 to 40 minutes. Topics range from various fiction genres to more ambient meditative breaks. During your run, you will see how long you've been moving, the distance traveled, and your average pace. Since it's part of a larger app, it isn't quite as interactive, but you can post your workout to Facebook and integrate a heart rate monitor.
With over a dozen stories spanning several genres, you've got plenty to listen to on your run. While there are a few free stories to run to, most of them cost $0.99 unless you buy into the premium Runtastic membership for $4.99 a month.
Download: Runtastic (Free, subscription)
The Walk
The Walk is far more of a game than a fitness app. You are an agent who has been tasked with helping to save the world. As you walk— and all you ever need to do is walk — you will unlock sound clips, which expand the story. Each episode has checkpoints, collectible items, the ability to choose a route, and even achievements. If you've had your phone closed and you reopen the app, you'll be notified of how many steps you've taken and how long you would need to keep walking to finish the current mission.
The story is seriously engaging, and when you get caught up in it, it's easy to let time slip by so you can finish the entire mission in a single go. The Walk is $2.99 and entirely worth it.
Zombies, Run!
Zombies, Run! is probably the most popular app on this list, and for good reason. There are a bunch of free missions, as well as a paid version of Zombies, Run! for 5k training. The app will hit you with chunks of the story as you move, each piece coming every few minutes. At times, you'll be told to run and you'll hear the zombies chasing you — definitely a motivator. As you travel along, you'll automatically pick up items, which can be used to improve your town after each mission. While you're running, you have a counter that tells you how far you've gone, your pace, a counter for in-game items, and a status bar for how far you've traveled.
Zombies, Run! is fantastically fun and captivating. It makes you want to keep going, and because there is so much content, it's very easy to do just that. You don't even need to run; you can take the game at your own pace, since missions are timed and not based on how fast you move. Early missions are free, but you'll have to pay to unlock more.
Download: Zombies, Run! (Free, in-app purchases)
Pokémon Go
You might not think that walking around the neighborhood in search of pocket monsters is a workout, but thousands of miles walked by Trainers worldwide would prove you wrong. Released by Niantic, Pokémon Go is a game that is made to have you up and walking around while you play. You'll be able to find and catch over 200 different Pokémon, check in at local PokéStops to get items, and even challenge Gyms to aid your team within the game.
Pokémon Go is a ton of fun with plenty to keep you engaged. The game runs regular events, along with rewarding you for how far you've walked. That's because you'll pick up Eggs that need to be incubated. You'll need to walk a specific distance in order to fully hatch the eggs and add an awesome new Pokémon to your repertoire. The game is evolving all the time, having added Raid battles, legendary Pokémon, and more.
Download: Pokémon Go (Free, in-app purchases)
Are you ready to get moving?
There you go, four of the best interactive fitness apps on the market today. Whether you're looking to just amble along, or you're training for a run, these apps can definitely make fitness more like a game than work. So which interactive fitness apps are up your alley, or which ones did we miss out on? Let us know in the comments!
Updated January 2018: We've updated this list with Pokémon Go!
Get the Android Central Newsletter
Instant access to breaking news, the hottest reviews, great deals and helpful tips.
Jen is a staff writer who spends her time researching the products you didn't know you needed. She's also a fantasy novelist and has a serious Civ VI addiction. You can follow her on Twitter.