Intel show off their reference device, highly optimized version of Android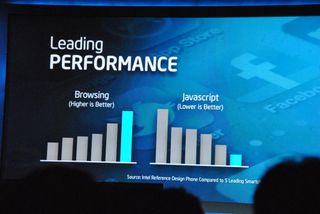 We've already seen the Intel Medfield reference device with our hands on earlier today, but during the Intel Keynote they took it out on stage to show it off to the world.
The device itself is pretty fully loaded. NFC, HDMI, and an 8-megapixel camera that can take 10 high resolution pictures a second. The design also supports upto a 16-megapixel camera. While running Gingerbread, it's clear that this is a highly optimized version of Gingerbread, that performs amazingly well on the device.
The 1080p video playback was shown alongside an HTC device in a time lapse video, which illustrated how the Intel device outlasted the HTC one by hour in terms of battery life. The claim is that 1080p video playback is offered without sacrificing battery life.
In browsing and Javascript, the device was shown against a competitor product and the results were impressive. The Intel Medfield offered a significantly better experience than the competitor phone and because of the optimizations, existing Android Market applications will work without needing a re-compile.
Bring it on.... Just tell me when

am i the only one skeptical about intel? all these companies always lie and say there chip is "better and more efficient" than the competition

And that's why sites like this exist (androidcentral) to call bs when claims don't pass. I'm sure that there will be an article here showing what the device is like, and if Intel inflated the numbers or was honest.

Sounds pretty amazing to me. I would love to get my hands on one.

this may not be too far fetched, if i'm correct desn't intel gain a performance boost while on linux based OS's?

Did anyone notice that it says "App Store" (iPhone) in the background
Android Central Newsletter
Get the best of Android Central in in your inbox, every day!
Thank you for signing up to Android Central. You will receive a verification email shortly.
There was a problem. Please refresh the page and try again.