Intel, Google announce partnership with Tag Heuer for Android Wear-powered smartwatch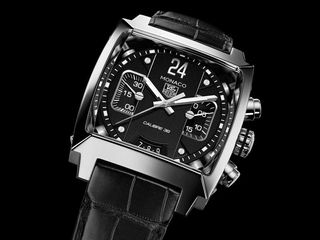 The announcement was made as the Baselworld watch show kicked off in Switzerland. Unfortunately, aside from the news of the Tag Heuer partnership itself, there are no details on an imminent watch. What we do know is that Google and its partners are working on competing against the more luxurious premium Apple Watch Edition.
Guy Sémon, General Manager of TAG Heuer added to today's announcement:
If you're interested in premium hardware and happen to want a smartphone that would match an Android Wear-powered smartwatch launched by TAG Heuer, you may want to check out the Tag Heuer Racer. We'll be waiting impatiently to see what the companies unveil.
A dedicated launch event for the watch is expected later this year, as well as the watch itself, which is slated for Q4.
BASEL, Switzerland--(BUSINESS WIRE)--TAG Heuer, Google and Intel have announced a partnership to launch a Swiss smartwatch powered by Intel technology and Android Wear. The effort signifies a new era of collaboration between Swiss watchmakers and Silicon Valley, bringing together each company's respective expertise in luxury watchmaking, software and hardware.
"Swiss watchmaking and Silicon Valley is a marriage of technological innovation with watchmaking credibility. Our collaboration provides a rich host of synergies, forming a win-win partnership, and the potential for our three companies is enormous"
The collaboration was made official at Baselworld, during a press conference held on Thursday 19th March at the TAG Heuer booth. Jean-Claude Biver, President of the Watch Division LVMH Group and CEO of TAG Heuer, David Singleton, Director of Engineering for Android Wear, and Michael Bell, Corporate Vice President and General Manager of Intel's New Devices Group, joined each other on stage.
Together, these companies will create a product that is both luxurious and seamlessly connected to its wearer's daily life—a culmination of innovation, creativity and design from Silicon Valley in California and the Watch Valley in La Chaux-de-Fonds, Switzerland.
"Swiss watchmaking and Silicon Valley is a marriage of technological innovation with watchmaking credibility. Our collaboration provides a rich host of synergies, forming a win-win partnership, and the potential for our three companies is enormous," said Jean-Claude Biver.
Guy Sémon, General Manager of TAG Heuer added: "The quality of Swiss watches is renowned worldwide. When this is allied with the creative technology and global power of two companies like Intel and Google, using the Android Wear platform and based on Intel technology, we can see the launch of a technological revolution in our industry, of which I am proud to be a pioneer today with TAG Heuer."
David Singleton noted, "By fusing beauty with technology, the Swiss watch has inspired generations of artists and engineers alike—including us at Google. So we're thrilled to be working with TAG Heuer and Intel to bring a unique blend of emotion and innovation to the luxury market. Together, and using the Android Wear platform, we can imagine a better, beautiful, smarter watch."
"As we work to enable technology experiences that provide greater utility and value to people, Intel is confident that a collective approach will inspire new innovation in wearable technology. The collaboration with TAG Heuer and Google brings us closer to realizing the vision of wearable technology with a distinctive smartwatch that elevates the category," remarked Michael Bell.
Android Central Newsletter
Get instant access to breaking news, the hottest reviews, great deals and helpful tips
Guaranteed to be out of my price range..... I love Tag too. Posted via the Android Central App

Hopefully the likes of Seiko will get into this as well for those of us who like nice watches but don't believe in it needing to cost as much as a used car. Posted via the Android Central App

TAG is a dog shit third tier mall brand.

Didn't take long for the watch purists to come out against this haha. For an elitist such as yourself, surely you would never wear any smartwatch on your wrist, especially not one designed by Tag, so why would you care?

Isn't the average TAG something like $1,600? Seems a little expensive for the mall...

Yes, only $1600. His elitist type doesn't get out of bed for less than a 5 figure watch.

That's some expensive dog shit: https://shop-us.tagheuer.com/en/heuer-mikrograph-1-100th-sec-automatic-c...

I think what he means, more or less, is that TAG and Rolex are very widespread names and in the watch industry (although expensive) and are the mainstream watches. There are many higher end names that are much better quality. But that being said, TAG does make nice watches and is a huge name people will recognize. I am definitely excited. Posted via the Android Central App

Huh, really now? Third tier brand? I guess you haven't owned one of their movements like the Calibre 36 which is a modified version of the iconic Zenith Primera. I love the Calibre 36 movement in my Grand Carrera Chronograph RS Calibre 36 Caliper. Beautiful watch and a damn fine movement.

Damn, so should I return my $3500 Tag Carrera? I thought it was good, but apparently it's dog shit according to some random person on the internet. Nexus 5 (AT&T)

Nah. Don't even worry. He's the kind of guy who would spend $10,000 on a smart watch. I mean, look at his profile picture. He burns money lol. Posted via the Android Central App

lol this idiot can't even afford casio

Get back to your penthouse you freakin' high roller. :-D

I'm a little confused. The article says there are no details about an imminent watch and then follows that with what appears to be a few details about an imminent watch. Hmmm. Posted from my Droid Turbo, Kelly and Ozone

Why would the article not use a Tag Carrera for the image?

Some questions don't have answers Nexus 5 (AT&T)

Anyone who keep thinking the Apple Watch as jewelry that's there to replace watches from luxury brands like rolex and all the rest clearly do not get it. The Apple watch is to the watch like the iphone was to the cell phone. The phone app on my phone is one of the least use of my daily app, so will the time feature on the Apple Watch. It's an IOT (Internet Of Things) gadget in the form of something familiar (watch). To dismiss it as something that will fail is simply too short sighted and it means you don't believe in the IOT category, a future where sensors and IOT's will rule our physical world and help bring together the virtual with the physical. The watch is simply the first entrant into this category that will eventually take over our world. It will soon be follow by chains, necklaces, clothes and things of that nature. The 10K Apple watch is there as a distraction, a marketing ploy, and frankly a brilliant one at that because everyday the whole internet keeps talking about it. You can't pay for that kind of marketing, and it's all thanks to those who's not the target audience (haters). Will Apple sell millions of the gold watch, I don't know and frankly don't care, it's their cash so folks can spend it however they want. What I do believe is in the category and it will be even bigger than the smartphone category. Frankly all those companies are making the same android mistake all over again. They are all rushing to jump in without a clear long term path to success. If we can learned anything about the smartphone world is that while the hardware oem's made lots of money when the market was growing, it's the platform holders (Apple, Google) that remains in the strong position when the market matures. The right play right now is to develop your own platform before it's too late. Jumping on android wear platform will not keep you in the game for the long run. There is no better time than right now to get your platform play going. The problem for all those companies is they have no clue on how to develop a platform, much less a successful one at that. So they have little recourse but to run to google as their only option since they don't have the tools to go head to head with the likes of Apple. I would direct their attention to the pc and now the smartphone industry as an example to what happened to those who do not control their destiny (platform). Why is it that people can't see behind all the smokescreen here, even the luxury watch industry folks. Apple's play here is much bigger than the watch industry, it's all about IOT. The luxury watch industry is simply not big enough. Apple sold 200 billions worth of goods last year by itself. The 2014 total global personal luxury market is worth 223 billion and that includes drinks, fashion, cosmetics, fragrances, watches, jewelry, luggage and handbags. Not a huge market (watch) for Apple to move the needle, but as an IOT platform play then it's much bigger than that, they will have the whole world at play here. The watch is simply a familiar starting point, but a much bigger play is ahead, so I would stop thinking about the apple watch as a play towards the watch industry because it's simply not big enough for Apple. http://www.statista.com/statistics/266503/value-of-the-personal-luxury-g... Apple will not be the only player in this space, it's simply too big for one company, but I can't help but think all the rest of the players are aligning themselves to repeat the same mistake of the pc, smartphone world. Google can't save them, not in the long run anyway.

Troll on brother, troll on Posted from my Droid Turbo, Kelly and Ozone

Or TAG ends up more like a luxury smart watch chassis provider and continues their legacy. Posted via the Android Central App

Nokia and Palm are laughing at you. Samsung LG and HTC are rolling their eyes.

I like this statement (most of it, anyway). Luxury watch makers are trying to get in to this market but not fully grasping what's being made. IOT concept is much bigger than the most precise movement in a mere watch. TAG's mentioning of Swiss watch quality proves that they are missing the entire point of this market, unless there are some Watch makers in the alps that make heart monitors or something...

I don't think the Swiss quality would have anything to do with a smart watch (unless they put in a actual watch movement in there) Posted via the Android Central App

You didn't read the post, did you?

The post mentions nothing about how a company with experience making mechanical timepieces will add anything but an expensive brand name to an entirely digital watch with no movement or moving pieces. Posted via the Android Central App powered by Droid Turbo

It's just jewelry. Nobody cares to look at the time on one of these premium mechanical timepieces anymore. It's 99% bling / status in action here. Using a very expensive mechanical dinosaur in a world that surpassed that tech 30+ years ago, proves that this is not about telling the time.
Phones themselves have hammered the usage of watches already. Smartwatches will erode the jewelry market some more. Although, there will remain some kind of market for the mechanical timepiece / conversation piece / status symbol crowd out there.

Check this out, https://kairoswatches.com Nexus 5 (AT&T)

Good to know I can't afford it,lol. Then again we all may be surprised but I suspect I will be buying second Gen 360. Posted via Android Central App

I know nothing about high end watches, but man that watch in the picture is butt ugly.

Man I was just going to say it will be the best looking SmartWatch ever lol

You know nothing. So don't speak Nexus 5 (AT&T)

I bet you are fun at parties.

This is exciting Posted via the Android Central App

This is going to be pricey, I'm sure. But it's great to see Google taking smartwatch manufacturing so seriously. As an aside, I don't understand why smartwatch makers think that people are going to pay crazy money for a smartwatch, unless they are just going for the 1% market. The vast majority of users aren't going to pay thousands of dollars for a smartwatch that is going to be out of date in a couple of years. What I'd like to see is a manufacturer come out with a quality watch that has an upgrade program with it. These are technology devices, and technology devices need to be upgraded on some sort of regularity. For example, I'd pay something like $800 or so for a watch that yearly could be replaced or have components upgraded, even if for a nominal fee of say $50 or $100. Regardless, it's all good stuff, and I love watching manufacturers developing these things! Posted via Android Central App

For a long time that was the case for phones. Now there is project Ara..and by that I mean, that soon upgrading individual components may finally be a reality in the near future. I think, if ever, it will take a while before it comes to watches, due to the small factor. From what project Ara phones have been shown so far, they are not the sveltest around. I know they are prototypes, but seems like they will be thicker than a spec comparable phone. On phone, an ounce or a couple of mm in thickness do not much. However, you would notice the bulkiness on a watch.

Android users don't buy luxury accessories. The majority of expensive accessories are for iPhone. Posted via the Android Central App

Yup true, more expensive so Apple can milk you for more money, like those $79 dongles for the new MacBook or even the genuine Apple lightning cables for $19. OTOH I buy some great Monoprice microUSB cables for ~$1/each. I can buy a bunch of them for the price of 1 genuine Apple lightning cable and spread them around my house, car and work.

Android, we know the value of a buck. Bought a Nexus 6 FP $702, with 50% of my apps are paid apps, not including games, also pay for movies and music, 10 TB of storage and all access, yep just another "Cheap" Android user

Maybe I can talk my father-in-law to get me one for being a good son-in-law. :p
Android Central Newsletter
Get instant access to breaking news, the hottest reviews, great deals and helpful tips
Thank you for signing up to Android Central. You will receive a verification email shortly.
There was a problem. Please refresh the page and try again.