I'm here for the Huawei P50's gigantic, ridiculous camera modules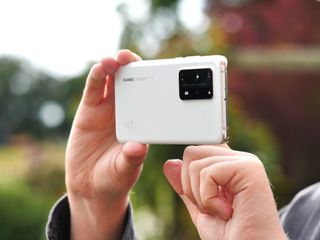 (Image credit: Android Central / Alex Dobie)
For around $1,200, Sony will sell you its RX100 VII compact camera — the latest well-reviewed entry in its popular RX100 series, which uses 1-inch image sensors. The series is considered to have produced some of the best enthusiast-level point-and-shoots, and I even used the original RX100 to cover product launches and trade shows back in 2013.
In a few months, Huawei might be preparing to sell a phone that packs up to two sensors of that same size. The latest leaks from the reliable Steve Hemmerstoffer (aka OnLeaks) suggests a 1-inch sensor may be on the cards for the P50, potentially Sony's rumored IMX800 series. Given the size of the module shown in the accompanying CAD renders, it's even possible two such sensors may be used — likely for the wide and ultrawide cameras — potentially giving Huawei a major advantage over current flagship phone cameras. Bigger sensors capture more light, and more light means better photos.
While the comparison between the P50 and RX100 isn't entirely fair or accurate — one of them is a dedicated camera, after all — the juxtaposition does underscore the dizzying pace of progress in smartphone camera tech. And as the world starts to open up again, I'm eager to get my hands on this phone and this camera array — even if the lack of Google services means I could probably never use it as my main device.
Image 1 of 3
Camera hardware and software have been a major area of focus for Huawei over the past half-decade, since it partnered with German camera maker Leica back in 2016. That partnership took time to build momentum but eventually brought us the first high-quality night mode in a phone (2018's P20 Pro) and 5X periscope zoom camera (2019's P30 Pro). And last year, even as it wrestled with U.S. sanctions, Huawei and Leica brought us the first double-periscope superzoom camera, enabling 10X optical zoom in the P40 Pro+.
The jump to a 1-inch sensor in the P50 series is a natural next step — Huawei's previous flagships used custom 1/1.28-inch sensors — and a significant milestone in that it matches well-known and well-regarded prosumer point-and-shoots.
The potential use of two 1-inch sensors in the P50 is an equally big deal. As we've seen from the recent Oppo Find X3 Pro launch, using the same large, high-quality sensor in both the wide and ultrawide cameras makes it easier not just to ensure colors are matched between the two, but also to deliver a high-quality video experience. An ultrawide camera, obviously, gives a wider field of view, thus avoiding the cropped-in effect you see in most phone cameras when shooting 16:9 video on a 4:3 aspect main sensor. (Huawei is also no stranger to that idea, having debuted a "Cine Sensor" in the Mate 30 in 2019, though with a smaller sensor size.)
That's a solid foundation for a great camera setup, regardless of how the P50's telephoto zoom capabilities shake out.
As such, if the rumors are anywhere near accurate then Huawei could well dominate in terms of smartphone photography in 2021. Of the major competitors, only Samsung, with its 1/1.33-inch, 108-megapixel sensor, comes close to what Huawei is likely to be shipping in just a few months. In a different time, that'd be enough to rank the P50 or P50 Pro among the best Android phones and ensure barnstorming sales in every major market.
But Huawei's situation is unlike any of its competitors. This year marks the transition to HarmonyOS, its not-Android-but-Android-compatible operating system — completing the exodus from Google Android that started in 2019. Despite Huawei's best efforts, and many meaningful improvements to its software ecosystem over the past couple of years, Android without Google remains a hard sell in the West. And it may only be a matter of time before chip shortages start to bite, with Huawei sitting on a finite supply of Kirin 9000 SoCs.
Nevertheless, based on what we're seeing from these latest leaks, there's certainly a place for the P50 as a device that's a camera just as much as (if not more than) it's a phone. If the P50 Pro or Pro+ can pair a groundbreaking set of primary cameras with some solid upgrades upon last year's telephoto offerings, it could be a device worth picking up regardless of whether it's your primary handset.
This is a make-or-break year for Huawei. But regardless of how things pan out, it seems obvious that Huawei is doubling down on the P series' photographic focus. And even if the back of the P50 looks just a little bit silly, such a milestone in phone camera tech could leave rivals with a case of camera envy.
Alex was with Android Central for over a decade, producing written and video content for the site, and served as global Executive Editor from 2016 to 2022.
Probably an excellent phone, as long as you happen to be Chinese.

Yeah it is strange. They're now so niche. I've sideloaded apps it's easy enough but would be awful if I had to do it for all my apps and again each time an update came out.

Does anyone from China read these articles? Maybe? No?
Why is AC still reviewing phones nobody can buy?

So that they can brag that they own the best camera phone of the year, and no one will be able to dispute it.

Totally agree, Samsung is the undisputed king.

Oh my days... Is it Samsung's turn to share your undying love Beno? Thought you'd gone full iOS exo system after ripping all things Android to shreds for 6 months? Well after your love of LG, then OnePlus and Pixel?

So has Huawei now completely abandoned trying to get Google services on their phones? The change in US administration hasn't opened up the door for Google to come back on Huawei phones?

Not yet. What's happening in Hong Kong is making it less likely, not more.

Not a Huawei fan but I've been impressed with their cameras of late and only Samsung comes anywhere near Huawei. To be honest, I've never been a fan of the software on Huawei phones and the move to Harmony OS means I'm even less interested in their phones, even when Huawei was a player in the Android space before their US sanctions, they couldn't compete with Samsung in software and overall as a phone but their Honor series seemed to be a little better.
Android Central Newsletter
Get the best of Android Central in in your inbox, every day!
Thank you for signing up to Android Central. You will receive a verification email shortly.
There was a problem. Please refresh the page and try again.