iHeartRadio brings some of the best of traditional radio to your car with Android Auto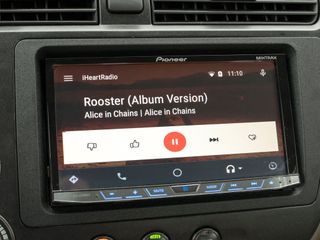 It's always been sort of a dark horse in my book, but iHeartRadio definitely has solidified itself as a capable go-between for the legacy terrestrial radio business, and the future (or present, really) of streaming music. And now that it's available as one of the launch partners of Android Auto, iHeartRadio brings that future to your car in a new way.
As we continue our tour through Android Auto apps, we've learned to live with a bit of redundancy in our radios. We've got more ways to listen to more things than ever before. And so the question become which apps do we truly need, versus the apps that are kind of getting in the way.
Let's take a quick look.
One quick note: Be sure to use the regular ol' version of iHeartRadio, not the TV or "auto" versions.
So one thing that quickly became apparent to me: Your car isn't really the place to get to know iHeartRadio, insofar as the app is concerned. That is, it might feel a bit sparse when it comes to picking through genres and suggested bands and such. And it sort of defaults to obvious choices when you start a station based of a particular band. Foo Fighters>Nirvana>Soundgarden>Pearl Jam>Candlebox, etc. I'm not against taking a trip back to the '90s, but c'mon. (And for the love of all that's holy, there's more to the 1990s than Stone Temple Pilots, folks.)
And figuring a way out of that rut definitely isn't something I want to do when I'm sitting in the front seat of my car. I get the feeling that if I already were a dedicated iHeartRadio user I'd have a much different experience. So I'd recommend using the app outside of the Android Auto realm at first.
The app itself is easy enough to use in the car, though. Menus are done as Android Auto menus are done, though the custom icons in the lists were a little annoying for me and felt out of place. In addition to streaming music and the streaming versions of terrestrial radio (which definitely is fun to explore), there's rudimentary podcast support. All the big names are there, but for me it's still easier to just use a dedicated podcatcher. And for what it's worth I've added the Android Central Podcast to Spreaker, which powers iHeartRadio's podcast listings, but I've yet to be able to find it in the app.)
So the tl;dr here is that iHeartRadio fans will definitely get something out of the Android Auto app. But if you're not a regular user, you're probably going to be underwhelmed at first. If you're just looking for Internet radio, I'd probably look at TuneIn instead.
Image 1 of 12
Get the Android Central Newsletter
Instant access to breaking news, the hottest reviews, great deals and helpful tips.