Humble Bundle with Android 7 now accepting donations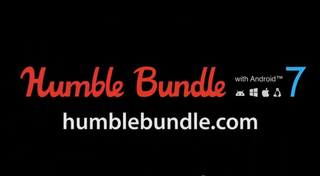 Yet another bundle of games is going up for sale in a "pay what you want" system with the Humble Bundle with Android 7. This time around the games aren't mobile-specific, but they all come with Android versions alongside their Mac, Linux and Windows counterparts. As is always the case with the Humble Bundle, you pay whatever you would like, and receive four great games:
Ticket to Ride
Greed Corp
Incredipede
Anodyne
And if you give over the average, you'll receive two more games as well:
Worms Reloaded
The Bard's Tale
More games are on their way as well, which you'll receive at no extra cost if you donate over the average at the time of purchase — currently $6.81. Proceeds go to benefit charity along with the game developers, and over $70,000 has already been raised. If you want to check out this group of games, hit the source link below.
Source: Humble Bundle (opens in new tab)
Andrew was an Executive Editor, U.S. at Android Central between 2012 and 2020.
Man, love me some Humble Bundle but I'll probably skip this one. Still working through the games from the last Android bundle and none of these games seem particularly compelling (or I already own them).

Just purchased. This pack looked especially awesome so I had to check it out!

I'm really excited about Ticket to Ride. I used to play the online web version back when it was free, and when it went to a pay-to-play model I actually went out and purchased the original board game which is loads of fun. If you haven't played one of the adult board games that's come out of Germany recently (games like Settlers of Catan, Carcassonne, Puerto Rico, Dominion, etc.) you are really missing out.

The Bard's Tale requires you to download more data on first launch...SD Version was I think 1.8GB. HD was 3.5GB!! I downloaded the HD Version on my '13 N7 and I have been enjoying it. Controls are nice and it looks great.
Android Central Newsletter
Get the best of Android Central in in your inbox, every day!
Thank you for signing up to Android Central. You will receive a verification email shortly.
There was a problem. Please refresh the page and try again.