Huawei's Android replacement OS will start rolling out in June [Updated]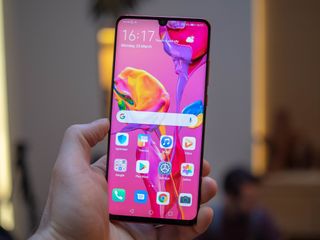 (Image credit: Android Central)
What you need to know
The new OS that is replacing Android is known as HongMeng internally and is expected to launch next month.
Android apps are expected to work with it and will be available through Huawei's AppGallery.
Huawei doesn't expect the U.S. ban to affect them because of its self-reliance in both hardware and software.
Updated 12:02 PM ET: Following this report, Huawei reached out to TechRadar to essentially debunk this story. There was apparently "confusion internally" about the new OS, meaning that it will not be launching in June. Instead, Huawei confirmed that HongMeng might be ready for a launch in China in late 2019 with an international release sometime in 2020.
Huawei isn't wasting any time and will be rolling out its own operating system to replace Android next month. The OS goes by the name HongMeng internally and it is compatible with phones, tablets, smartwatches, computers, TVs, and more.
Huawei has had its own OS in the works for years now and it has been ready since January 2018. Alaa Elshimy, Managing Director and Vice President of Huawei Enterprise Business Group Middle East, says the reason it wasn't launched previously is:
The big question is, what about apps? Without app support and having access to those apps, having your own OS means very little. According to Elshimy, all Android apps will work with HongMeng and users will be able to download apps through the Huawei AppGallery.
We've seen third-party app stores tried before, such as Amazon's Appstore for Android. The problem with it and other competing storefronts is that the selection is a fraction of what you can find on the Play Store and apps are usually outdated.
The U.S. ban was announced back on May 20 and later was extended until August 19 when the U.S. Commerce Department granted a temporary license to support existing customers. Once the ban is in effect, it will cut Huawei off from U.S.-made technology. That affects not only software such as Google's Android OS, but also hardware.
The repercussions are already being felt by Huawei with it being banned by the SD Association and being restricted by the Wi-Fi Alliance. Even Huawei's own Kirin processor is at risk after ARM has been forced to cut ties with Huawei. Without the license from ARM for the processor design, it is very possible Huawei won't even be able to make another phone.
According to Elshimy, Huawei doesn't appear to be worried because of how self-reliant it is.
It remains to be seen how Huawei can survive without access to U.S. technologies, but it doesn't mean the company is dead yet. Trump has floated the idea that Huawei could be part of a future trade deal between the U.S. and China. This feels eerily similar to another trade dispute with Chinese phone maker ZTE who was saved at the last minute by a trade deal with the U.S. However, the longer this goes on, the uglier it gets for both Huawei and the countries involved.
Losing Google support would irreparably damage Huawei's global smartphone business
Get the Android Central Newsletter
Instant access to breaking news, the hottest reviews, great deals and helpful tips.