Huawei soon losing access to Android updates, Google apps, after Trump trade ban [Updated]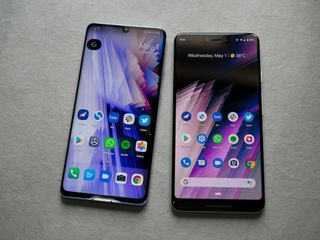 What you need to know
Huawei won't receive access to future Android updates
Future Huawei smartphones may not be certified for Google services like Gmail or Maps
Current timeline for restriction delayed to August 19, 2019
Move comes after Huawei was added to U.S. trade blacklist following Trump executive order
Update 3: The U.S. Commerce Department has granted a temporary license for Huawei, restoring its ability to operate existing networks and provide software updates to devices.
The temporary general license is specifically aimed at letting Huawei support existing customers and devices, rather than continue development of future products using software, technology or components from U.S. companies. The license is set to run until August 19, 2019, buying Huawei time to operate somewhat normally and ease the burden on consumers and businesses that currently work with Huawei.
Details are not yet fully available, but the expectation is that this temporary license would not allow Huawei to, for example, work with companies like Google on future versions of Android or Qualcomm on future smartphones.
Update 2: Huawei has furnished an official response, stating that it will continue to roll out security updates and after-sales service to all Huawei and Honor devices. The Honor 20 global launch is also scheduled to go through unchanged on May 21:
Update 1: Google has clarified that Google Play services and Play Protect will continue to work on Huawei devices:
For Huawei users' questions regarding our steps to comply w/ the recent US government actions: We assure you while we are complying with all US gov't requirements, services like Google Play & security from Google Play Protect will keep functioning on your existing Huawei device.For Huawei users' questions regarding our steps to comply w/ the recent US government actions: We assure you while we are complying with all US gov't requirements, services like Google Play & security from Google Play Protect will keep functioning on your existing Huawei device.— Android (@Android) May 20, 2019May 20, 2019
Original story follows:
Reuters reports that Google has put gears in motion to stop working with Huawei on future Android updates and device certifications after an executive order and subsequent U.S. Commerce Department blacklist made it difficult for certain companies to pursue business with U.S. entities.
Google is merely complying with the trade blacklist, on which Huawei and 68 of its subsidiaries were placed last week. The ban was enacted when Huawei was placed on a so-called Entity List, which bars the company from purchasing equipment from U.S. companies without prior government approval, something the Commerce Department is unlikely to give in the near future. The Trump administration has accused Huawei of working with the Communist Party of China to undermine international networks by potentially installing backdoors in network equipment. No proof of such vulnerabilities has been made public.
Because of the trade ban, companies like Google, Qualcomm, Intel, and NVIDIA are not allowed to sell or make deals with companies on the Entity List; Huawei relies on Google for access to the closed portions of Android, as well as its Play Services suite, which must be approved for every phone a manufacturer releases. According to Reuters, Google won't retroactively remove Play Services support for existing phones, but it will no longer provide software updates for them, and it won't certify new phones. Huawei already released a list of phones to be updated to Android Q, but it's unclear whether those devices will receive it once it's released to the public later this summer
Huawei isn't barred from using Android's open-source components, which are freely available to any organization so long as they abide by the licensing terms. Huawei uses Android's open source libraries, also known as AOSP, to build EMUI's core codebase as well as release updates to its phones in China, where Google services are not available.
More likely: This is just leverage and eventually Huawei will get permission to do business with Google, Intel, MS, etc. After all, US worked things out with ZTE last year, and the real concern w.r.t. Huawei is about infrastructure, not phones.More likely: This is just leverage and eventually Huawei will get permission to do business with Google, Intel, MS, etc. After all, US worked things out with ZTE last year, and the real concern w.r.t. Huawei is about infrastructure, not phones.— Alex Dobie (@alexdobie) May 19, 2019May 19, 2019
It's not clear whether the U.S. government intends for this to be a death blow of sorts to Huawei's western prospects — it also has a thriving PC business where it purchases components from Intel and NVIDIA — or if the trade ban is to be used as leverage with China in trying to reach better terms on an overall trade deal with the country.
Get the Android Central Newsletter
Instant access to breaking news, the hottest reviews, great deals and helpful tips.
Yup it is... So much for them achieving top spot, unless Huawei themselves have a plan to keep things viable on the consumer end... Safe to assume I suppose those of us caught in the middle (with purchases of more recent Huawei devices) might get shafted royally. Guess time will tell.

Well, this should be an interesting comment section filled with unbridled angst and the gnashing of teeth as the day progresses. I'll have to check back periodically, Lol. On a personal note, I'm glad that I decided against picking up an import P30 Pro and didn't update my MediaPad M3 to the M5.

So glad I didn't decide to keep that Huawei Mate 10 Pro I bought at Best Buy a while back. Returned it when I found out that Best Buy was gonna stop selling them. It's a shame, because that was honestly one of the best phones I have ever owned.

I love my Mate 10 Pro! been my main phone since last year. I'm sticking with it, and Huawei. Hope this stupid move by the government is reversed soon. No reason for it, it's just partisan politics.

I wonder where us poor consumers will stand if this does happen having phones never being updated and not even in the US either. This is a really poor state of affairs Trump is something else.

My take is anyone in the midst will probably get screwed, sadly I'll be one of those.

Well, if Google and Huawei don't find a solution, in Europe Huawei will likely be forced to offer users the possibility of handing over their devices still within warranty for a full refund since the contractual conditions of the sale were severely altered in a way that is detrimental do consumers. Huawei could also go back to allowing people to unlock the bootloaders on all Huawei phones and allow people who want to keep their devices to flash whatever software they want.

Wishful but doubtful as Huawei didn't force the hand. Still think those of us in the midst might as well bend over for the inevitable, less painful if we don't resist LOL. Yeah maybe they'll let those who are willing to have free reign once again.

**** that i'll be pushing for Google to refund me. They're the ones who'll be breaking the contract. They're the ones who said every device should be supported for two years at least.

Right, but they are being forced by the US government. There is absolutely nothing they can do.

They can pay for my contract since they're the ones preventing the updates they assured i'd get, for two years, when taking out this contract. I'm sure they'll claim it back from the US as theyre forcing them to do it

Lol good luck with that. Like others have said, there is nothing Google can do when the government says so. Nice try though, and if you actually believe devices outside of the pixel line of devices will be consistent with those updates, well then you are more of a fool than you make yourself out to be.

good, Google can pay for my contract. Never thought i'd go to Apple but this would do it if true.

Better start heading to the Apple Store then. This story has been confirmed. Just get a Samsung or OnePlus instead of getting too drastic.

No my problem is with Google, not Huawei.
I'll get a Samsung if they release Tizen, either one of those companies can find themself in the same position. Why would i support Android when its used by ***** like Trump as a political weapon?

Trump('s administration) could weaponize Apple as well, or literally any other company that relies on Chinese manufacturing. The only blame Google/Android has in this, is that Huawei is(was?) partnered with Google for Android on their phones. It's like getting carjacked and blaming Ford(first make that came to mind) for making the car, instead of blaming the carjacker.

What could they do with Apple.
Google is the one who enforced the two years of updates for new devices. If Google is withdrawing those updates then they are to blame.
They may have reasons but they need to deal with that themselves

All the government would have to do is block entry of the devices. Heck, it isn't even a hypothetical. It's been done before, just not in this fashion. Then, just hold out until Apple caves. As to the updates to the phones, I don't know when the article updated. Huawei will still be releasing security updates and after-sales service. I don't know what that means for Android Q. Further, Google has literally no say in this matter. You can hate it all you like, you can want to switch all you like, but the only ones to blame for all this is the Trump administration.

Not everything is political. Huawei's established links to Chinese military (not to mention numerous claims of intellectual property theft) has gotten its equipment banned in a number of countries, not just the US.

Why would Google pay you anything? They legally can't do business with Huawei.

because they're the ones who said two years worth of updates for new devices. If they withdraw that then they have broken the terms

1. This is a huawei device not Google. 2. Google cannot force OEM's to update their devices (or how long they update for, if they could we wouldn't have so much fragmentation with android). 3. The government is saying they cannot do business with them, therefore your "contract" is irrelevant.

Very very very well said!!! Trumpet has a lot to answer for!!! I got my Huawei mate 20 pro, 5 months ago and I have to say, it is the best phone by far, I have ever owned. All because huawei overtook the sales of apple....really??? An article in the financial Times makes for interesting reading!!! Trumpet has to go!!!

This is very bad news for Huawei, no matter how it goes down!

Its bad news for Android.
It's Huawei today.
Could be Samsung tomorrow.

That's the thing, fair game for all now.

Exactly. This administration is setting up a dangerous precedent by using US companies as leverage. This isn't about public safety, it's about winning the trade war. When the US decides it wants something from some other country, can they weaponize Google again?

Next on the chopping block... Banning import vehicles into the US requiring those present to import their fuel(s) LOL. Not too far fetched if one thinks about it.

Last I checked, South Korea (which is where Samsung is based) isn't China and has a great relationship with the US and Google. Not to mention, they haven't ever once given any indication of spying or doing anything nefarious so I doubt it.

Samsung does not have ties to Chinese military and has not been accuse multiple times of intellectual property theft. Not really the same thing.

And people laugh at Samsung's efforts with Tizen and the Galaxy Store. Now do you see why they do it, boys and girls?

You know what, I'm not a Sammie fan, but I'd be so pleased if Samsung stepped up and released a fully operational Tizen.
Its a shame Blackberry died. We needed more competition and at this stage i'd welcome it from Japan, or Korea, possibly even China

The phone market is so mature now and interconnected with the Google Play Store and iOS store. I don't see how Samung, Huawei or anyone else can release their own store separate from the Google Play Store and have anyone (beside the Chinese market) even want to deal with it? Also what about the people that have years of settings, YouTube, Google Music, personal music, games, data, etc connected to Google through the Google Play Store. They would be giving up everything to use something other than the Google Play Store which 9 out of 10 people wouldn't do it I assume.

The thing is, Android is successful as a collaboration. I'm pretty sure no other OEM wants to be treated next and this could be the wake up call for them to collaborate together to prevent it. I'd give up everything Google and start again if this is the way they are going to be.
The majority of people arent as invested as you think. I ant think of one person I know who uses google for music. Mobile gaming is a joke. Settings only really matter on Android.
My contact list can easily be imported and is backed up seprately anyway The only issue would be apps, but again, if other OEM's didnt want to be held hostage like this and worked together thats something that would be bridged

I see what you're saying but that is extremely wishful thinking I believe. Most consumers aren't techies and they don't know much about the OS they're using so this is huge. The average consumer and even a lot of techies aren't going to want to move to another OS. Also all the other OEM's know how difficult it is to not only create a new OS but to get companies onboard to create apps. Samsung has massive amounts of money and has been working on Tizen for years...the app store for Tizen is garbage from what I've read. Companies in America and global don't want multiple OS's running different app stores. That is a lot of money to update your app over different app stores. Also It will be so confusing if Samsung, Huawei, Motorola, Nokia, etc all have their own OS and app store...that would be a total mess!

As you say the average consumer isnt a techie. Most arent even aware of what the OS does. The majority recognise brands more than Android or iOS.
No word of a lie, there was an American on facebook earlier, who genuinely thought only Samsung made Android phones. I'm fairly certain thats not an isolated case.
Yeah what I'm saying is kind of wishful, but not really, I mean companies are doing it right now, Samsung are the biggest who recognises that they cant be dependent on Google and Android.
The foundations has always been there. Its whether they want it enough to work together to do it.
I mean the biggest risk, is the market ends up with a dozen OS's, but that would be interesting. Android dominates because it has partners. if those partners are now competition, what then?

You're actually right, so many people ask for the new Galaxy and not the new Android. They also don't realize that more than Samsung make Android phones and as long as Tizen had the top 100-1000 apps, and looked the same, they could easily just sell that as a galaxy.

I'm not sure what you mean but as you can see, people who have bought devices legally are now going to be forced to do without Google services. That makes it a wide move to open up the market to third party stores and services. It is clear that is not so wise to depend on a company like Google now. We saw this weapon being used against ZTE as well. It's time to learn

I do like Samsung and would love to see a full fledged Tizen OS for phones/tablets. I love it on my watches. They simply need to develop the interest for more app support and they could make it work. I think its good for competition to have other options.

Samsung has been working on Tizen for years and it's still not ready for primetime or even close unfortunately. Even the Galaxy Store still has to work in partnership with the Google Play Store. The only phones running Android OS that aren't using the Google Play Store are the ones in China and those stores are full of virus, malware and confusion...it's like the wild west. I don't know how Huawei can continue outside of China because wireless cell phone companies (O2, T-Mobile, Orange, etc) will start to drop them, especially if you can't even get security updates. This will be a massive blow to Huawei's operations and sales in Europe, Southeast Asia, etc...so much for getting to number 1 now!

Those stores arent regulated. Apparently Huawei has been working on a seperate OS, it may be decent it may not.
Yeah it'll be a blow, and it may kill off Huawei, but its the start of a new era of OEM's suddenly realising that reliance on Android and Google is not a good business model after all, and it'll be Android that suffers ultimately

I can't imagine Microsoft being forced to stop doing business with Huawei as well, meaning no Windows Updates for Huawei laptops? That would be crazy. I'm not certain how this whole business works but does this mean even other Huawei phones sold in other markets will not be getting any android version/security updates? If so, that's a very huge blow.

i have a Huawei mate 10 pro and this news took me by surprise because my phone from now will be a windows phone more, thanks Thrump for that, Huawei will go bankruptcy because now somebody will purchase a Huawei phone if will not be able of work the play store or even get updates of the main core apps for keep the basic smartphone apps up to date? what will they do with the hundred of devices imported to the world, althought this news i find unfair and even bad to me as consumer, the blame of this is the same Huawei that could not show up that they have not links with the chinesse government and so i should to Huawei ask to get a refund of my money in such case, also Huawei posted a news long time ago that were working in their own OS for stop of depend in Android

The blame lies with Google and the US President They're the ones screwing consumers over Funny how the supposed land of the free is the ones acting like tyrants

The problem is (far as I know), all accusations against Huawei are "alleged" and yet to be proven. So not only are they "the land of the not so free" one is also presumed guilty, rather than innocent, after an aligation.

Germans have been asking for what America has on Huawei so they can decide on a ban or not for a while yet.
America has given them nothing. Its kind of telling

What about a company that systematic been accused of spy and haven't even proof that such accusations are no real but instead of that they been doing their own operative system in case that can't operate anymore with Google? The Americans and the world are so naive, if were a company like Huawei should dedicate efforts in prove legally that haven't have links with the Chinese government and communist party and don't do any spy actions through their devices instead of be making their own operative system , doesn't that don't sound weird? Instead of defend your company, be getting ready to this scenario that Google stopped of do business with them? I don't care Android ,I care the apps of the play store in fact I have an old tablet with Android but no Google play and is unusable at all can't get anything app so have experience of what is like have Android but no Google apps and not be able of install any app

Yeah... It seems that free market I hear so many Americans evangelising isn't so free after all...

are you mad in your head, how do you think updates are done? huawei goes bust becose of software .... .
they can make their own updates and store they have the money to do an better job then google.
google maps ad gmail are the major culprits. apple has no gmaps either and it does just fine.
there are 20 ways out of this mess for huawei so no worries there

Seems a bit unfair given that we haven't seen a single shred of proof that Huawei has committed any misconduct. Poor form, Google.

Why would OUR government divulge whether or not they know Huawei's stuff has a back door or not?

because they're telling OTHER governments to ban them and when those other governments ask why, they stay silent. And they are impacting on consumers.
Consumers have a right to know. this isnt diplomatic negotiations. Dont treat it as such. This is very much in the consumers interests.
And information should be shared

Firstly, your government, not mine. Secondly, because they're essentially preventing a private business from trading... Is that really singing you think should happen with no evidence? What it YOUR government decided to shut YOUR business down with the only explanation being "because reasons"?

Support the other side. Teach President Trump a lesson with your money.

Amazing how the shoe is on the other foot. I guess the next upgrade for Huawei phones is emui 9.1

Forest for the trees. This has been brewing for a long time, and has ZERO to do with any trade war. The founder of Huawei is a former Chinese army officer, China has some of the worst trade practices in the world, with forced tech. transfers, and all the stealing of IP. Do you think that the Chinese government have not thought about putting any kind of back door in any of their telecom equipment? China is all about China, the powers that be are wholly loyal to the party. They may create products, but at the end of the day, their allegiance is to the party, not you, the consumer.

Biggest question is, can the US and the rest of the world do without China? I say yes. Time to move manufacturing to Vietnam or India etc.

Its everything to do with Trade
And everything to do with the billions that Huawei were investing in 5G research well before American companies started doing the same.
Why would the Chinese government put back doors in their tech? They dont need to. They risk far more than they would gain by doing so.
And have we forgotten the hypocrisy of American spy agencies doing the same thing a few years back. Stop spouting off the party line and actually think about it

would cost far too much now, don't get me wrong i would love to see more manufacturing in the UK, but even my sofa I got a couple of weeks back was produced in china.

LMAO. Do you have any idea how much time, and money would be lost in a move of this nature? No, this is not a simple. "Screw China I'm out" Trump will be your undoing

This has more to do with the Chinese government and national security than Huawei.
Huawei would have no choice but to hand over network data to the Chinese government if Beijing asked for it, because of espionage and national security laws in the country. Major governments

You're assuming they'd have that data

The USA has every right to protect it's sovereign, corporate and economic interests. As consumer you have every right to support corporations of your nation state and it's partners. How about choose the nation state you like best and support it going forward..

You have your country's flag as your avatar?
😂🤣😆

It's been my avatar for a long time.

Oh dear, did you stand up with your arms across your chest as you said that? I do agree, that we should buy more locally, I am in the UK and I do try and buy stuff locally produced,, food wise if I can. My coffee is from a local roaster, I buy my cheese and meat from a local stores if I can,. sometimes it is difficult because I can not get into town due to work,
the u.s have no partners, sorry, but the U.S thinks about the U.S and that is that and since Trump took over it has got worse. TBH, I hope this all blows back in Trumps face, if I hear him on the radio I turn the radio off, I can not stand hearing that nits voice.

We've always looked out for ourselves first. That's our culture and we're fine with that. It hasn't gotten worse. It's just back to normal for us since we're a competitive nation. Our freedom is the basis of existence for us. That didn't ever change. What ever made anyone think we really changed?

The obvious is that the US won't allow any country who is not in its list of allies to get ahead in technology. That's why all this rumor mongering and all the efforts to create an artificial divide among countries in Asia itself. Sick and pathetic attitude

Then support the other side. Each country needs to protect itself.. That's just life

The other side protects the country as well.

The US is completely in the wrong here.

How so? You're free to buy their products still...

hahahah guess that email about their devices being better than iPhones needs to be updated.
pretty sad when you are so known for spying on people that you would need to sign a no spying agreement with the U.S.
bye bye Huawei

Dont be so gullible its funny how Huawei suddenly gets targeted after being the first company to develop 5G and creating better hardware than the Americans.
Almost as if the yanks were feeling threatened for being lazy

Potentially bad news for me. I have 2 M3s and an M5 in my house. I know we'll have access to services for a while but eventually apps will stop supporting our OS version.

Cheeto-stained American policies affecting the rest of us negatively. Sent from my Huawei P20 Pro

Dont think this wont go unnoticed by other Android OEMs Google just opened a massive can of worms. Noone will want to be the next victim

Fed with operating systems and software for that matter, like MS office coming from the U.S, in which their government can say, you are not selling that to that country and in which we rely on far to much
Maybe this may make companies sit up and combine to get an open source spy free OS, on both computers and phone. Stranger things have happened. does make me laugh that the U.S is worried about people spying on them and yet they spy on their own citizens.

wasnt so long ago they were caught using tech to spy on other countries citizens its a joke

"Huawei have to do whatever their government says" Google - "hold my beer"

Another thing trump has done that just might hurt lots of US citizens who own these phones. Everything he does ends up doing more harm than good.

There wasn't really any market share here since Americans have always been suspicious of NationState corporations since Lenovo scandal. Biggest two OEMs that were effectively banned last year by carriers dropping support and plans to sell higher end devices. Is the USA protecting it's own population and corporations first? Sure, isn't the other side doing the same? Isn't that any war, trade or any other? Your country does the same, no?

Haha. I love seeing Americans wave the flag and stand behind Trump's protectionism. Friend, do you know what country is built on protectionism? Mine, Canada. Take a look at how many petrol companies we have... How much we pay for gas, cellular, hydro. Protectionism hurts our wallets . Start saving, yours are about to hurt too.

LOL Trump is making America more communist. Quite funny actually. This is nothing but a muscle flex display by Trump himself, just to leave a mark on his "contribution" to the US. The USA, once hailed one of the most powerful nation in the world is just a laughing stock since Trump.

Wait until someone informs mr Trump that there´s a bunch of nasty chinese made components in the iPhone. And some of them are even assembled in Shenzen (if I´m informed right).
Would be interesting to see the reactions on an iphone ban :-) Regarding Google stopping android for Huawei: it´s just politics and leverage in the ongoing trade negotioations. In a month or two it´ll be business as usual. Smart move by mr T to find a method to bring the worlds attention to his little beef with china, by the way.

Trump is a prize ass to be honest, certainly doesn't care about the people he's just royally shafted. He did the same to ZTE last year, the ban lasted from April to July.
No coincidence of course that he's doing this now with Chinese trade talks due next month. Those blaming Google, its not their fault, President Trump made an executive order, Google, Microsoft, Intel etc etc have to comply.

Funny that. Isn't Trump banning Huawei because they must comply with Chinese parties orders if asked? Pot. Kettle. Black

For everybody complaining. Pick a side to support and go with it. Teach President Trump a lesson and support the other side. Seems pretty simple. We're looking out for ourselves. Do the same.

Well, crud. Anyone want to buy a one-year-old Huawei Mate SE, cheap?

Boy an I glad I dumped Huawei, Wife and I now have Pixel phones and WOW what a difference. No way would I buy anything made by Huawei. Well if several governments don't trust them why would I...

I feel sorry for current owners and those who were hoping to get one, but how did you guys not see this coming? The stupid trade war may have made it happen a little sooner, but if you think the US is the only one who does not trust Huawei, you have your head in the sand. Multiple countries have found security vulnerabilities in their products, they have been entangled in corporate spying and espionage and paid out of court to settle, they have placed backdoors into code which has been discovered by other countries, and there is a list of countries, not just the US, that have banned them. Anyway you spin it, Huawei has done things to earn their reputation, and it's more severe than just fake photos and lying on benchmarks. Again, sorry to those phone owners who are affected, and I hope the matter gets resolved.

Huawei owner here. I bought my Mate SE a year ago knowing the company was on the Fed's naughty list, but Google cutting off support is a horse of a different color (yeah, I know they say they're maintaining Play Store support NOW, but how much longer will that last?). So I just ordered a Xiaomi Redmi Note 7 and will be switching over when I receive it. My Huawei is getting sold to whoever will give me a few bucks for it (one of the advantages of buying phones in the $200-300 price range is you can buy a new one every year or so and not spend a lot in the long run).

That would pretty much be like being with AT&T!

Huawei will be fine selling forked Android (like they already do) and their own services (like they already do. And there will be alternative ways to access Google's services. Who Trump is really screwing is Google, Qualcomm, Intel, Nvidia and other US customers out of billions of dollars of business. When sales drop, next come layoffs of US workers.

Just know at a flick of a finger the US government can block updates to a device. Well I guess it's still okay for Google and Apple to own the smartphone market.

Is the U. S. government planning on reimbursing American consumers who own Huawei phones that would still be eligible for software updates from Google? And why is Google caving to this pressure? I thought the GOP slogan is "limited government involvement." More hypocrisy under the guise of "national security!!!"

hmmm am not fully informed but read some weeks ago an article about Huawei, they would not have their security system in order, they wrote for years. also several major shareholders came with stories that it was not right within the management of this company. I'm red here .https://www.golobaltech.com/google-huawei-support-android-updates/

Huawei just need to bide their time. Wait for Trump to get the boot once the next Presidential election happens and he doesn't get elected. Then surely this BS will be reversed. How can a President who got in by the Russians intervening with the election, then start crying that Communists are spying on him? Makes about as much sense as the rest of his policies!

What did the Russians do? Americans still voted for the guy just like in previous elections. American voters aren't stupid on either side. We all my be many things but all of us Americans do one thing right. All of us that vote, choose to do so from individual freedom of choice. We're the most flawed group of individuals and collectively we're ok with that.

Ha ha keep telling yourself that, but the truth of the matter is that Clinton was ahead in the polls until Wikileaks revealed that email dump of hers, which was given to them by Russia. If it wasn't for Russian intervention Clinton would be your President, period. Anyhow my initial point is still valid. Huawei needs to just wait until the little handed wiggy freak gets the boot.

Zammo76: What a giant load of BS. I mean giant. TDS in full effect!

If anyone is surprised at this development, or thinks that "all of a sudden" this happened, you're simply demonstrating that you're not particularly aware of what's going on in the world around you. Maybe broaden your view a bit and not be surprised next time.

Apple is salty that they lost their ranking to them, and Samsung doesn't bat for the same team so very uncomfortable that Huawei is on their @ss and fear they will get taken up the backside.