Huawei Watch 2 Classic review: Leather is better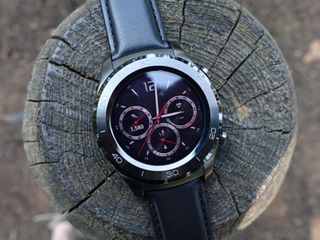 It's no secret that we weren't big fans of the Huawei Watch 2, a plastic-and-ceramic successor to a metal legacy that left us feeling dejected and a little confused over the company's seemingly half-baked plans for wearables.
Well, after having used the Huawei Watch 2 Classic (opens in new tab) for some time, I can safely say the issue lies largely with branding and marketing than with the series itself. While the Classic is by no means a true visual successor to one of 2015's best Android Wear devices, its use of actual metal around the frame and replaceable 22mm bands certainly gets it close.
Like the Watch 2, the Classic is equipped with a bunch of top-notch specs for a modern smartwatch, including a super-sharp 1.2-inch OLED panel at 390x390 pixels, a Snapdragon 2100 processor, 768MB of RAM and 4GB of storage (which can be used to store and play music offline), a heart rate sensor, a GPS radio, IP68 water resistance, and a 420mAh battery that's quoted for two days (but is closer to a day and a half).
All it lacks compared to the Watch 2 is an integrated LTE radio and eSIM, which provides 4G service with a compatible carrier.
But here's what you gain: a much more attractive and "public-friendly" timepiece that, at just 60.5 grams, is considerably lighter than much of the competition. And while I don't love the fake chronometer bezel that doesn't spin despite looking like it should, overall I find the Huawei Watch 2 Classic extremely easy to wear, and quite enjoyable to use.
Of course, it comes with Android Wear 2.0 included out of the box, which took some time getting here but the wait was worth it: this is a much more polished experience than what debuted in 2014. Google took its time to figure out exactly what was needed from its nascent wearables ecosystem, and the result is a platform that can stand on its own — with GPS you can take this running sans phone and record a run while listening to locally stored music — but is best when paired to an Android phone.
The Huawei Watch 2 Classic does come equipped with a quick release mechanism for its included leather band, which is appreciated since the inclusion of a second button on the right side and a GPS radio primes the watch for running, which doesn't go so well with the leather strap.
Huawei's included Workout app, which launches with a press of that bottom button (say that five times fast!), is quite impressive, though Google Fit Workout and Runtastic were also included on my version.
Any other app that isn't included can be downloaded directly from the now-local Play Store, a move that, as mentioned, brings additional independence to the Android Wear platform.
In reality, the only real differentiation here is something I'd rather try to overlook: the watch faces that don't fit at all with the Watch's aesthetic. They're garish and skeuomorphic and feel out of place on this still-sporty metal design. Instead, I'd recommend diving into the deep, deep library of available third-party watch faces (opens in new tab).
Of course, notifications are still Android Wear's strong suit, and the Watch 2 Classic performs that duty with aplomb. Without delving too deep into the app or workout side of things, I was able to stretch the Classic's battery life to just over a day and a half.
The Huawei Watch 2 Classic makes up for the missteps of the mainline Watch 2, and that's good enough for me to keep it on my wrist for the next little while. I prefer to it the gargantuan size of the LG Watch Sport, and though I could live without the fake chronometry around the admittedly large bezels, the fundamentals are excellent.
At close to $360 on Amazon right now, this is not a small investment, but if you're looking for a high-end Android Wear watch in 2017 with a GPS and a reasonable footprint, the Huawei Watch 2 Classic is your best bet.
See at Amazon (opens in new tab)
Daniel Bader was a former Android Central Editor-in-Chief and Executive Editor for iMore and Windows Central.
It seems like Android Wear has been forgotten by Google or will soon be forgotten.

Yeah I agree. Most of these manufacturers aren't even updating to it very quickly. My AW watches just sit in a drawer unfortunately.

Agreed. I have two AW watches sitting in the drawer. They were replaced by a Fenix 5 (awesome fiitness/casual watch with a massive battery life) for everyday use and for more dressy events I'll likely go with the Nokia HR when it releases. I've spent plenty of money on AW, and it just doesn't seem like it's ever going to get to a point of maturity. Don't get me wrong, the Huawei looks great, but I've done 5 3Mi+ runs w/ GPS + 1 20mi bike ride on my Fenix, worn it 24/7, get all of my notifications on it, and it's still at 44% after a week being off of it's charging cable. No way AW will ever meet that sort of performance.

What makes you say that? There are new watches on a regular basis, and Google partnered with LG to launch the Watch Style and Watch Sport.

Yet, Google & LG haven't really made an effort to bring the Watch Style and Sport outside of Canada (of which the Watch Style is the only one of the two available) and the US

I like it, although I do wish it had a rotating bezel with navigation functionality.

Not as nice as the latest LG and not enough to tempt me away from the original Huawei Watch I wear every day. I hope Google continue to invest in Android Wear...

I have the plastic fantastic 4g version of this. In my opinion it got unfairly slated, especially on this site. Let me compare with the classic reviewed here.
1. The watch body - this is the biggest failure of the the Sport version - the plastic feels fine, but it certainly doesn't feel like a premium material. The Classic's stainless steel body looks and feels much better - although the OTT branding spoils is a bit (the Sport's only branding is on the base). The ceramic bezel of the sport looks great, whereas the body is acceptable, but no more. However I work in an office full of geeks with TAG Heuer Connected, Moto 360s, original Huawei Watches and various Garmin watches and the overall opinion is that the Watch 2 Sport looks pretty nice - better than the reviews had led them to believe.
2. The strap Huawei provided is horrible. However the straps are just as changeble as on the Classic - but your choice is more limited in that you need to get a notched strap to really fit in with the style of the watch. I got a lovely waterproof leather DiModell strap - not cheap but well worth it and it improves the look and feel of the watch massively.
3. Connectivity. I had a spare sim so I stuck it in my watch (no UK network supports E-Sims yet) and set my phone to forward to that number when not answered. I then went out without my phone, just with some cheapo bluetooth 'buds. Everything worked brilliantly. I received calls fine, maps worked just as if I was connected to my phone, and since I use Pulse SMS I was getting my text messages too. I even listened to a little music streamed to the watch via Play Music. Now I can go cycling without having to pack my phone, and if I forget to pick up my phone when leaving the house, well, no problem, I am still contactable and connected. The Classic obviously cannot do any of this. Of course using 4G hammers the battery, reducing the life to just about a working day (as opposed to the usual 40 hours) but it is a great option to have.
4. Price. The Classic in the UK costs £409! I paid £279 for my Sport from Amazon (it was recently down to £259). That is a massive difference for a bit of stainless steel and a chunk of technology removed. To sum up, the Classic DOES look classier, but the Sport looks pretty nice once you get rid of that awful strap, and you get a whole load of extra functionality for a lot less money. Other that that, as Daniel says, the fundamentals are excellent on both.

Too big and not classical looking at all. It's not even worthy of the name, in my opinion.

Samsung really did it right with the S2 & S3, i don't even consider Android Wear anymore

NIce to finally see a review of this watch. I have had this for several months and think it is much nicer looking than the basic Huawei Watch 2 and works well for me. I have no real interest in using the watch as a standalone phone and so this has everything I need. The watch looks great, has a terrific screen and is totally smooth - something I cannot say of my previous Android Wear watches. I would strongly recommend this watch if you don't want the phone functionality built in and the Amazon reviews suggest most people who own this agree with me.

I'm wearing one now. Got it during the Prime Day deals. This watch in the two hundred range was worth it. Replaced my original Moto 360, which still worked fine, except for miserable battery life. The classic watch pairs really well with my Honor 8. And it's nice to have a watch that easily lasts a day.

I wish this had been out at the time I made the decision to but the LG Watch Sport. DOn't get me wrong... I love the LG Watch. I looked very carefully at the Sport, the Huawei Watch 2 and the Samsung gear 3 (Since I have an GS8+) . Eventually, I eliminated the Huawei from consideration and was *THIS CLOSE* to pulling the trigger on the Gear S3 (It seems to be a fan favorite, but every reviewer comparison and youtube video comparison I watched kept bringing me back to the LG. Eventually, I wound up getting the LG Watch Sport and I absolutley LOVE IT. I do not like its dismal battery life, and I don't like its bulky size. I absolutely love the features it comes packed with. My dream device would be something that looks like the Gear S3 Classic, with a rotating bezel, Samsung Pay (Instead of Android Pay), Android Wear 2.0 and all of its features, all of the bells and whistles of the LG Watch Sport, and interchangeable bands. Basically, Samsung's Hardware + Goggle's Software = a match made in heaven. The only company with the ability to make such a powerhouse watch is Samsung, but sadly, they're so busy of Tizen's arse, they don't realize how awesome this would be.
Android Central Newsletter
Thank you for signing up to Android Central. You will receive a verification email shortly.
There was a problem. Please refresh the page and try again.