Huawei shipped over 200 million smartphones in 2018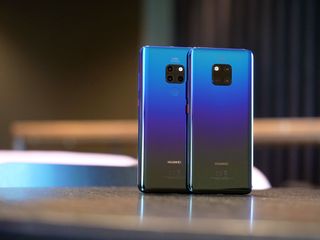 Huawei had a pretty rough year in regards to its U.S. relations thanks to ever-increasing security concerns surrounding the company, but that apparently didn't stop it from breaking smartphone shipment records. Per a press release recently shared by Huawei, it shipped out more than 200 million phones throughout 2018 — setting a new all-time high for itself.
Compared to years past, 2017 saw 153 million shipments, 2016 with 139 million, and in 2015, Huawei shipped just 108 million phones.
Diving deeper into this year's 200 million figure, Huawei notes that its Mate 20 series was met with 5 million+ shipments within just two months of availability and that the P20 lineup was one of its most popular for female customers with females accounting for half of all sales of the phone.
The mid-range Nova 3 and Nova 4 also saw big success this year with 65 million shipments, with Huawei's sub-brand Honor climbing to the number one Internet-based smartphone brand in China thanks to the Honor 10 and V10.
Commenting on these numbers, Huawei CEO Richard Yu said:
Did you buy a Huawei phone in 2018?
Joe Maring was a Senior Editor for Android Central between 2017 and 2021. You can reach him on Twitter at @JoeMaring1.
Yep. Bought a Mate 10 Pro and it is the phone I have ever had. I never thought I'd leave Samsung and their Note series but my Note 8 is just collecting dust these days and I have zero interest in the Note 9. I guess the big test for me will be when the S10 launches, but if the battery life isn't at least 90% of my M10P I won't even consider it.

Do you not miss the pen? For me this is the thing keeping me on the note. Also how is there version of Dex as I use this alot to. If we see a rival manufacturer make a phone with a pen and dex comparable service I'll defo look to jump.

I would consider one of their phones if they worked with Verizon. Kinda bummed they don't.

Had the honor 8, then the mate 9, now the mate 10, about to get the mate 20 X, only phones I use us Huawei now. Best phones I've ever used.

So they sold back door phone over 200 million this year. What a good for China.

What makes you think that other phones do not have a back door, why should we trust an American company anymore than we trust a chinese company?

Well, you might want to trust a non-Chinese backdoored phone because they aren't Chinese. The Chinese and Russians are the largest pool of cyber criminals out there.

Agreed! Especially the Chinese government wanting to dominate in everything. Theyre the number one in Cyber attacks trying to steal other companies IP technology to further themselves and their domestic companies in going ahead and that's how they ve gone ahead over the years and will continue do so. I fully support and encourage all countries and companies banning from using Chinese networking equipment manufacturer Huawei, ZTE and etc. With everything we know from their Cyber attacks we can't have any of the next 5G networks using /running on Chinese equipment.

Just like Google, Microsoft, Apple, Facebook and so on and so forth? I mean Equifax leaked all our information out on the net including socials and the for a slap on the wrist fine and continue to have big contracts as one of our credit reporting agencies.... Get informed and be mad as a whole as this is the new norm for businesses.

Equfax had a vulnerability that was exploited, they didn't leak information. It was stolen. Sure they found out about it and reacted poorly. As for the other companies you mentioned, I would trust them easily(not Facebook) with my data vs. the Chinese government. Are you high?

In addition to what Booboolala2000 said, there's a difference. Google and the like perform data mining for profit and to enhance services. Huawei is a company in which the top brass has been directly involved in illegal dealings, in a country where the government trains youth for cyber warfare. I'm not in moral agreement with the current US administration, but if a government asked a company to push a software update to enable accessing 200 million microphones and cameras, I believe Huawei would be far more likely to do so than Apple or Google.

bought honor play a month ago, I can categorically say its the best phone I ever had. it does more than the cheap price I bought it. battery life is second to known. stop wasting your hard-earned money on crappy iPhone that does little for the high prices

i can kind of understand why, i have a p10 lite and it is a great little phone for the price, camera is good, not great, but good, it takes good photos and the video is fine, the screen is pretty good,. the phone itself is pretty fast and the GUI is not that far off from the normal Android one and is not heavy like some.
The phone is 14 months old and still going well, which it should be after 14 months, if it lasts as long as my old nexus 4, which was nearly 5 years, then not too bad.

The most improved company of 2018. Sold 200 million with little help from the US?

Just a little background from a non-us based news source. Enjoy and Happy Holidays! But here's a clip. "Over the past couple of years, Huawei has reportedly circumvented sanctions imposed on North Korea and Iran, providing the countries with telecom equipment that can be used for extensive spying on populations, so-called dual use technologies." https://www.aljazeera.com/news/2018/12/countries-banning-huawei-18120613...

200 million sales without the US. Huawei are really showing how its done

Had honor 8 pro and now buying Mate 20 pro twilight

Had the Mate9 which I loved and just got the Mate 20(not pro), amazing improvements, epic battery life. Loving the camera and and pleasantly shocked I've received 2 security updates so far and current with December's update...even in the US.

Yeap, bought Mate 10 pro at the beginning of the year. Decent hardware, not great, decent, but EMUI is horrible. Sold it in 2 months.

This is why the US wanna ban Huawei, because of the take over
Android Central Newsletter
Get the best of Android Central in in your inbox, every day!
Thank you for signing up to Android Central. You will receive a verification email shortly.
There was a problem. Please refresh the page and try again.