Huawei has four new inexpensive MediaPad tablets coming to the U.S.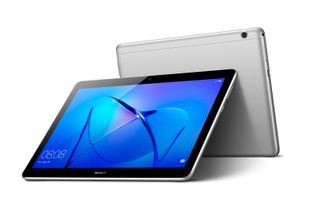 Besides its Mate flagships and Honor-branded smartphones, Huawei also makes the MediaPad line of tablets. Now, in the days before IFA, Huawei has announced four new tablets coming to the U.S. in September.
The Huawei MediaPad T3 8-inch and 10-inch and M3 Lite 8-inch and 10-inch tablets are now available for purchase from Amazon. The tablets feature entry-level specs, but they'll pack more than enough power for consuming media.
The T3 tablets include a Qualcomm Snapdragon 425 processor, 1200x800 displays, 16GB of internal storage (expandable via microSD) and 2GB of RAM, Android 7.0 with EMUI 5.1 on top, and a 5MP rear camera and 2MP front camera. The only difference between the two T3 tablets are the screen size and price: the 8-inch and 10-inch T3's both include a non-removable 4,800 mAh power pack. The T3 8-inch is priced at $139, while the T3 10-inch retails for $159. The T3 tablets are only available in a black/space gray coloring.
MediaPad T3 8-inch at Amazon (opens in new tab) MediaPad T3 10-inch at Amazon (opens in new tab)
Image 1 of 3
The M3 Lite tablets use an unnamed octa-core processor, 1920x1200 displays 16GB of internal storage (expandable via microSD), 3GB of RAM, Android 7.0 with EMUI 5.1 on top, an 8MP rear and 8MP front camera and a fingerprint sensor for secure unlocking. The 8-inch M3 Lite tablet features a 4,800 mAh battery and two Harmon Kardon speakers, while the 10-inch version sports a 6,660 mAh battery and four Harmon Kardon speakers. The M3 Lite tablets are only available in a white/silver coloring, with the 8-inch version retailing for $199 and the 10-inch version available for $249.
MediaPad M3 Lite 8-inch at Amazon (opens in new tab) MediaPad M3 Lite 10-inch at Amazon (opens in new tab)
Are you interested in any of Huawei's new tablets? Let us know down below!
Android Central Newsletter
Get instant access to breaking news, the hottest reviews, great deals and helpful tips
The M3 Lite's seem like a good deal. Basically on par with the Lenovo Tab 4 Plus, except, you know, these may actually release...

Did I read this wrong, or are the "Lite" versions the beefier ones? (or at least have more ram)
Seems a bit backwards.
I still can't find something to replace my Sony Z2, it's been years and nothing compares in the under $300 section. I could go Z4, but for like $500 new, it's not worth the jump really.
Everything else seems to either have a weak battery, bad processor, 2gb of ram..
For like $200 you still can't beat the Sony Z2

Best budget tablet out now is the AT&T Primetime for $216 w/tax. 10.1-inch 1920x1200 LCD, a Snapdragon 625, 2GB of RAM, 32GB of storage, a 9,020mAh battery, and Android 7.1.1 Nougat. Better screen, better processor, more storage and bigger battery

I think they are referring to them as light compared to the M3 that was released last year.

That 10" m3 lite with 4 speakers and decently sized battery sounds really nice for the price. I just wonder why they can't put a much larger internal storage on that thing or at least have an option for an additional price.

I really enjoy my MediaPad M3 (8 inch), except for one thing... it only supports Google's Widevine L3, so I'm unable to play purchased content from Google Play or VUDU at Standard Definition... no HD content that requires DRM. I'm upgraded to Nougat (it happened immediately after booting up the tablet for the first time a couple of weeks ago), so I don't know if this is a hardware issue or a certification issue following the Nougat upgrade (I'm talking a little beyond my knowledge level). Regardless, it's a fairly disappointing aspect to a tablet that is otherwise very nice, especially since the advertising is pretty much focused on the device as a superior media device (which it is, don't get me wrong... but the lack of HD DRM is a drag).

I should have said, "I'm unable to play purchased content from Google Play or VUDU at anything OTHER than at Standard Definition."

Perfect for my 5 year old as a replacement for my handed down nexus 7. That thing had a good run but it's incredibly slow at times.

Having a hard time trying to figure out why companies won't make a 32GB mid to high tier 10 inch tablet at about the $300 to $400 price range. So tired of finding tabs in that price and spec range with only 16GB storage options.

Considering how poorly Huawei built and supports the Nexus 6P I won't be investing in anything made by them.

Never had the Nexus 6P, but the Mate 9 is built like a champ

Considering Nexus phones are sanctioned and supported by Google I don't see this being Huawei's problem.

Huawei made the phone for Google so how exactly is that not their problem? Google didn't screw up the poor soldering they did on the CPU's which is causing the bootloop issues with the 6P and 5X.

The 5X was built by LG smartass, so if both the 5X and 6P have the same issue it's likely Google or whichever company that did the manufacturing for Qualcomm chips. The problem is very likely Google, Huawei's own phones all have amazing build quality.

So explain how my screen just falls off a 6P and it's never been dropped? You call that amazing build quality?

All Huawei products have terrible UI. It makes me wanna push my fingers in to my eyes. And these tablets won't get a single update ever. My 8" m3 mediapad is still on 6.0 with security patch from 2016. I thought I'd never say this, but here goes: I wish I had bought a Samsung device instead.

This is tablets no matter who you buy them from unless it's apple. Android tablets never get updated.

The Samsung tablets I've owned get 2 years of updates just like the phones.

I purchased my Asus Zenpad in February. It was on marshmallow. It's since been upgraded to nougat and currently on the July security patch.

The Mediapad M3's have been updated to Nougat. I bought mine from Amazon on Prime Day, and it was updated to Nougat maybe 3 or 4 weeks ago. Check for an update It's a good tablet. I got the version with 4Gb of RAM and 64Gb of storage. I got it to replace a Shield K1 tablet that received GREAT support, but unfortunately, just kept getting slower and slower. Also, I am not a gamer.

Not enough internal storage, looking for at least 32 but would prefer 64...

Just noticed that Adobe Photoshop Elements 15, the store app, requires 4G of RAM. wouldn't even allow installation on my 2G tablet (not a Huaweii) Just mentioning it as I expect more 'professional' offerings in the store might start expecting that as well.

That's available on Android? I've checked the store and do not see it, I assume it's because my device isn't compatible.

The 8" M3 might be a good replacement for my Nexus 7 if not for the EMUI 5.1 junk.
Android Central Newsletter
Get instant access to breaking news, the hottest reviews, great deals and helpful tips
Thank you for signing up to Android Central. You will receive a verification email shortly.
There was a problem. Please refresh the page and try again.