Huawei hops on the VR headset wagon with advanced 360-degree sound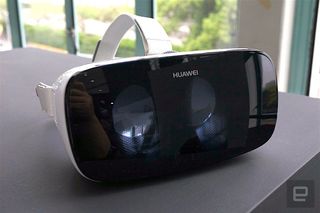 Huawei is hopping onto the virtual reality train, which appears to be full steam ahead as we move on through 2016. Engadget notes the company is working on the Huawei VR, a headset that will be made available in three colors and will be compatible with the new P9 flagship smartphones, as well as the Mate 8. What Huawei will hope will set the company apart from the likes of Samsung Gear VR is the inclusion of 360-degree audio support.
To take advantage of this neat feature, one will have to have capable content at hand, as well as a pair of comfy headphones. The device will seemingly work in a similar fashion to Samsung's own VR range. Simply slot in a compatible smartphone and away you go. There are 20ms of latency and 95 degrees of view with the bonus of an anti-blue filter to protect eyes from long session strain.
At launch, Huawei will offer more than 4,000 movies for free, as well as over 40 games and 350 panoramic images. Unfortunately, there's no word on pricing or availability, so we'll have to hold out until Huawei reveals more in the future.
4000 movies for free? Sign me up! Sprint LG G4, ZVA.

Looks like the VR train is picking up some steam. (No pun intended)

Too many VR options are going to kill the industry.

Not really. It is a good thing because people will now have the option to go with the brand of product they like for their phones. For example, people who don't like Samsung products can go with the Hauwei now. It's about having choice.

competition is always good for consumers

Since when? Posted via the Android Central App

I think I found my first VR headset. If it arrives to US that is. Posted via the Android Central App

Huawei has been good selling their non phone products in the US. Posted via the Android Central App

If this announcement is anything like the original watch reveal, we won't see this until Christmas 2017 :D

I wish that huawei would either sell their wares here in a more wholehearted manner or not at all really.I'm referring to the US.I generally like their products,ui aside,but I really do feel like just saying-get in or get out. Posted via the Android Central App

it takes time to enter such a gigantic market.

It's been at least 2 or3 years.Time to crap or get off the pot. Posted via the Android Central App

2 or 3 years since what? i used a huawei honor 1 four years ago. it sucked donkey balls. they werent even successful in china then. it is obvious that a smart brand would only enter the US market only once it feels that it has products good enough, especially if it is aiming for the high end.

This is exciting. VR is definitely the future of entertainment. But don't most apps simulate "360 degree sound?" I know when I'm in an app I can hear stuff behind me and I naturally turn around to see what it is...

looks almost identical to the gear VR. a Chinese company. HMMMM.

No matter how much these guys have improved their products, they still cant let go of their copycat roots. this looks exactly like the gear vr

Bo-bo VR Posted via the Android Central App

That's what I want to know will this work with the Nexus 6P?

I have read that it for the p9 and p8,if that is absolute I do not know.They have also said nothing of bringing it stateside. Posted via the Android Central App

Now that they're launching their VR headset, they are gonna have to bring 2K displays in their flagships. AFAIK, even 2K is not enough for VR, let alone 1080p.
My guess is even if they were to bring a 2K display in their next flagship, it will work like the Xperia Z5 Premium - with 2K only in VR and 1080p being everywhere else - especially since they are all about the battery life.
Android Central Newsletter
Get the best of Android Central in in your inbox, every day!
Thank you for signing up to Android Central. You will receive a verification email shortly.
There was a problem. Please refresh the page and try again.