Huawei may have the world's third largest app store, but it's still a two-company race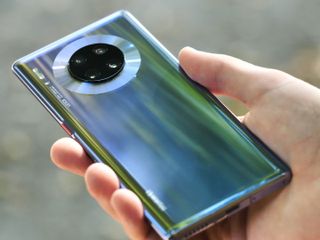 (Image credit: Android Central)
When I was but a youngster, my father was a mechanic for one of the local stock car drivers. At the risk of showing my age, I can remember that somehow local promoters convinced Richard Petty to race at the little local track. In the weeks before that day, I can remember those local drivers saying how they knew this track and there was no way Petty was going to win in their house.
Come the night of the race, Petty won by such a large margin that his crew had almost finished loading their gear into the truck before the second-place driver finally crossed the finish line.
I'm not a big NASCAR fan and this has nothing to do with smartphones, but it's exactly what I thought about when I heard Huawei boasting about it having the third-largest app store in the world for phones. Number three is so far behind that it's a metric that works better if you never mention it. Just like those local drivers never mentioned losing to Richard Petty.
I'm not trying to sound like I'm rooting for Huawei to fail. I think the company makes great smartphones, and the reasons why it's in hot water with the U.S. government aren't about handsets, so punishing the handset division seems stupid. If there are valid concerns over Huawei's 5G equipment or if the U.S. doesn't want a Chinese company to gain a huge advantage when it comes to cellular infrastructure, then address those instead.
Google warns users against sideloading its apps on Huawei devices
What does matter is that Google can't let Huawei use its stuff, so Huawei has to make its own stuff. Which isn't really a bad thing, because someone has to find the magic combo that can break Google's and Apple's tight grip on the smartphone app ecosystem. Huawei has great hardware and if it can find a way to build services people actually want to use, it could do that. Except for that pesky Entity List that won't let developers who want to do business in the U.S. work with the company, that is.
All of this is why Huawei talking about how great its app store is and how fast it is growing means almost nothing. It may be great — and if you're a Chinese customer I have a feeling it is filled with the apps you love — and it surely is growing, but there is a very well-defined endgame when it comes to selling phones in the west.
Huawei can see that proverbial stop sign, and companies like Facebook and Twitter sitting on the other side of it, wishing they could do business with the Chinese giant, but it also knows it has to stop when it reaches that line. Enticing developers and preloading phones with popular apps isn't a solution because the most popular apps people in the U.S., or Canada, or Germany, or the U.K., etc. are from developers who also want to do business in the good old U.S.A. and the risk is not worth the reward. Huawei has deals with Amazon, Microsoft, Snapchat, TikTok and Epic Games, Wattpad and others, but it's not clear whether by being on the AppGallery those companies are violating any rules.
Huawei Mate 30 Pro review: The best phone you shouldn't buy
This is bad for everyone involved. Developers aren't free to work with a company willing to pay them, consumers are unable to purchase some of the best phones on the market, and engineers who build phones are lumped in with alleged thieves and spies that have been accused without any tangible proof.
Sometimes, every choice sucks. But boasting that you only have 1.6 billion fewer monthly users in your store than Google has in its own is not a good look. Here's hoping things can change before Huawei becomes yet another Chinese phone maker that western consumers don't care about.
Senior Editor — Google Ecosystem
Jerry is an amateur woodworker and struggling shade tree mechanic. There's nothing he can't take apart, but many things he can't reassemble. You'll find him writing and speaking his loud opinion on Android Central and occasionally on Twitter.
That's one thing I've noticed about Asian companies is how they like to exaggerate /brag about their numbers /performance and etc about their products

Kinda like the president of the United States who likes to brag and exaggerate just about everything.

That's not Asian companies, it's all companies. Little bit racist really.

No it's not all companies. Companies like Samsung, Xiaomi, Oppo, and Huawei in particular like to over exaggerate like in this case. Their app store is so far behind compared to the other two but hype it up like they re so close. That's just an example

You mean like how Apple claim to have invented everything but in reality they just bring out tired old ideas and market them really well?

Apple plays a huge part in moving the industry forward weather you like (admit) it or not. We wouldnt have touch screen phones if Apple hadn't decided to come out with a multi touch smartphone. yes, I know they didn't completely invent the tech from scratch but they put the pieces together to come up with something that didn't exist bef. We still be using keyboard phones. Android would be still be a mimic of the BlackBerry OS. So why if when Apple brings old tired ideas like face unlock, gesture navigations recent examples causes other manufacturers to all of a sudden rush in trying to implement them?

Yeah... The only reason the iPhone had a touchscreen is because Apple acquired a company that made multi touch capable phones... What you did there was prove the person you were replying to's point, will done lol.

They bought the company Fingerworks for the gestures. There was a lot more development put into that. Everything else was pretty much built from scratch. Ppl like you still don't realize how much went into that phone. https://www.theverge.com/2017/6/13/15782200/one-device-secret-history-ip...

I didn't know you were South African!

You mean to say that if apple hadn't used the touch screen on its phones, NO ONE else would have thought of doing it and we would still be using T9 keyboards?

Frankly, Apple did nothing extraordinary. American people did by accepting one of their own companies with very little mobile stuff (behind a good multitouch screen, I accept that). Whether you like(admit) it or not, it was a race for American people to support their own company when they were holding a Finnish branded phone in their hands. Let me tell you that, I appreciate this being myself a nationalist. I myself do prefer to buy national stuff. But not by kicking out someone in fear of being lost in the industry. That's what Americans did. There were no security issues with Huawei's 5G as America exaggerated/bragged about. Accept it or not, it is indeed racist. Forget companies bragging about numbers, American publishers are way better in bragging about it for American companies. Now just give the handle to other companies do this for their own to show themselves in the jungle of racists. If Americans don't like it, they really don't need to brag about it either. Hope you got the point...

You are delusional if you actually think that when the iPhone was released that Americans raced to support an American company over the Nokia brand lol. While Nokia was popular so was alot of other Brand's like the BlackBerry. Hence the reason why Android was trying mimic the BlackBerry OS until the iPhone was released. Ppl we're excited to see a new type of phone that looked and worked differently from what they were used. When I saw that phone I was like wow! The iPhone stood out. And after a year or two thats when the Phone really took off. While Trump has lost all credibility Huawei is still a national treat down the road. There is enough evidence to support this not to mention the amount American companies over the years having their IP stolen /copied so these Chinese companies like Huawei can catch up and compete. Chinese government has dependent on American technology over years and still does. So if they had a chance to obtain info thru networks built by their own domestic company secretly you don't think they would like any other company? Of course they would. So I agree with them not wanting to use Chinese designed equipment as well as their allies. Better to be safe and avoid that potential threat by going with another vendor like Nokia and or Ericsson. I guess in time we will see.

I didnt know Blackberry 10 copied iOS gesture navigation. You sound like a fool

The navigation gestures came from Palm and the last company to use those was BlackBerry. The point was no body bother to implement those gestures until Apple did like many other things. Thats the whole point! You re more of the fool if you didn't realize that

As I say, your opinion seems to be clouded by mild racism. It isn't exaggeration if they are in third place. It is bragging, which all companies do. A billion pockets, y'all.

A business talking themselves up??? Shocking...

I've read that big numbers sell well in China, like 108 MP cameras and 12 GB RAM on midrange devices, even though those components underperform. I don't know why. Perception of more for less?

Imagine a business bumming up their own products and numbers! That's crazy talk. I bet they at least pay taxes unlike Apple and Amazon etc

Considering Huawei are only banned in 5 countries they could easily become number 1 https://www.google.com/amp/s/www.statista.com/chart/amp/17528/countries-...

"I'm not trying to sound like I'm rooting for Huawei to fail."
Well, believe me. you tried to do exactly that...
That's not unexpected from Americans. It's natural, you can't just help it do better.

Really hope huawei smashes this. They need to because what the yanks are doing is just sad and pathetic.
I feel sorry for the sane half of the country that wished for none of this to happen.

Whats not a good look is claiming to be land of the free, then imposing restrictions on unwilling parties using made up claims. Whats not a good look is not sharing evidence about said made up claims for months on end,m then producing a "smoking gun" dossier of evidence that was filled with things that other countries had already disproven as false or had arrangements to nullify any potential openings. Its also not a good look to claim the company developed back door technology in its networking stuff, when the same land of the free requires its networks to legally have back door capabilities built in. America has made itself look foolish for years now but it continues to outdo itself

@JERRY HILDENBRAND - Well, if you're going to lose, might as well lose to Petty! Haha! A distant third is still third place. You still get the bronze! ☺ I like your point about the "issues" are not about Huawei's handsets. But everything is all lumped together.

Third largest and rapidly catching the top 2 is fine if it means they either don't install all the Google bloatware and/or spyware apps or give users a choice to uninstall them.

Do fart and burping apps count towards that award winning content?! Or maybe the million apps on how to make fun of and pronounce Guizi (鬼子) or qwai lo for Cantonese afficionados... That doesn't inspire much confidence... anyways 華為糟透了...which roughly means Huawei sucks ass...
Android Central Newsletter
Thank you for signing up to Android Central. You will receive a verification email shortly.
There was a problem. Please refresh the page and try again.