HTC Wildfire S Mini Review (Virgin Mobile)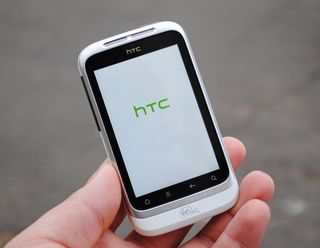 With the times as tough as they are today it is no surprise that many people look to save money anywhere they can, and for many an easy savings is in their cell phone bill. Virgin Mobile has done a great job with their smartphone line up, bringing great handsets to their network, and recently they added the HTC Wildfire S for their customers. Sure, it may not be the most powerful Android handset to date, or have the largest screen, or the highest MP camera, but is that enough to write it off as a device entirely? Let's hit the break and check out some thoughts on the HTC Wildfire S for Virgin Mobile, and why it could possibly be your next device.
Initial Hands-on
Hardware
A low-cost smartphone on a plan that doesn't require a contract -- who would want that, right? And HTC has given just as much effort to this device as any of its others. When thinking that most of the newest Android devices are creeping closer to 5-inch displays, the thought of this 3.2-inch might seem like a huge step backward. But after just a few minutes in the hand I nearly fell in love.
The Wildfire S has a 3.2-inch LCD display running at 320x480 pixels, certainly not the highest resolution we have seen to date. But it really doesn't need any more than what it has. The pixel density on the display is much improved on this device over the HTC Wildfire, making it much more enjoyable to use. The screen is quite bright and vivid and held up rather well in direct sunlight and offers great viewing angles so no matter how the phone is held you can see what is being displayed.
On the top of the device you will find a 3.5 mm headphone jack on the left-hand side, an indent to help remove the battery in the middle, and the power button on the right hand side. The indent for the battery door is a huge help, the battery door wraps around the bottom of the phone, and back over onto the front, so the top is the only place to grab for removal.
The right side of the device is nice and smooth, offering no buttons or ports.
At the top of the left side you have a silver single piece construction volume rocker, and below that there is the micro-USB charging port.
Looking right at you on the front of the device you will notice at the top the rather iconic HTC speakers directly above the screen, and at the bottom of the screen you will notice the capacative Android touch buttons we have all come to learn and love, and below that just the Virgin Mobile logo.
Moving to the back of the device you will see the 5MP shooter at the top, to the left of it the LED flash, and to the right a speakerphone. In the middle of the battery door is the HTC logo, and down the bottom there is the microphone as well as a noise cancelling hole.
Software
One area where many devices are picked apart is the software version which they launch with, and usually if it is not the most current the device gets bashed big time. In this case the HTC Wildfire S is in the clear, as the Virgin Mobile edition launches with Android 2.3.4, combined with Sense 2.1. Sure, we would love to see Sense 3.0 on there, but with only 512MB of RAM and a 600MHz processor, do you really think the experience would be what we wanted?
If you have ever used a Sense device, this experience mimicks it quite well, the 600MHz processor is enough to power through the device without much lag, though we would have liked to see something more like 800MHz inside.
In terms of home screens you have the standard seven screens, most of them pre-loaded with various widgets and icons, and of course you have the various scenes you can use, giving different configurations.
We have covered the many advantages to Sense 2.1 a few times in the past, but for those looking for some of the quick feature additions you can expect to see things such as
Unified contacts system - Combines social networking information with Google Contacts and other sources to bring all your contacts to your phone.
Friend Stream - Social network aggregation for Facebook, Twitter, LinkedIn and Flickr.
HTC Hub - Online hub to download additional content for your phone, including new wallpapers, widgets, apps, ringtones and more.
HTC Likes - A selection of HTC-approved apps from the Android Market.
Transfer my stuff - Allows you to transfer personal data like contacts and messages from a range of other devices.
HTCSense.com - Back up your messages to the cloud, and remotely track, lock or wipe your phone if it's lost or stolen.
Battery Life
While battery life will differ for everyone depending on usage, I have found that the included 1230mAh battery fares quite well. While the battery is smaller than we are used to seeing in most devices, the smaller screen helps it, as the battery is not trying to power a huge display and keep up with a power hog processor.
With moderate usage you can expect to get through the day of use, and of course if you can plug it in for a few minutes here and there it will certainly help.
Camera
If you are hoping to replace your point and shoot camera with this one, you may need to think twice. But if you are just merely looking for a camera to capture some memories while on the go this 5MP shooter will do just that. The overall quality of the images is quite nice, tapping on sections of the screen allows you to focus on that area, or the camera will automatically autofocus whatever object it thinks is centered. The camera does offer some basic editing functionality, you can change the ISO and white balances, as well as the resolution to fit more images on your memory card if you wish.
The video camera shoots in 480P, standard definition, so if you were hoping for some hi-def footage you won't be getting it here. Overall the video portion captures decent footage but does seem to have some issues with lower lighting, and fast movements.
Overall
If you are looking for a device on a pre-paid plan that won't break the bank, but will still offer you amazing build quality and some very nice software the HTC Wildfire S is a great choice for you. While the size may not be for everyone, the smaller screen works to the devices advantage, giving it longer battery life, and a great feel in the hand. For only $199 without a contract, and $35 a month (depending which plan you chose) the HTC Wildfire S is a great choice for those of you who wish to lower your cell phone bill, without having to give up the Android market, and all of the other great features of an Android powered smartphone.
Android Central Newsletter
Get instant access to breaking news, the hottest reviews, great deals and helpful tips
Jared started off writing about mobile phones back when BlackBerry ruled the market, and Windows Mobile was kinda cool. Now, with a family, mortgage and other responsibilities he has no choice but to look for the best deals, and he's here to share them with you.
It's a decent phone, but optimus v generally has better specs, and costs less. even better specs (slightly) is the optimus slider, and that costs the same as the wildfire S.

Technically it has almost the same specs as the Optimus V. Only real difference is the amount of internal memory, and that's the same as the Optimus V if you don't root and remove Sense. Screen is glass and a bit more responsive than the Optimus V, camera is better and has a flash for flashlight apps, and overall feels better built. That being said, I'm not sure if it's worth almost $100 over the Optimus V. However, it WAS $100 off at RadioShack for Black Friday, so I'm sure lots of people got a good deal on it. I just wish they'd drop the price by about $40 for the normal cost.

ah, yea good points. I got fooled when looking at the specs.. I read the wildfire S has the MSM7227, while the optimus v has a MSM7627. Looking it to it now, the MSM7627 isn't any better. MSM7227 is for GSM, while MSM7627 is for CDMA (the wildfire s specs I read were for the tmobile version, doh..). one site shows the wildfire S only has 16bit colors though (256k), while optimus v has 24bit (16M). Also I know the optimus v allows hot spot tethering which is handy, not sure if the wildfire s does. But the wildfire s also runs gingerbread which is nice. ..i guess the wildfire s is the better phone lol.. it's pretty close though. But at $100, it's definitely a good choice.

>"Only real difference is the amount of internal memory, and that's the same as the Optimus V if you don't root and remove Sense" I think you mean internal storage. Nothing you can do will change how much memory it has, which is 512MB.

aaand it will never get IceCreamSandwich because the msm7227 is not supported
better said the Adreno 200 driver is not fitting ICS -.- sad sad because a lot of new and not really old phones are left out
they cannot gain GPU acceleration, at least not as intended -.-

Looks like a nice small phone for people who like them small. I would like to see Android phones with a better variety of sizes. Most new phones are 4in screens or more. I think there is a good market for slightly smaller screens but with high end specs similar to the dreaded iPhone.

What happened to Virgin Mobile only allowing stock Android phones?

I think it's pretty cute and might have some mild success on Virgin Mobile especially with the female demographic.

I would love to see Virgin mobile add a 4" slider with decent specs.
I'd be interested in seeing the HTC Arrive offered also.

Could this somehow be set up on the Sprint network? I'd like an alternative android to use on sprint that won't break the bank.

Virgin Mobile (US) runs on Sprints CDMA 3G network. I guess it could be used on Sprint if they allowed it, but they probably wouldn't. It'd also only support 3G speeds since that's all VM offers. If you're considering that much, why not just switch to Virgin Mobile? unless you're in a contract. VM would likely be cheaper.

The HTC Wildfire S for Virgin Mobile is terrible. It has barely any memory. I have to do a factory reset all of the time. I can't have any apps on my phone or I can't send people pictures of my son. Terrible terrible phone.
Android Central Newsletter
Get instant access to breaking news, the hottest reviews, great deals and helpful tips
Thank you for signing up to Android Central. You will receive a verification email shortly.
There was a problem. Please refresh the page and try again.