HTC Status gets official on AT&T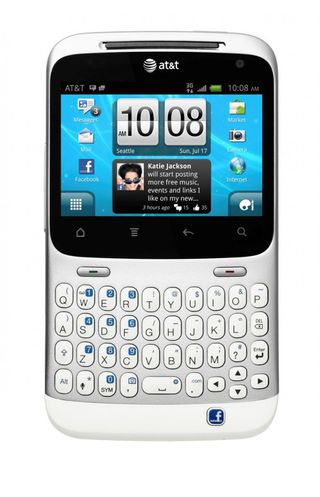 It's official, folks. The HTC ChaCha -- aka the "Facebook phone" -- will launch on AT&T this summer as the "Status." Pricing and exact availability were not announced.
Just as we first saw announced at Mobile World Congress in February, the Status sports deep integration with Facebook -- deeper than you're used to now on Android. It gets some help from that Facebook button you see at the bottom of the keyboard, which gives you one-touch access for sharing images, links, your status (thus the name), news, etc. And it glows when you're doing something that you can post with the button, so there's no confusion.
The Status also has a modified version of Sense 3.0 (you're going to love that lockscreen.)
Other tech specs:
Platform: Android™ 2.3 + HTC Sense
Display: 2.6-inch touch screen with 480 x 320 resolution
Network: Quad-band GSM/GPRS/EDGE 850/900/1800/1900 UMTS/HSDPA 850/1900
Memory: 512 MB RAM, 512 MB ROM
Processor: MSM7227, 800 MHz
Battery: Rechargeable lithium-ion battery, 1250 mAh
Camera resolution: 5 MP main camera with autofocus, VGA front-facing camera
More: HTC Status on Facebook
Android Central Newsletter
Get instant access to breaking news, the hottest reviews, great deals and helpful tips
wow they can put sense 3.0 on a little device like this but not on phones like the desire HD and thunderbolt, i'll just stick with CM7

Who said anything about Sense 3.0?

"The Status also has a modified version of Sense 3.0" Read my friend. I'm guessing by "modified" they mean "Unbloated"

I would assume that HTC could put "a modified version of Sense 3.0" on those phones too, but they just chose not to.

How come I don't see the weather widget along with the Sense flip clock?

Maybe that was part of the Sense "modifications." They'd have to decrease the size of most of the widgets to accommodate the BB-sized screen.

Not my cup of tea, but I can see this being a popular phone for kids. Not every Android phone has to be a high end superphone.

Not particularly kids, not everyone can deal with virtual keyboards, I recently went back to Blackberries because of the portrait keyboard. Although I'd like to get rid of that Facebook button, I don't use FB. An Android phone with a portrait keyboard would be great, I've already used a Motorola Charm which was not good and HTC makes good phones. My only gripe is that Huawei and Motorola's candybar phones has 2.8" screen while this one is 2.6", which is fairly small.

:::cough:::bold::::cough::::curve::::cough:::: damn i must be getting blackberry lung. could it be the torch near me? sorry couldnt help it :D, but seriously i dont like it. but some might.

A touchscreen w/QWERtY keyboard.I bet HTC had this designed and built in a week. Meanwhile,back at Waterloo,RIM's STILL working on the 99xx series Bold Touch which "hopefully" will be out by the end of summer.

The difference being that the build quality of the 9900 will be leagues better than the Status. I have plenty of issues with BB, but their Bold line phones are designed and manufactured wonderfully.

@experiment626 that's because that's not the weather flipclock widget its the clock/w status updateswidget, see on sense 3.0 ( and maybe 2.1 not sure) there's a clock widget with Facebook status updates instead of the weather

I wonder if you'll still have the option to use the flip-clock/weather widget?

Launching with Gingerbread? Yeah, that's a good one.

This is like a better version of the hp veer.

A 2.6" screen is just way too small, even on a low end device like this.

Wow. Its a shame that there are SO few new Android phones with physical keyboards these days that this actually looks good. I'm on Verizon though, and still holding out for multiple-core/LTE/physical keyboard. Would love to see more phones with the solid vertical KB like this, or even the Palm Pre/BB 9900 type vertical slider design. I want the ability to do everything with one hand (I miss that from my BB days), but it appears I am in the very small minority. Anyone out there with me?

Well AC had a pic yesterday which "might" have been of a Motorola vertical slider. The Droid 3 might be your best hope on Verizon for a physical KB Android device though.
Android Central Newsletter
Get instant access to breaking news, the hottest reviews, great deals and helpful tips
Thank you for signing up to Android Central. You will receive a verification email shortly.
There was a problem. Please refresh the page and try again.