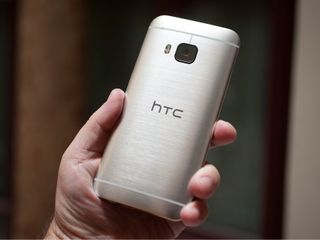 Behold, the HTC One M9. And the HTC One M9 specs. A lot of this should look familiar, as the phone is fairly iterative over 2014's HTC One M9. But that's not to say there aren't some exciting new things under the hood. All new chipset. New camera tech. And a number of other bells and whistles.
Here, now, are the complete HTC One M9 specs.
Swipe to scroll horizontally
Category
Features
Size
144.6 x 69.7 x 9.61 mm
Weight
157g
Display
5-inch, Full HD 1080p
OS
Android 5.0.2 Lollipop with Sense 7
Processor
Qualcomm Snapdragon 810 4 x 2GHz + 4 x 1.5GHz
64-bit processing
On-board storage
32GB
Removable storage
Up to 128GB microSD
RAM
3GB
Network
2G/2.5G GSM/GPRS/EDGE (850/900/1800/1900 MHz)
3G UMTS varies by region (850/900/1900/2100 MHz)
4G LTE varies by region (FDD: Bands 1,3,5,7,8,20,28, TDD: Bands 38,40,41)
SIM
Nano
Sensors
Ambient light, proximity, Accelerometer, Compass, Gyro, Magnetic, Sensor Hub
Location
Internal GPS antenna + GLONASS
Connectivity
3.5 mm stereo audio jack, Bluetooth 4.1 with aptX, 802.11ac, HTC Connect, DLNA, HDMI MHL 3.0, Infrared, microUSB 2.0, NFC
Sound
HTC BoomSound with Dolby Audio 3
Rear camera
20MP with sapphire cover lens, autofocus, BSI sensor, f/2.2, 27.8 mm lens, 4K video recording
Front camera
HTC UltraPixel, BSI sensor, f/2.0, 26.8 mm lens, 1080p video recording
Multimedia
Playback: .aac, .amr, .ogg, .m4a, .mid, .mp3, .wav, .wma, .flac; Recording: .aac
Video
Playback: .3gp, .3g2, .mp4, .wmv, .avi, .mkv; Recording: .mp4
Battery
2840 mAh (talk time up to 25.4 hours for 2G, 21.7 hours for 3G; standby time up to 391 hours for 2G, 402 hours for 3G)
AC Adapter
Voltage range/frequency 100~240V AC, 50/60Hz; DC output 5V and 1.5A
Additional features
Dual-tone metal unibody, themes, HTC Sense Home, One Gallery, Photo editor, FM radio
More: Anything and everything on the HTC One M9
Android Central Newsletter
Get instant access to breaking news, the hottest reviews, great deals and helpful tips
I'm glad they kept it at 1080P Posted via the Android Central App

I completely agree. With a QHD, the 2,840 mAh battery would not be enough.

Um no. Posted via the Android Central App

FM Radio? Surely that feature will disappear for North American models (well, other than possibly Sprint). Posted via the Android Central App

The ATT M8 had it. Posted via the Android Central App

Good to know! Guess I'm just used to a lot of phones without it. Posted via the Android Central App

Every version of the M8 has an FM radio. They don't all have the app installed, but you can put it on your phone and it works on ever version.

T-Mobile has FM Radio too U WOT M8

It's still a great feature to have when you want to pick up a live sports broadcast out at the deer lease.

Can anyone confirm OIS for the camera? This is a must have feature. HTC can't say they fixed the camera without it. Posted via the Android Central App

Hmm...no mention made of an important feature. Posted via the Android Central App

Agreed here. I see no mention of it, so I'll have to think it's not there. Lame! Posted via the Android Central App

Unfortunately no OIS which is lame and not sure how low light photos be decent without OIS.

Behold, my next Smartphone upgrade! 20MP camera! 64-bit! And they even put a FM radio in it!

"2014's HTC One M9" not sure if that's an error or on purpose. :D

Is OIS included with the rear camera?

It's an add on accessory.. Optional-Image-Stabilization. To answer your question though, no it's not.

So HTC stuck with the evolutionary approach. It still makes me wonder as to where evleaks got the evidence for their leak renders. Sorry HTC but it looks like my M8 will be my main handset for a while. Not gonna spend money on an incremental hardware upgrade and a better camera I'm not gonna have the opportunity to take advantage of much if the front face screams "M8 but better". U WOT M8

People's expectations are way, way too high. Posted via the Android Central App

No Band 12 LTE? Ugh Posted via the Android Central App

There most certainly will be. The bands listed on that are for the European model I believe. Certain bands, such as Band 12 aren't used in Europe.

Though it looks like a great device, the lack of gunmetal and the gold accent mean I'll stick with the M8 (admittedly not a shutterbug). The gold rim makes me feel like Flava Flave and the black always reminded me of those old Paxx Easter egg wraps that you'd put around the egg then drop in boiling water to make it shrink. Kudos to htc for recognizing the M8 flaws and trying to address almost all of them (still hate the unsymmetrical logo bat at the bottom).

There is a gunmetal version as well Posted via the Android Central App

I dunno if I read this right. But they are now using 64-Bit processing? That means we can now have more than 4GB RAM! Nexus 5 | LG D821/Android 5.0.1 with ElementalX 2.10 | SmartBro PH

Even though we won't see a difference ya you're absolutely right Posted via the Android Central App

Yeah, just like with 32-bit Cortex A7/A15 etc. which support up to 1 TB RAM.

It's indeed an excellent phone. Kudos to HTC for creating a gorgeous, aluminum-bodied phone. Unfortunately, I feel that the spec bump is not enough to make me want to sell my Oneplus One. Posted via the Android Central App

Looking forward to getting hands on time with this as soon as possible. The one major flaw, the camera, has been taken care of. Now to see what Samsung has for us today as well.

Highly disappointed in the 1080p screen. -Shawn
Noting the world one S-Pen at a time.

Why would you need or want anything more on a 5in screen? Posted via the Android Central App

Exactly! Some people just don't get it... Posted via the Android Central App

I was expecting something much more exciting. I have to say I'm disappointed and I'm very glad I have my nexus 6! Posted via the Android Central App

Boomsound with Dolby and microSD is nice. Posted via Android Central App

1080p and a tiny battery? It is 2015, right? Posted via the blazing fast Motorola Droid Turbo (64 GB).

OK. Let's move on to samsung galaxy s6 now. Posted via the Android Central App

Yes!!!! T-minus 20 minutes! Posted via the Android Central App

Phone looks pretty amazing spec wise. I don't even mind that the design is very similar to the 7 and 8. As always though, I can't understand the space consumed at the bottom of the screen Posted via Android Central App

Octacore Processor.
20 mp camera.
Infrared.
32 gbyte and micro SD card slot.
2840 battery.
3 g Ram
Time to change my glorious Nexus 5.
When the M9 will be available? Posted via the Android Central App

Didhe said and mention about removable battery cover not just removable memory slot Posted via LG G3 Sprint

Is the battery removable? Posted via the Android Central App

Um complete specs? No. You did not include the GPU! Posted via Android Central App

All these people saying screw the m9 because of the bezel. samsung s6 all the way.. then the specs come out and here all of you come rushing to the m9. Posted via the Android Central App

+1000000. All-aluminum > glass back. 2800+ mAh > 2500+ mAh. SD card > no SD card. Sense > Touchwiz. Let's be honest: 1080p is more than good enough at that screen size, and the lower resolution likely gives the One M9 the horsepower crown as well. The Samsung fanboys have got to be crying in their milk right about now. Posted via the Android Central App

I wonder why Samsung and HTC kept the battery below 3000MAH? I guess the 5 inch phones are the sweet spot. I'm happy with my Moto X 2nd Gen.

No wireless charging, not enough difference to make me want it. Posted via the Android Central App

Yep, lack of wireless charging ruins it for me. I have to have that now on whatever phone I use, period.

Why can't the screen be as big as the Desire Eye? It's nice with that 5.2" screen. I don't get how the screen couldn't get better at ALL! So lame to me It's like a M8 S. Posted via the Android Central App

In my opinion the standard should be 5.5' Posted via the Android Central App

Finally! A voice of reason! 5.5 it is, but let's go with "s not 's, eh?

The desire line looks so much better than the M series Posted via the Android Central App

Is there really no band 2 lte?? That's rather important for tmobile people. Posted via Android Central App

Hard to imagine that Samsung would give the S6 worse specs in the battery department than HTC. HTC is smart to give it a 1080 screen as 1440p is useless at that size and would just consume more power. Unlike Samsung, who thinks that pairing a smaller non-removable battery and a power-eating 1440p screen is smart. I doubt that even a power saving 14nm chip can save more power than that screen could chew. Posted via Android Central App

Phone manufactures think in the long term. The m9 is a way to make the m8 perfect (the camera people actually want ect.) so it makes sense that it is similar to the m8. Maybe the next gen will bring the real big changes. Either way there is not much wrong with this phone.

1080p screen and no OIS? Is it 2013 again?

Going from 1080 to 2K on a 5" screen isn't as noticible as it would be on a TV. How does the facebook/twitter apps look on a 1080P vs 2K screen? The same. There are no 2K games. Plus, all those pixels are just going to eat up battery, and cause lag. I do wish the camera had OIS. Even the Nexus 5 had it. Almost no excuse for the M9 to not have OIS.

I'm kind of torn. I like this phone and the S6, but there are pros/cons to both. I'm not happy the S6 is doing away with the microSD slot. But I've used a Nexus 5 as a daily for a while, and never ran into space issues. But I'm not sure I like the height of the One series phones. They are around the height of a G3/Note series, which is a little too tall. But I think after some software tweaks, the M9 camera is going to do much better indoors. I look forward to the comparison videos with these phones, of which there will be plenty in the next few weeks.

So close to perfect but HTC missed one important feature! No OIS??? What were you thinking HTC? The quality of the camera is very important for me. Posted via Android Central App

Now, if I had to choose between the M8 and the M9, I'd pick the M9. But since I already own an M8 (two of them, actually) it becomes difficult to justify. Not that the 9 is bad, but because the 8 is already so good. I think they could have done two things to make the M9 really stand out: Either give us the glass front that has shown up in the renderings, or make the camera a grand-slam home run. Now the glass front would make it the coolest looking phone on the planet, but in actual use would have had more cons than pros. The two biggest drawbacks would have been audio quality, and losing the buffer zone between the phone edge and the glass that keeps the screen from shattering when dropped on the ends. The camera certainly has the megapixel count at the upper end, but it needs a great quality sensor and great software to back it up. At this point in time, it seems like the sensor or the software has issues, as the results are not what I expected. However, the software is not the final version, and software is one of HTC's strong points. OIS would have been nice, but requires a lot of mechanical space to implement, which takes space away from other components including the battery. If it was strictly a cost issue, I would have gladly paid more. The iPhone 6 does not have it either, just the 6 Plus, so it's either space, cost, or both. With all the crying about the UP camera, I think HTC would not have let cost be the only factor. Apparently Apple does not think it's a deal breaker, and when comparing the 6 and 6+ cameras, sometimes IOS is better, sometimes it makes no difference at all. What really is strange (and I've mentioned it elsewhere), is that HTC put the UltraPixel camera out there for low light conditions. What does everyone do? Complain about daylight photos.
Then they do away with UltraPixel, and what does everyone do? Complain about low light photos! I agree with other posters that an 8Mp Ultrapixel camera would have been fine. Now, what about audio? Genuine Dolby Surround Sound from a cellphone, and no one is talking about it. Never mind that nothing in the Apple universe (including iPads) was even in the same league as the M8. And most people don't know that even the headphone output is superior to all apple phones (stereo separation and S/N ratio), but then they take all that and add surround sound? Wow. So I guess if I had to summarize it (IMHO), I'd say...
Cons: No awesome glass screen that looks like it's from 2021. No OIS. Unknown final camera performance. No wireless charging.
Pros: Easier to grip. More comfortable to hold than most flat-backed phones. Faster processor than the M8, which is still faster than pretty much anything older than 48 hours. Display panel closer to the glass (M4 has this, and it was great). Same size screen, smaller phone. Even better battery life. 802.11 ac wireless! Fast Sense 7. The best sound. Still looks good enough to walk into the board room with the president of your company, set it down on the table, and have ALL the iPhone users stare at it, lol!

Not more to say ..!!!
Because 3 GB Ram and Android 5.0.2 Lollipop with Sense 7 is enough..!!
i have HTC One M8 which i bought from moskart.com
Android Central Newsletter
Get instant access to breaking news, the hottest reviews, great deals and helpful tips
Thank you for signing up to Android Central. You will receive a verification email shortly.
There was a problem. Please refresh the page and try again.