This is how Xiaomi wants to eventually win the U.S. market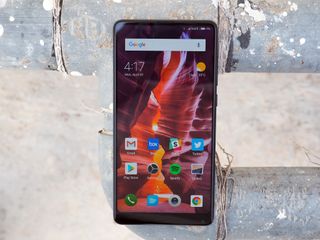 Smartphone nerds are universally familiar with the name Xiaomi, though few in the U.S. have ever held one of its phones. The brand is explosively popular in many other countries in the world, most recently experiencing growth in India and Spain, but you can't buy a single Redmi or Mi Mix phone from an American retailer yet.
After the recent and spectacular failures of Huawei and ZTE in the U.S., it's not difficult to understand why the company is cautiously planning its Stateside launch strategy. But even in the face of those events, Xiaomi remains convinced it will start selling hardware to Americans within the next year or so. To make this work, its plan is to sit back and learn as much as it can about this new market and then approach it like the giant it is.
When sitting down with Xiaomi at Google I/O 2018, just after Google announced the Android P developer preview was coming to the Mi Mix 2S, we asked John Chan, Product PR Manager at Xiaomi, about the future of the company's U.S. plans — and we were as blunt as possible. The answer wasn't particularly surprising, either.
Xiaomi doesn't want to compete with Motorola or OnePlus or HTC — it wants to compete directly with Apple and Samsung. That works two ways here: you either spend a lot of money on advertising everywhere, or you exist on shelves next to the iPhone and Galaxy phones.
Spending money on advertising largely goes against the Xiaomi business model. It has publicly vowed, on multiple occasions, to never make more than 5% profit on any device it sells, which means marketing budgets are never going to be massive.
Instead, the company wants its phones to be in stores where people can touch them. The logic here is simple: when someone sees a phone that looks and feels as nice as a Galaxy S9 but is several hundred dollars cheaper, they're going to ask about it. That only happens when you're on the shelf next to these other manufacturers.
Carrier support may seem obvious, but it's also incredibly challenging. Google's Pixel phones are a prime example — excellent phones with only Verizon and Project Fi support, with mediocre sales numbers despite massive country-wide marketing campaigns. People who see these phones love them, but with support from a single carrier it's unlikely that support is going to grow wildly beyond what exists right now.
Based on Xiaomi's UK entrance, which included multiple phones on only a single carrier, it seems unlikely we'll see a big splashy entrance onto all four U.S. carriers at once. Negotiating these deals so every carrier offers these phones simultaneously is going to be hard, especially if Xiaomi expects budget phones like the Redmi line and its flagship Mi Mix experiences to exist on the same shelf. Carriers are cutting the number of phone models they sell, not expanding.
More than simply talking to carriers, Xiaomi has made a real effort to ensure its Global ROMs are ready for U.S. users. The way people use their phones in China, where Xiaomi is king, is remarkably different from how we use our phones here.
Xiaomi has already learned these lessons when selling phones in India, where its selfie "enhancing" features upset early users by doing things like removing facial jewelry and causing smearing effects on facial hair. The MIUI software, in particular the way notifications and app shortcuts are handled, needs to be catered to the way U.S. users expect Android phones to behave. Xiaomi says it is up to the challenge, and our continued look at how MIUI Global ROMs have evolved over the last year seems to suggest the company is at the very least headed in the right direction.
Will we see Xiaomi make a grand entrance into the U.S. within the next year? Maybe.
The company has already started selling non-cellular hardware like cameras and scooters to U.S. consumers on Amazon, and its collaboration with Facebook to make the Oculus Go headset has so far been quite successful.
By the end of the calendar year, Xiaomi will likely be a much more common name to small groups of U.S. consumers. If it can secure deals with carriers, and those deals don't go up in flames like we saw with Huawei, there's a good chance we'll see the next flagship from Xiaomi on shelves next year. For those of us who have held these phones before, that is going to be an exciting splash in what would otherwise be a fairly stagnant pond.
Get the Android Central Newsletter
Instant access to breaking news, the hottest reviews, great deals and helpful tips.