How to transfer your Clash of Clans village from iOS to Android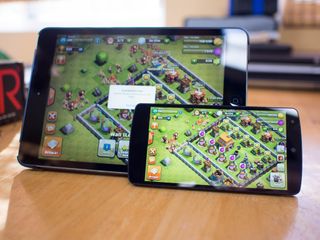 Moving Clash of Clans from iOS to Android is incredibly simple
Anyone who has felt the heartbreak of losing hundreds of hours of gameplay on a mobile device because the phone broke or it was time to upgrade and the game data wouldn't transfer is immediately hesitant to go through that ordeal again. You probably know at least one person who has kept an older device around just to keep playing their favorite mobile game. Fortunately, for everyone involved, there is no need to ever worry about this with Clash of Clans. You can link your account to multiple devices, even across platforms with little difficulty. To make it even easier, we've put together this quick tutorial on moving your Clash of Clans village from iOS to Android.
Want to know what the big deal is with Clash of Clans? Check out our big explainer to get started.
More: What is Clash of Clans and why is everyone playing it?
This is surprisingly simple stuff. The first thing you want to do is install Clash of Clans on your Android device and open the app. Leave your Android device alone for a second and move on to your iDevice. Open up Clash of Clans on your iDevice and head to the Settings gears on the bottom right corner of the screen. In the middle of this panel you'll see "Link a device" just under Sound Effects. Tap this, and select "This is the OLD DEVICE" of the two options that appear. The next menu will ask if you are linking to another iDevice or something else. Select "I want to link to another device" and you'll be given a 12-digit code.
Back on your Android device, tap the G+ Sign-in button that appears under "Already have a village?" in the top left of the game tutorial. From here, you'll be signed in to Google Play Games, and if you have never played Clash of Clans on an Android device before you'll be prompted to enter in the 12-digit code from your iDevice. If you've played Clash of Clans on an Android device with Google Play Games installed before, you won't need to enter the code and instead you'll be asked if you are sure you want to load your village. Even if it's been a while since you've played on an Android device before, Clash of Clans will load the current state of your village according to their servers, which will be the version you just had on your iDevice.
You're done! Cross-platform mobile gaming has never been simpler. The Clash of Clans link system is well designed and fast, but keep in mind that same system is made to keep users from playing as the same village from multiple devices simultaneously. If you open the game on one device, all of your other linked devices will be booted with a notification explaining that you've logged in from another location. And with that, you may now return to your regularly scheduled pillaging.
Android Central Newsletter
Get instant access to breaking news, the hottest reviews, great deals and helpful tips
is there a way to transfer from iOS without signing in to google+ in Android???

Yeah but it will take longer. Nothing I shoot ever gets back up again

Hey what if I converted my iOS account to Android but I already played in my Android I still can used those gmail account even if I put my iOS converted to gmail account on my Android??

how did u do it? do u have some sort apps to run to convert IOS accs to Gmail?

If only more games would do this. Posted via Android Central App

Sheesh, obviously people don't read the "From the Editor's Desk" posts. You guys would have known that these kinds of things are what AC is going to be trying out. Posted via the Android Central App

People don't want to read, they just want to comment. Posted from my Droid Turbo, Kelly and Ozone

I like pie. Posted from my HTC One M8 via Android Central App

Well of course my comment now becomes moot as the comments I was referring to have been deleted. Seriously though, these posts have not really taken away from other articles on the site, so to anyone who doesn't like it I say "don't read it." There are actually those who are interested in this! :) Posted via the Android Central App

Games without cloud saves in this day and age should be banned from the stores.

Yes! It needs to be a requirement for every app in every app store. Posted from my HTC One M8 via Android Central App

i read this just to comment that i know absolutely nobody who has kept an old device to play a game. I've never seen anyone as obsessed with a game as you suggest in the blurb advertising this article. Shoot me, but i think the author of this article may be slightly jaded.

Saw a guy keep an iPhone 3g because he had his highest doodle junk score on it. It happens. "I'm da Blur boys!" - Me with 1200 ping. Yes. My Internet got worse.

That's just silly, mainly because all you need to do is back up your old iPhone in iTunes then restore the backup to your new iPhone, and it will copy the app data, thus preserving his doodle junk score. That's probably one of the few things iPhone has going for it over Android. Unless I'm wrong, there's no easy way to back up and restore to a new device, though I wouldn't mind being informed otherwise.

I kept my old Moto X just to keep clashing now that I got an iPhone from work.

I would totally 3-star that village in the pic.

I was looking for this comment .. lol Posted using my note 3 via the AC App

My son accidentally saved his old level 2 townhall on the google plus account, while his newer device has a level 40 TH which can't be saved. Anyone know of a way to remove the old Clash of Clans from his google plus account so he can then link the new level 40 TH? It doesn't seem like this is possible and is a major disappointment for my son.

Just disconnect coc from his google account and then link the lvl 40 ... I hope this help Posted using my note 3 via the AC App

I went to google settings/Connected apps/Clash of Clans/Disconnect. I also chcekd deleted all info from google. it states it can take up to 1 hr. However when I went to his level 40 TH after 1 hour, and tried to save that to his google profile for some reason google still remembers his old Level 2 TH and wants to load that.

3rd article huh? Disgusting.

More baseless whining huh? Don't like an article, don't read it. Simple

I have a kindle fire, non rooted, with no google play services. I side loaded CoC but have no way to save or back it up. Anyone know how I might do this?

What if i cant get the devise link coz i forgot the acct

So I broke my Android and got a different phone which is the iPhone. So how do i transfer my village from the droid to the iphone without having the previous device?

My problem is that I have second account on my laptop through blue stacks.. I have my main account on my old iPhone .. Its prompting me to load my computer account and not giving me an option to enter a code from my iPhone.. Anyway around this?

My problem is my iPhone 5 fried and I have no to get on it to get my progress to my galaxy s4 and I spent 100 of dollars on it and now I have no way to play or get it on my galaxy that I know of and I really want my progress back badly

just ask a friend for his apple apple device, log into your game centre account and load up COC, it should bring ur progress and then from their you can transfer

Ok so I have already downloaded clash of clans on my android device...so I don't know how to sighn into another account on coc, I'm trying to transfer front an ios device to an android but I don't know what to do from this point,please help meeeee!!!!

Tried this and it was going fine up until I enter the code and kept getting "error (102)" message. Any suggestions?

Hey im came across an error it says im only allowed to link it once but the that other android that had the account i turned it in. So this new android i got im trying to connect to but i cant get the password because of that error as i mentioned before. I jiat dont knkw what to do

I have attempted numerous times to transfer my COC game from my old iphone to my new Android phone using these instructions but all it does is create a new game every time. I have created a new Google+ account and it still did the same thing. This is incredibly frustrating! I am very close to quitting COC as a result. Can anyone help? I've googled this problem and nobody seems to have a definitive answer. Soon to be ex-Clash of Clans player

Well I want my old clas of clans account but I lost my ipad n I got an android device is there any possible way I can get my old account back????

If I transfer from android to ios, will it delete the village in ios? How will I switch between accounts in ios without deleting one?

I have already been linked my coc account from ios to my new android phone, but accidentally erased my coc application, i can download again but cant recover my th8 village, how to do to return my village again?please help me thank you

Ok the only Idevice i have is an old ipod touch. Ios 6.1 it can't upgrade to 7.0. When I try to load coc on it to link it to my android device...it says to upgrade ios first. I really want to get my coc account on my new phone. Is there anyway around this besides finding another apple device to load my game center on? I tried to find another device but no one will let me login to my game center for fear they will lose their coc. My dad has a mac computer...can I do it through that or on my pc or an app on my phone... help please.

Help me ...i am having trouble to link my google play account on my ios ..

Admin, how can we connect Iphone Coc acc to Gmail? Can i still open up my old Iphone coc acc to my new samsung android? Pls pm Admin tnx
Android Central Newsletter
Get instant access to breaking news, the hottest reviews, great deals and helpful tips
Thank you for signing up to Android Central. You will receive a verification email shortly.
There was a problem. Please refresh the page and try again.