How to transfer your Clash of Clans village from iOS to Android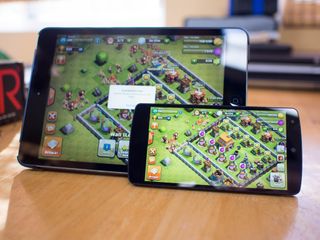 Moving Clash of Clans from iOS to Android is incredibly simple
Anyone who has felt the heartbreak of losing hundreds of hours of gameplay on a mobile device because the phone broke or it was time to upgrade and the game data wouldn't transfer is immediately hesitant to go through that ordeal again. You probably know at least one person who has kept an older device around just to keep playing their favorite mobile game. Fortunately, for everyone involved, there is no need to ever worry about this with Clash of Clans. You can link your account to multiple devices, even across platforms with little difficulty. To make it even easier, we've put together this quick tutorial on moving your Clash of Clans village from iOS to Android.
Want to know what the big deal is with Clash of Clans? Check out our big explainer to get started.
More: What is Clash of Clans and why is everyone playing it?
This is surprisingly simple stuff. The first thing you want to do is install Clash of Clans on your Android device and open the app. Leave your Android device alone for a second and move on to your iDevice. Open up Clash of Clans on your iDevice and head to the Settings gears on the bottom right corner of the screen. In the middle of this panel you'll see "Link a device" just under Sound Effects. Tap this, and select "This is the OLD DEVICE" of the two options that appear. The next menu will ask if you are linking to another iDevice or something else. Select "I want to link to another device" and you'll be given a 12-digit code.
Back on your Android device, tap the G+ Sign-in button that appears under "Already have a village?" in the top left of the game tutorial. From here, you'll be signed in to Google Play Games, and if you have never played Clash of Clans on an Android device before you'll be prompted to enter in the 12-digit code from your iDevice. If you've played Clash of Clans on an Android device with Google Play Games installed before, you won't need to enter the code and instead you'll be asked if you are sure you want to load your village. Even if it's been a while since you've played on an Android device before, Clash of Clans will load the current state of your village according to their servers, which will be the version you just had on your iDevice.
You're done! Cross-platform mobile gaming has never been simpler. The Clash of Clans link system is well designed and fast, but keep in mind that same system is made to keep users from playing as the same village from multiple devices simultaneously. If you open the game on one device, all of your other linked devices will be booted with a notification explaining that you've logged in from another location. And with that, you may now return to your regularly scheduled pillaging.
Sign up for Black Friday email alerts!
Get the hottest deals available in your inbox plus news, reviews, opinion, analysis and more from the Android Central team.