How to take a screenshot on the LG G6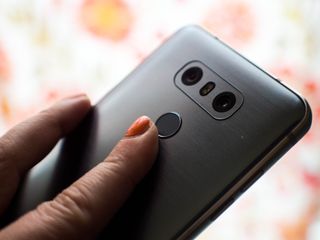 Snapping a screenshot is typically standard across the board for most Android devices, but sometimes you can get tripped up if the button placement is different from what you're used that. That seems like the case with the LG G6, at least, which is why we've put together this quick little how-to.
How to take a screenshot on the LG G6
Hold down the power button on the backside of the phone.
Immediately press the down volume button on the left side of the phone.
Release both buttons at the same time.
If you performed the combination properly, you'll have seen a smaller version of the screen you took quickly pop up and disappear.
How to access the screenshot you took
On the LG G6, screenshots are stored in a special folder, accessible through the photo-viewing or gallery app you choose as your default.
Swipe down on the notification shade.
Tap on the screenshot to open it.
Choose an app as your default, if you haven't already.
You can easily share, edit, or delete the screenshot if you chose the LG Gallery app as your default.
How to access all of your screenshots
Open the Gallery app from the home screen, folder, or app drawer.
Tap the Screenshots folder.
Questions?
We're standing by to answer any questions you may have about this seemingly simplistic smartphone shortcut.
Sign up for Black Friday email alerts!
Get the hottest deals available in your inbox plus news, reviews, opinion, analysis and more from the Android Central team.
Florence Ion was formerly an editor and columnist at Android Central. She writes about Android-powered devices of all types and explores their usefulness in her everyday life. You can follow her on Twitter or watch her Tuesday nights on All About Android.