How to sign up for YouTube Music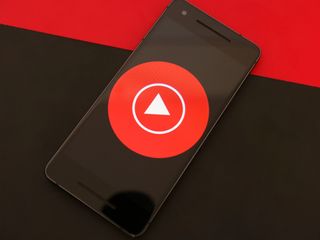 (Image credit: Joe Maring / Android Central)
The YouTube Music app has technically been around since 2015, but it was only recently that Google shifted its focus from Play Music and made YouTube Music its own proper streaming service.
YouTube Music is showing a lot of promise with its new direction, and now that it's got a brand-new desktop site and redesigned Android app, it's absolutely worth checking out.
To do so, here's what you'll need to do.
Download YouTube Music
Before you can sign up for YouTube Music, you'll need to first download the app. Doing so is just a few taps away, and the process is as follows:
Open the Google Play Store.
Search for YouTube Music

(opens in new tab)

and tap on the first result.
Tap the green Install button.
Once the app is done downloading, you can launch it by tapping the green Open button or by finding and tapping on the new YouTube Music icon in your app drawer.
Sign up for YouTube Music
With YouTube Music successfully downloaded, it's time to actually sign up for the service.
Upon opening the app, tap the blue Sign In button.
Tap the Google account you want to use with YouTube Music.
Tap on your profile icon at the very top right of the app.
With that done, you'll now be on your Account page. From here:
Tap the large Get YouTube Red banner at the bottom of the screen.
Tap the blue Try It Free button.
Enter your payment details.
Once the payment goes through, tap the red Let's Go button.
That's it! You've officially signed up for YouTube Music!
Have any further questions? Drop a line in the comments below.
Android Central Newsletter
Get instant access to breaking news, the hottest reviews, great deals and helpful tips
Joe Maring was a Senior Editor for Android Central between 2017 and 2021. You can reach him on Twitter at @JoeMaring1.
Still not seeing the updated app. GPM family subscriber and family members are getting the new app but not the primary account holder. Going to music.youtube.com still get the coming soon page. Why? Anybody as the GPM family manager seeing it?

I'm a family manager and I'm seeing it. But it's not a good product. The library is extremely limited (see my other comment on this article). I'm still using GPM. If gpm disappears or isn't updated anymore I'll be forced to switch to Spotify.

Google Play Music isn't going away in this decade. Relax.

There's less than a year-and-a-half left of this decade. This isn't good news.

I had this problem and it was ******* me off. Turns out I had to switch youtube accounts. If you use an "alias" youtube ID. Switch accounts and use your main gmail ID. Hopefully google will work this out. Hope this helps

Family subscriber here to but 0 of us have the upgraded service. I emailed google about it and they didn't even bother to answer my question. I got back a generic response about how there is a new version of you tube music and how to sign up.
Google really screwed this up and seems to be clueless.
I was very surprised and alittle angry that an email to support was responded to without even reading my concern.

My question is: Why is the library so limited? Just in 20 minutes I found the following albums that are available on Google music but that are not available on YouTube Music: The Beatles: The entire catalogue
Courtney Barnett: Tell me how you really feel
Parquet Courts: Wide awake
Car Seat Headrest: Teens of denial
Neutral Milk Hotel: In an aeroplane over the sea
Goldmund: Occasus What's the deal with that? Is the library still being filled out? Will it always be limited like this? Why is it so different than GPM (and Spotify)? This service can't succeed without a competitive library.

YouTube Music's library is completely separate from Google Play Music at the moment and appears to be under different music licensing deals. I've found a number of missing albums myself, but I've also found something else: A lot of albums aren't really missing, they're just not showing up under Albums in search results. Search for a song from that album. if it appears in the Songs search results, tap the three-dot menu and Go to Album. There are several Disney albums that don't show up, especially more recent albums, but most of their catalog is indeed here. It's unclear if YouTube Music is still in the process of re-negotiating deals with the labels or if labels have purposefully held some content back from YouTube Music that they've allowed on Google Play Music. It is worth noting that all songs on YouTube Music are visible on YouTube's regular site and available to paid and free YouTube users. Some labels may be concerned about people pirating their music by downloading the YouTube videos that host them.

Hmm, I'm a full paying GPM subscriber in NZ, but I still can't access the new YouTube music just the old app.

Early Access is slowly rolling out to those who have signed up for it at https://music.youtube.com/coming-soon/

I am so confused and irritated. I signed up for Google Play Music when it launched, and so I also ended up with YouTube Red. YouTube music sucked so never used it really. Now YouTube Music is getting an update but how do I know if I have the updated version, what the heck is YouTube premium and why do I still have Red. Should I cancel Google Play Music since I am paying 14.99 a month with the family plan and sign up for YTM since it's only 11.99. What is next YouTube Movies to replace Google Play Movies. I have been an Android enthusiast since the Nexus One and this is the most confused I have ever been. YouTube Music is not on Android Auto or Android TV. Google Play Music is on everything. Help me understand.......

You're getting a few things confused, which is understandable.
1. GPM is $14.99 for a family plan.
2. YTM is $9.99 for a single person.
3. YT Premium is $11.99 for a single person (this is YTM + YT Red essentially)
4. Your GPM subscription covers a YTP subscription with no changes in price or service. You don't need to do anything. Currently, you can use the GPM or YTM apps, though the new version of YTM is on a slow roll out, so you may not have it.
5. Eventually (sometime in 2019) all GPM features, like your personal library, should be migrated over to YTM.

I'm confused too as I have YouTube RED and with that got Google Play Music for free... What does that mean going forward for existing RED users??? I wish Google would stop this nonsense.

I was just talking about this exact same thing... I'm surprised that they haven't announced YouTube Movies to replace Play Movies. What's next in their rebranding strategy?... YouTube Books?

I also haven't received the update. This entire "process" that Google has for product roll-outs are a complete joke. So, they announce a "new" product in the middle of the night, schedule the roll-out on May 22nd, and yet a week later most of the users still don't have it? It's also troubling that it appears that the people that are supposed to be answering questions about the service provide the most vague answers that I've seen. It seems like they've been content with rolling out products slowly, waiting for people to bash it, then abandoning the products because no one uses them. Then they wonder why they continue to have this problem.

Yeah this may be one of their worst rollouts yet. People are confused and I don't blame them one bit. They get people hyped and then they have to wait around for Google's vague rollout strategy to see any changes. As far as I'm concerned, GPM should be their main Music service and YouTube Red should stay as an add-on. I sometimes think they like the idea of new things when what they have is fine and they just need to make it better

I keep seeing people say Google pushed yt music and made this big hoopla about it but did they? I only saw all the tech sites really talking about it not really much from Google, but I could've just missed it... I'm starting to think Google was trying to do a not so big open beta testing and tech sites caught whim of it and made it this big event that it was never meant to be

https://music.youtube.com/coming-soon/

And this sorta confirms what Stevenmc8602 just mentioned. When I go to YouTube, Google, or anywhere other than here, there is nothing mentioned about YouTube Music. For example, mentioning not seeing news about this anywhere but here, and being directed to YTM news by someone who works here.

Same as most people here...grandfathered YouTube Red on family plan...still no YouTube Music conversion yet.

And you've signed up for Early Access at https://music.youtube.com/coming-soon/ right?

Is that a requirement or a recommendation? I have family members that I can guarantee didn't sign up via that link and have the updated app.

From my observation Google wasn't pushing the update to gpm to subscribers it looked like we were the last to receive it and yeah you had to sign up for it...

Not a snow balls in hell anybody would move from another subscription service to the inferior quality of YouTube. It makes no sense why Google would put their worst foot forward by selling an inferior music service. Are there stupid people out there would signed up and are paying for this? ... Oh... But it will get better.... Then don't charge for this until it is better!

Yeah, like buying a V8 car that doesn't run on all cylinders, but being told an update is coming that will enable one more cylinder.

What a shambles! Not even a decent explanation of the merger, or rebranding or whatever the hell it is.. I tried to explain it to my Girlfriend as she's the family member Google play music administrator & even I confused myself! She looked at me like I was mad but it's not me who's lost it, it's Google!!!

Tried it. Got lazy trying to set up the same playlist I have on Spotify

I tried it and deleted it within 5 mins.

Time to try apple music or spotify, google cant seem to get out of there own way just like there messaging services. GPM is a mess and looks like YTM is following the same path

Google Play Music is excellent. Strong quality at 320 kbps. Clean infer face, podcasts, fast. Apple Music kbps is lower, but the AAC file format isn't bad. In Canada, podcasts aren't supported on the Android Apple Music App. I found your downloaded library loads very slowly. Spotify has identical quality to Google Play Music.. Fewer pod casts are available. I much prefer the Google Play Music interface. As I wrote earlier... YouTube music quality is awful, and it's only available in 5 countries.

This has been a weird rollout. Everyone in my family plan got the email that we have the "New YouTube Music" but app and desktop sites haven't changed. App is still the same app with no updates available and the desktop site still says coming soon.

Really strange approach with this from Google.
Android Central Newsletter
Get instant access to breaking news, the hottest reviews, great deals and helpful tips
Thank you for signing up to Android Central. You will receive a verification email shortly.
There was a problem. Please refresh the page and try again.