How to save Google Maps for offline use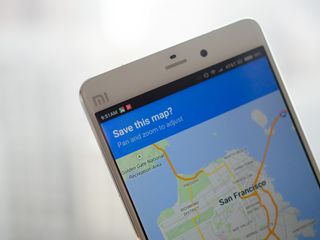 Step-by-step navigation, place searches and other advanced features require your device to be online, but Google Maps does offer you the ability to save one part of the experience for offline use. It's not the best situation ever and it's not feature-complete, but this is how you get some utility out of Google Maps when you happen to be away from a network connection.
It's handy, and it's easy to use. Let's explore.
Save and access offline maps
Saving a map is pretty simple — to start, move the map to the location that you want to save for offline use. Then simply touch the Search bar at the top of the app, scroll to the bottom of the interface and tap Save map to use offline. If you searched for a location rather than manually finding the area, tap the bar at the bottom, then the menu button in the top right corner and tap Save offline map. In either case you'll then be taken back to the area of the map you were previously on, with a new interface.
Move around the map to select the area you want to save — the app will save everything on the map that's in view, and nothing more. You'll notice that there's a limit on the area you are allowed to save — it's enough room to get you an entire city or two, but you won't be saving whole states or regions with this method. Once you've found the area you want to save, tap Save at the bottom of the screen and then fill in a name for the saved area when the dialog box appears.
To see the state of your offline maps and manage them, swipe in from the left edge of the app and tap Your places at the top of the menu. Scroll down to the bottom and select View all and manage in the offline maps section. Here you'll see all of your currently-available offline maps, their expiration dates and their size in megabytes. You can tap on any selection to be taken to that saved area, or you can tap the menu button on the right to rename, update or delete the saved map.
Things to know about offline maps
After saving maps your app won't act any differently when in normal use with an Internet connection — the only changes come when your phone is without data and you open up the app to find your way. There's very little data savings to be had from saving maps where you live and visit often with a connection, but you can see speed improvements if you regularly have a slow data connection in those areas because there's less to load.
The big thing to know about offline Google Maps is that saved areas are automatically cleared after 30 days on your device. Whether it's to make you download refreshed map data each time, to save you some minimal amounts of storage or some other reason, Google just won't budge on this limitation right now. You'll want to consider another mapping app if you need offline navigation.
As we noted at the start of this article, after saving a map you still won't be able to perform step-by-step navigation, search for points of interest or access Street View without an Internet connection. You'll have to use the map the "old school" way and navigate manually.
Also remember that if you're using this feature because you don't have any data connection at all, location services will be very slow to use as well. You'll be able to access the previously-saved map data without a connection, but because your phone often uses cellular networks to help locate you on a map you may be waiting a while for a precise location lock based solely on GPS.
Andrew was an Executive Editor, U.S. at Android Central between 2012 and 2020.
Thanks for this very useful information! I had wondered about this, but didn't go into the settings to find out how it was done.

This is why you should just use Here Maps... Posted via the Android Central App

HERE's how to use offline maps on Android: 1 - Open Google Maps.
2 - Close Google Maps.
3 - Install Nokia's HERE Maps.
4 - Download the COMPLETE maps you want to the place you want (internal storage or SD card).
5 - Ta-da! Offline maps! (Note: my comment is completely biased.)

I've found Google maps to be better at displaying contextual information, like shop names, street names etc. And also easier to zoom out and check for little shortcuts. This is just in my brief go at HERE. Maybe I should give it another go Posted via the Android Central App

Turn off all data, and see how good Maps is at displaying that information. (Hint: it doesn't do it at all.)

I got the right answer without your hint! :P

So I could use this on an old WiFi only smartphone I have and basically use it as a standalone GPS? I would do that in a heartbeat. Would be very convenient just leaving that in the car and updating it over wifi when I am at home.

As long as that old WiFi only smartphone has Android 4.3 or above (I believe those are the requirements for HERE maps), yes, you can turn that phone into a standalone GPS with HERE maps because they don't require a data connection to work.
You download the map of the country/State you want (or of the entire World if you wish and have enough storage) and that's it. You can open the app at any time and it'll be working without the need for mobile data.

Probably the only thing you and I agree on. It was the main reason I stuck around with Nokia from 2008-2011. I was using Amaze GPS( think it was called) before they made Ovi Maps free for Nokia phones. It used to be a paid subscription, but I'm sure Google maps had a lot to do with them becoming free. Posted via the Android Central App

Google Maps was actually available on Nokia phones from early on (Google tweeted a photo of it a few days ago). However, Nokia realized that the only way they could expand their mapping capabilities was by opening them up to everyone for free.
It's also the same reason why they're putting out apps for Android and iOS without charging for them: the more users, the better the maps, the less resources it consumes them.

Google Earth (Google Maps) is the best and accurate for me! I used to try many other but they are far-far behind GE and GM.

Have you tried HERE, lately? Posted via the Android Central App

Here maps surpasses Google maps in every possible way, when you have no data. Google doesn't even allow the basic saving of maps in most of the countries I visit. Here has full navigation, searching & routing, and a surprisingly decent search database. Pretty much everything except traffic updates. Piss-poor effort, Google. Posted via who-gives-a-s***

I really like Here Maps and they always update it with the correct data. I highly recommend it. I have been using it for 3 years. Posted via the Android Central App

How can HERE maps be navigated without a data connection?
I have not found where saved Google maps can be navigated without a data connection, either.
My use would be when driving in Canada, away from my data plan. Posted via the Android Central App

As I said in the post, there's no navigation in Google Maps without a data connection, even if you've downloaded the map.

+1 Posted via the Android Central App

HERE let's you download all the maps you'll need to your device (by state, regions, or country) ahead of time, and then works just like a normal GPS device. It uses the maps stored on your phone and the GPS location data to navigate. No data connection needed. Google apparently doesn't understand there are still large parts of the U.S. where you can't get a reliable data signal.

It understands. It just doesn't care.

No Data connection + no ads + no $ = no Google Maps

HERE maps saves everything it needs in order to perform routing locally to your phone's storage. It takes up considerable more space than Google's much simpler map caching, but most devices shouldn't feel pinched. That's how it's able to perform routing offline.

Simple: the HERE Maps, download all data, and use just the GPS information... the data plan, just be used to traffic information, and near services...

@pizza_pablo HERE Maps does navigation completely in the phone, so routing and rerouting works offline. You just need a monthly WiFi connection to check for updates to the maps. Since this was pretty much all we used a data connection for (when away from WiFi), we were able to drop our data plan saving quite a bit.

HERE is a far better option when you need offline mapping. Google Maps is superior when you have data, but far, far inferior without it, even if you have the foresight and luck to download all the maps you'll need.

Also for some reason Google Maps most of the time gives me the wrong place for about 10 houses or so even if I put the right adress. Here maps nails it every time.

I don't think Google intended the offline maps to be used on Wi-Fi only devices. I think the idea is for people with regular phone service who might be traveling through dead zones, so saving that part of the map will help getting through the small stretch of area.
Like other people have stated, there are better options for offline maps that would be more convenient for a Wi-Fi only tablet, but this is a good option for regular phones because you don't have a bunch of map data using up space on your phone. Posted via Android Central App

Here Maps wins here, you can download entire maps of country's and states etc and use an offline mode with your downloaded maps. All you have to do is have gps on, airplane mode and you are off. Posted via the Android Central App

Came here to say HERE but I see it's not needed anymore.

HERE can do search of locations totally offline, that's a plus, with google maps if go to a place not supported by your carrier or cross the border without roaming then you get lost.

Keep in mind that offline Google maps aren't available for all locations around the world. For example, before my recent trip to Russia I tried to download the Moscow region for use offline, only to find out that Russia is one of the countries where the offline option is not available. This wasn't a big problem, as Yandex Maps has an excellent offline mode, and MAPS.ME was also a great alternative. But data is so inexpensive using local SIM cards outside the USA, that I usually just used online maps anyway. Posted via the Android Central App

Unbelievable that Google still hasn't even vaguely tried to compete with Here Maps! Posted via Android Central App

HERE is the best for offline mapping. I'm crossing the border once a month without intl roaming and for SEARCH and navigate TOTALLY OFFLINE works perfect! Posted via the Android Central App

HERE maps is definitely the way to go for offline maps if you have the space to store the data. Posted via the Android Central App

I hope someone from Google will see this thread and see how many Android users are looking at alternative maps due to seamless offline navigation. I have been in situations where the data was too slow for rerouting or a worse case when the navigation just won't kick in. I admit I still lean on Google maps more often than Nokia's offering, but before it was a no contest. Posted via the Android Central App

Or one can just use Nokias 'here maps' wich is designed for offline use. Posted via the Android Central App

Here map is better Posted via the Android Central App

Google maps team must be really full of idiots :)
HERE >>>>>>>>>>>>>>>>>> google maps

Here is a handy shortcut to easy access the save offline maps feature https://www.androidcentral.com/e?link=https2F2F...

Good article Andrew and still relevant 7 months later. Maps is continually getting updated and I lost track of where the Offline option was to be found. I think I was looking in the correct spot but didn't realize that my keyboard was popping over the Offline Option I was looking for. Your screen shot helped me get past that. Thank you.

How do I upgrade my Blu 5.0C studio phone it has android 4.4.2

I am sorry, but this does not answer my question: How to download the offline data to the SD card? The Google app does not offer such setting, not visible anyways. The issue with Android is that it usually provides a mass of GB's of apps, which one does not use at all and cannot remove. We do not have a secure flag separating apps essential to Android versus optional. We can only disable these. And most of them cannot be relocated to SD card either. Thus despite (say) 64GB card, I have in my phone constantly mere 200mb free memory, and many apps fail to update. When I download offline map data, my phone stops working. This is clearly not an acceptable condition, which I complained about to both Google (too arrogant to react) and to my carrier T-Mobile (powerless to react, so they say). I think I will start to file BBB complaints one after another, or even use my legal insurance and sue them to finally get the message across to the arrogant heads.

Store offline areas to an SD card. I follow the steps to store to SD card, but there is no Selection for Storage to SD card. I am using GAl;axy S4 phone with Android 4.3. I am up to date with Google Maps version 9.33.1. I have 32 GB SD card installed and have had no problems since installation 1 year later.
Android Central Newsletter
Thank you for signing up to Android Central. You will receive a verification email shortly.
There was a problem. Please refresh the page and try again.