How to reset the view of your Oculus Quest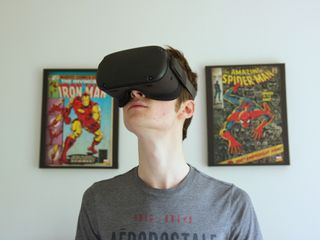 (Image credit: Android Central)
The Oculus Quest tracks your movements using built-in cameras, but sometimes it assumes the wrong orientation of a room. You can easily recenter your Oculus Quest by resetting its view. This is important for games in which you'll want to face a certain way like Beat Saber. It's also useful for if you need to rotate where you're facing without moving around too much.
How to reset your view in Oculus Quest
Luckily, there aren't a lot of steps to this.
Hold down the menu button on either of your Touch Controllers. You'll see a circle fill up and the view reset.
That's it! This is one of those features that's easy to use but will drive you nuts if you don't know how to do it.
Our top equipment picks
Untethered VR
Freedom to move
The Oculus Quest is a standalone VR headset. That means you don't need a PC or phone to use it and you don't have to duck and dodge around wires. As a result, you can bring VR almost anywhere and immerse yourself in gameplay.
The Oculus Quest provides a virtual reality experience that feels liberating. Its built-in sensors and ability to set up boundaries anywhere you go makes it the perfect headset for home and travel.
Additional Equipment
The Oculus Quest has everything you need to run it in the box, but you can still add some accessories to enhance the experience and help you take it with you on the go.
Oculus Quest Travel Case ($40 at Amazon)
This case will protect your Oculus Quest when you're on the go and has enough room for the headset and Touch Controllers.
Quest Deluxe Strap ($20 at Studio Form Creative)
This strap adds another layer of support to the head strap that's built into the Oculus Quest. It helps distribute weight across your head to improve comfort, which is essential for longer sessions.
Panasonic rechargeable batteries ($19 at Amazon)
These batteries can be recharged up to 2,100 times and are a great way to keep your Touch Controllers charged and ready to go.
Get the Android Central Newsletter
Instant access to breaking news, the hottest reviews, great deals and helpful tips.