Does Google's commitment to iOS make the iPhone a better buy?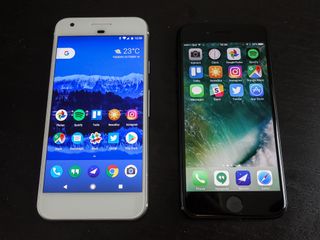 Earlier this week, Google released a redesigned version of its Gmail app for iOS, bringing it more in line with its Android equivalent. It's a big upgrade, and something that, after years of neglect, seemed a long time coming.
But it also brought back to life an argument that, for many people, the iPhone, with its impressive hardware, great camera(s), rich app ecosystem and, of course, iMessage, may be a better showcase for Google services than Android itself. Of course, many disagree, but the iPhone has a 44% market share in the U.S., and Apple maintains a lot of influence over the smartphone world.
For some Android faithful, Google's commitment to iOS development is confusing: why create great apps for a competing platform when you want people to buy Galaxys, Motos and, ideally, Pixels? Ultimately, Google wants your data, and wants to show you ads, and will do so wherever people are, and that is increasingly on iOS and Android.
Indeed, the last couple of years has seen Google bring almost every notable app and service to Apple's platform, including long holdout Keep. If you look at Google's developer page on the App Store, it looks fairly similar to what you'd find on Android: YouTube, Maps, Chrome, Earth, Drive, Docs, Sheets, Hangouts, Photos, Calendar, Inbox, Books, Music, Movies, Wallet, Allo, Duo, Newsstand, Keep and plenty others. Even Google Search has its own app. What you won't find are apps that Apple doesn't allow, like an alternate dialler, or an unnecessary intervention like a camera app.
You'll also find apps like Gboard, a pretty great third-party iOS keyboard, that many people think should be ported over to Android in some form.
In all, Google has 80 apps to its name right now on iOS, slightly under Microsoft's 88 and nearly twice as many as Apple itself. This doesn't really mean anything other than Google is trying to make its most important services platform-independent, but it also brings up an important point: The prevailing tension between Android and iOS is far more about hardware than software, especially for someone entrenched in the Google ecosystem.
This is doubly true when looking at the sorry state of Android tablets, which we've been doing in the run-up to the holidays. While many Android users would be happy with a Pixel C, Yoga Book or Galaxy Tab S2, they would likely be just as happy, if not more so, with an iPad. An iPad that runs all of the above Google apps, plus hundreds of thousands of others for which care has been taken to optimize them for the larger screen.
Lots of us here at Android Central like the Google Pixel, which borrows more than a couple of pages out of the Apple playbook. It attempts to standardize elements of Android that were left to the interpretation of various third parties, and it introduces an environment where Google is comfortable offering exclusive services, like Assistant, that are not available to other hardware vendors. People use it as a pejorative, but it's true that in many ways the Pixel is the iPhone of the Android world.
The main argument I hear for wanting to stick with iPhone, even as an Android fan and a Google loyalist, is iMessage. That Apple's closed-loop messaging service is hard to quit once you're in it — lock-in in the purest sense. Apple did a lot in iOS 10 to make iMessage more attractive and useful, but its success is also a source of frustration for many Android users left out of that experience.
WhatsApp leads the charge for a cross-platform option, along with myriad other services from Kik to WeChat, but Google's own attempts to build a viable alternative to iMessage with Allo have fallen flat, and a push to introduce a more open platform built on top of existing SMS protocols will take time, and may never be a comprehensive solution.
The appeal of Android is considerably wider than just included Google services, though. Its success comes from the variability of the hardware — in size, form factor, material, color and, of course, price — and from inherent advantages to having an "open" platform. Despite the increasing similarities between the two platforms, Android — especially on Nougat — still handles notifications more elegantly, and there is an argument to be made that a universal share API is far more powerful on Android than it could ever be on iOS. The flexibility of on-screen navigation buttons alone speak to the myriad ongoing cultural differences between Android and iOS. For many people, that's enough to stay in the Android fold, and I wouldn't blame you if you never left. It's pretty nice down here.
But, playing Devil's Advocate for a moment, in a world where, increasingly, you can access the best of Google from anywhere, what would it take for you to switch to the iPhone?
Get the Android Central Newsletter
Instant access to breaking news, the hottest reviews, great deals and helpful tips.
Daniel Bader was a former Android Central Editor-in-Chief and Executive Editor for iMore and Windows Central.