How to merge and unmerge Chrome tabs in Lollipop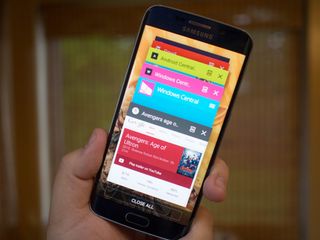 Everyone uses their devices just a little bit differently, and the web browser is more often than not a perfect example of that statement. Chrome for Android offers many great features, including the ability to sync all of your data across multiple devices so you are always with whatever tabs you left open elsewhere. How we use those tabs is often a topic of great debate, usually between those who keep dozens of tabs open at all times and those who swipe a tab away when they're done with it and bookmark the rest.
With the Lollipop release of Android, Google introduced a new way to handle Chrome tabs. Instead of keeping the tabs contained in one app, Android now offers individual Chrome tabs as their own cards in the multitasking panel. It's not something that works for everyone, so here's a quick explainer on turning that feature on and off.
Chrome is where you want to head for the settings on this one. The menu button in the top right of Chrome includes a Settings button when you scroll down, and one of the first things you see in this panel is Merge tabs and apps. Tap this once, and you'll see a single option to either disable or enable this feature. Before you go any further, know that any tabs you have open in Incognito Mode are eliminated when switching between these two modes.
Disabling this feature will pull all of your Chrome tabs into a single app, where you can control them all from one place. If you want to enable this feature again in the future, you'll go back to tabs being individual cards in the multitask panel. There's no actual difference in how the tabs behave, just the way they are presented to you.
And there you have it. Quick, easy, and according to some users — including more than a few Android Central editors — one of the first things you should do when using Android 5.0+.
Get the Android Central Newsletter
Instant access to breaking news, the hottest reviews, great deals and helpful tips.