How many smartphones do you own?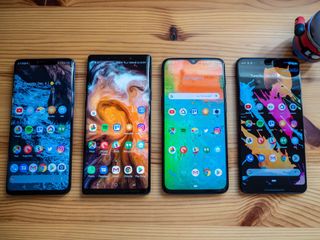 If you ask any of the staff here at Android Central how many phones we have, the answer would be "too many." We all typically have more than one device on us at all times as part of the job, but we also understand that the work we do isn't the most traditional thing out there.
So, whatever the reason may be, we want to know how many phones you have.
Here's how some of the AC forum members have responded so far:
Now, we want to hear from you. How many smartphones do you own?
Get the Android Central Newsletter
Instant access to breaking news, the hottest reviews, great deals and helpful tips.
Joe Maring was a Senior Editor for Android Central between 2017 and 2021. You can reach him on Twitter at @JoeMaring1.
I have 2, an iPhone X (daily driver) and Galaxy A3 (backup, but also this is one of my favorite phones ever). I am loving that I only have two.

Same with the X, and had my Galaxy S7 as backup for the longest time before i finally decided to just sell it on Swappa. Oh well, now I am in the market again for an Android on the side phone :)

I just have 1, my Moto G5+ which I love but will likely upgrade soon. Moto G7 or Galaxy S9 will likely be where I go next.

One. Anytime I get a new phone I sell the old one.

I own three, but regularly use two; I have a OnePlus 6t that's my daily driver, a rooted Moto G Plus on a second line, and an LG Stylo 3 Plus just hanging around.

I have two phones the s9+ & the iphone7plus. For myself it's the best of android & IOS! Enjoy both very much! But which do I enjoy the most? Android due to how customizable it is! The edge panel is my favorite!

I own 2, Huawei View 10 and ZTE Axon 7. One is my daily driver and the other I use to debug my apps and possibly to be used as a backup. That one has LineageOS too. Basically that phone I use in order to test every thing I can throw at it.

I have 3 that i actually use for something, and at least half a dozen including old ones in drawers and stuff. But I only carry one, with two SIMs. "Dual wielding" sucks.

I'm down to only 4 phones, because my 5th finally died (a Samsung Galaxy Note v1 from... 2010 ?). My main phone is a brand new Xiaomi Mi Max 3 I got at the 11.11 sale.
Since I was ordering, I also got a $100 cheaper Mi Max 2 to use as a guest phone, mostly for my brother who comes over to France from Canada several times per year and needs a local contract and lots of data for work, luckily this is cheap I can usually get something in the $3/mo range with 50-ish GBs.
My former phone is a Mi Max 1 with a failing battery and a crappy hacked ROM, a new battery is in the mail and I'll try to get it back on vanilla MIUI.
And finally, I drowned my phone before the Mi Max 1, but the one before the drowned one, a Huawei Ascend Mate v1, 3G, 8GB storage, still works and is used as an emergency phone whenever someone around me breaks theirs.

I have two, a Pixel 2 which is the work phone and a Galaxy S7 which is my personal. Although, I currently use the Pixel for everything work and personal.

I own the Pixel 3 and Essential phone. The Essential phone if a backup that sits in its box. Pixel 3 all day everyday.

Seven total.
My iPhone 7 is being used by one of the kids.
An iPhone 6 which is a backup that I only play with once in a while.
One iPhone 5S I keep because it's cute, but too slow to be usable.
Two HTC M8's I keep for backups.
One U11 which I still love and could go back to in a heartbeat, but my wife needed a new phone and said she wanted it.
My daily driver is an HTC U12 Plus, which, if I'm honest, I really did not want at first. But, the U12 has turned out to be a surprising beast that was surrounded in misinformation, and even my son's new iPhone XS Max is underwhelming in comparison.

I absolutely love my U12 Plus. I go back and forth between it and my XS Max. The U12+ camera is better than my Max, but there are still things I prefer on the iOS side, so I still keep both. I really wish HTC would get the Pie update out.

I obviously only use one phone which is a Sony XA1 Ultra (because I'm poor) but retired in the drawer are a Nokia Lumia 930 (best phone I ever owned and also the best looking), a Nokia Lumia 1520, a Sony Xperia U, OnePlus One and an Oppo Find 7. So nothing really special in my collection. I'm someone who has a mobile for its functionality and don't need a top of the range device every 6 months.

3 total here, Pixel 2XL, Sim in at the moment, but I also switch between OP6T and iPhone Xr. Like using both Android and iOS, but as I read in a previous post, enjoy the customization of Android much better.

I don't want to talk about it. I'm not ready to admit I have a problem.

I used to carry two phones on me at all times, a work device and a personal one. I moved to a new job and they allow BYOD. It's been nice only carrying one device for two functions. Currently using an LG V30 and it's my favorite phone to date.

I have a dozen and they still work. The Nexus 4 is always the first one given out when a kid is "between phones".
Only 3 used regularly. OnePlus5t, daily driver. iPhone 8plus (required for work 😣) and Huawei mate 10 pro for travel and fun.

I use a Galaxy S8+ daily, and I have a Galaxy S7 as a backup. I have others laying around, but they're paperweights more than phones now.

I have just one. The lg Stylo 4. And it's all I need. It's not a high end cutting edge Galaxy, iPhone or pixel, but it suits my needs comfortably. And it has a lot of the features that a high-end phone has for a quarter of the price.

Technically, two, but only because I haven't sold my backup phone for parts...which I need to do.

I have three. My Pixel 3 XL, which is my main phone. S7, which is my work phone and I have my s7 edge that I keep for a back up.

I have 4, but only use 2 of them. My dad has my iPhone X, and I have a Nextbit Robin tucked away in a drawer. The two I use are the HTC U12+ and iPhone XS Max.

My daily phone is the Note 9 and I have a spare phone, the Galaxy A8. Going to be trading it in for an iPhone XR in the next week or so as I have an upgrade available from Freedom Mobile. Never used an iPhone before so will be a good opportunity to try one out and learn how the IOS system works.

I only use my Samsung note 9 right now but i do have a BlackBerry KEYone in my nightstand if i ever decide i need two phones.

Three. Work phone, personal phone, and a spare one as backup/music/gym phone.

I have 4. My current Note 9, my backup OnePlus 6, my broken screen OnePlus 3T, and my still kicking OnePlus One. I only use one at a time and haven't switched back to the OP6 since getting the Note 9.

Main driver is 3XL, backup is S8+, long-time-untouched backup is HTC 10, and a broken 3T.

My daily driver is my trusty OG Pixel from 2016! My back up is a HTC M8 that is just a beast of smartphone. I have a iphone 6s that is my work phone and I barely use it. My pixel is still trucking along so I'll hang on to it until it breaks, I don't see a need to upgrade right now anyway! I also have a iPad mini 4 that is straight entertainment for me (I love that thing) it saves me on very slow work days..

LG G4, probably my favorite of them all, despite having it replaced once for bootloop problems; LG V20 used mainly for music because of terrible battery life; Galaxy S8 plus, backup phone; and the Note 9, the most capable phone I've ever owned and my current daily driver. I buy one phone a year, usually in the third quarter, and I'm really hoping that LG gives me a reason to choose the V50 this year.

Let's see... I currently use a LG V40 and Pixel 3XL (2 sim cards) but I still have in the house a LG V30, LG G6, Nexus 6P, BlackBerry Key2, Galaxy S6, Nexus 5, HTC One M8 and probably some more I'm forgetting.

I have a bag-o-phones (flip phones) that can't be used anymore because they don't support Sim cards. I have 6 Windows Phones (6.5, 7.8, 8.1, 10), a Blackberry 8330, Galaxy SII, S6, ZTE Blade V8 Pro, and my current is the Asus Zenfone 3 Zoom. My daughter has the Moto G6 and wife has LG G5. I've had many others that are either sold, broken, or traded in.

One. BlackBerry KEY ² LE. Don't care about having other phones. Don't need to either, work and private phone in one.

Note 9 (daily driver) and Lg V30 (for music).

I have 2 daily drivers I swap around depending on battery levels (they both have the same number because of Google Voice -- one of the lines I picked up for free when T-Mobile had a free line promo). I also have a third phone that is provided by my work but it is usually tucked away in my truck's glove compartment (though it's also connected to GV). My phones are a Galaxy Note 9 and a Huawei Mate 20X and my work phone is an iPhone 6S Plus. I also have spare hardware I need to get rid of in the form of a Sony Xperia XZ Premium, a OnePlus 6, an Essential Phone I may keep as a dash cam and a Note 4 I'm likely keeping for sentimental reasons as it's the best phone I've ever owned.

I have Huawei Mate 20x IPhone XR 128gb Samsung Note 9 512gb Huawei Honor play Huawei Honor 8x Xiaomi MI 8 lite LG G7 LG G5 Samsung s8 plus HTC M7 Samsung Note 7 which I still use no problems at all Samsung S7 Edge. I have a problem

I have a Galaxy S9+, Note 9, iPhone XS, & iPhone XS Max that are split between Sprint & T-Mobile. The iPhone XS is dual SIM and has both Sprint and T-Mobile numbers. All phones have their own numbers from the carrier and all have my Google Voice number. Additionally my Samsung Tab S3 LTE is an international version and has phone hardware enabled so it has a phone number as well.

I have a Moto X 2014 model that I customized with Moto maker that is still my favorite overall phone I will pull out and play with sometimes, it doesn't work with the carrier I have now. Also have a Moto G6 as a backup and currently using Pixel 2 as my regular phone.

I have one. I do not need nor want more than one phone.