How many connected devices are in your home?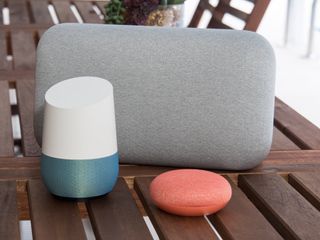 Smart home accessories are becoming more ubiquitous every year, and these days you can find them everywhere from specialized stores like Best Buy to more broad locations like Target and Walmart. Some home tech, like connected security cameras and smart thermostats, offer immediately obvious benefits for home security and automation. Other gadgets like smart lightbulbs seem a bit unnecessary to some, but can help achieve certain aesthetics in a room.
The one smart home gadget that almost everyone has sitting around is an assistant-powered speaker. Whether it's an Amazon Echo, a Google Home, or even an Apple HomePod, smart speakers are a great addition to any home that can do anything from playing music and podcasts to controlling other smart home devices, all with a simple voice command. Smaller speakers like the Google Home Mini are often bundled in for free with phones and tablets, making them a great, easily accessible first smart home device for general consumers.
See Amazon Echo (2nd Generation) at Amazon (opens in new tab)
For those more concerned about security than voice commands, a connected camera or doorbell can be a great addition to the home. Nest is one of the biggest players in this realm, with excellent products like the Cam IQ and the Hello doorbell, but there are plenty of other great alternatives from brands like Ring and Canary. A security camera is only useful as long as you can see the feed, and smart cameras let you see what's going on directly from your phone — most products in this category even let you hold conversations with people on the other end.
Then there are the more aesthetically focused products. Smart lights from brands like LIFX and Philips Hue have become extremely popular lately, with the ability to set specific colors and color temperatures for each individual bulb. Some can even be set up to flash different colors to notify you of new messages on your phone or incoming weather alerts.
See LIFX A19 Smart LED Light Bulb on Amazon (opens in new tab)
Of course, we can't leave out home monitoring and automation tools. This is where Nest got its start, with products like smart thermostats and smoke alarms. Ecobee has also gained some traction with its own line of thermostats. The focus of all of these products is to save you money and, in the case of the Nest Protect smoke alarm, potentially save lives.
See Ecobee4 Thermostat with Sensor on Amazon (opens in new tab)
This only scratches the surface of the unending selection of smart home tech, and whether you've equipped your home with a full range of cameras, lights, thermostats, and more, or you're only just now dabbling in smart speakers, we want to know.
What are some of your favorite smart home gadgets? If you could only keep one smart device around, which would it be?
Get the Android Central Newsletter
Instant access to breaking news, the hottest reviews, great deals and helpful tips.
Hayato was a product reviewer and video editor for Android Central.
I have a combination of Google Home speakers and Alexa speakers set up in my house for testing purposes and despite all the cool stuff they can do, in reality, they're used mostly for play music, get the news, and find out the weather. Some connected products integrate really well, like Philips Hue is just amazing, but all too frequently I test Alexa skills or different features on the voice-activated assistants and they just don't work the way you'd expect. Sometimes it negates the convenience entirely and leaves you more frustrated.

Love the idea but I just can't justify the cost to solve problems I just don't have.

Me too - it really does feel like having to look for something it would provide a solution for.

I love my "smart" stuff but I tell anyone interested in it that they are only going to "solve" 1st world problems with it. It's HIGHLY about convenience and the "that's neat" factor.

With over 100 connected zwave, zigbee and wifi devices my home is almost fully automated. Sensors are the most important followed by voice automated speakers. Video/TV is one of the few manually operated devices. Voice works for limited content.

I utilize Ethernet more than WiFi. 100/100 FiOS, Ethernet hub, Win7 machine, BenQ projector (as my monitor), Qnap NAS, NVidia Shield TV, Epson printer, Onkyo Stereo Receiver (with Klipsch speakers), XBox, Netgear Wireless Router. Moto X4 Android One and Asus 10.1" ZenPad connect to WiFi. Would like to add the Nanoleaf Rhythm once prices come down.

I purchased a Nanoleaf Rhythm when it was on sale, but I couldn't justify keeping it after playing around with it for a week. The problem I had was that the light projects directly out from the panels, but there's not much spill to the sides or above/below. As a result, the Nanoleafs made the surrounding area darker than when I had a small lamp in the same space casting light in all directions. That was just my application, though. If you view them as wall art, then the Nanoleafs are great, and the Rhythm module was a lot of fun to play with. The only thing I didn't like was how loosely they fit together, which makes it very difficult to experiment with them on your wall. It would be better if you could securely attach the panels to each other so that they can be picked up and mounted as a single, sturdy unit.

Only about 30 :-) 14 lights/dimmers / plugs , Google Home, 3 Home mini's. Echo, about 9 Cams (Nest and BLink), Nest Hello doorball, Ring Security light/cam

2 Homes, 1 mini, 2 chromecasts and 1 ultra running on the Google Wifi. We primarily listen to music and cast media to TVs around the house. It's particularly useful to have a wall mounted to in the playroom with a Chromecast ziptied to the mount.

3 tvs a pc a phone and some consoles. All the extra stuff seems rexiculous to me. I have never felt like a light switch was a problem that needed solving, and voice assistant speakers are trash for music.

"The one smart home gadget that almost everyone has sitting around is an assistant-powered speaker." While smart speakers are on the rise, I don't think "almost everyone" has one. There are almost certainly more people who don't have one at this point in time. But I'm not one of those people. ;-) I've been using Wemos since they launched, and my collection includes plugs, light switches, Wemo Maker, Wemo Dimmer, and a Wemo Motion sensor. But after five years of bad firmware updates and a terrible Android app, I'm replacing almost all of it with the significantly more stable TP-Link Kasa products. I'm only keeping the Wemo Maker, Motion, and Dimmer, because there aren't good alternatives at this time. It's really too bad, because the Wemo hardware is aesthetically pleasing and feels solid. It's just completely let down by Belkin's software efforts. As good as the light switches look, there's no point if they keep disconnecting from the router located a mere 15 feet away. I control everything with a Google Home, Google Home Mini, IFTTT, and an old Android phone running the Automation Manager app (which enables me to set up rules that combine Wemos and Kasas).

I use a combination of Amazon Alexa, Google home and Google home Mini. My smart home hub of choice is Samsung SmartThings. I have a combination of Z-Wave zigbee and Bluetooth products. They include lights from Philips Hue and door locks from Yale and Schlage. I also have Nvidia shield on all of my televisions which allows me to automate the process of turning on and off my TV and also going to the appropriate Channel just by using my voice. All of my audio equipment integrates well with my smart home so I can play songs on non smart speakers as well as my Google home and Google home mini units. I've noticed a lot of people in the chat complain that the use of the assistants are not as seamless as they make it out to be in the commercials, I have had no problems at all. I have my whole house covered between both assistants and the use of the nest IQ cameras which double as a home assistant. The use of sensors pair with my smart lights drastically reduces my electricity bill along with my Nest Thermostat. The peace of mind I get using my Nest guard & Nest protect is great. I love being able to remotely let people in the house on a set schedule and on the Fly if somebody came with a package. I'm not too keen on Amazon's key service. I have a Smart Lock on my garage side door and this is what I use to allow Delivery person to leave packages in my house. They have access to a secure area yet they cannot get to the main house to cause any issues (like taking my dog and running off with it, yes it happened to an Amazon key user and the poor guy had to write Jeff Bezos personally in order to get the situation resolved and have his dog returned to him). All in all I think if a smart home is designed correctly it can be helpful and save you a lot of money.

10 Hue bulbs
Two smart plugs
Nest thermostat
Two Google Homes
Two Google Minis
A Chromecast
And partridge in a pear tree (or maybe that's a Chromecast Audio)

I have Google Homes on each floor, Nest Cams, Hue bulbs and August smart locks. I really love the automation it brings, especially turning on/off the garbage and back porch lights.

Zero and never will - I don't need anymore spy crap in my house

1 Google home
2 minis
1 chromcast
1 chromecast ultra
3 nest protects
1 nest thermostat
1 nest hello
2 nest outdoor cams
5 lifx bulbs
1 Google on hub router

10. 5 on my left hand and 5 on my right hand.