How to install Facebook Home on your current Android smartphone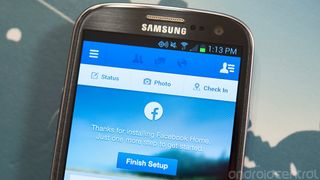 Facebook has released its "Facebook Home" application for current Android devices, helping to bring your friends and family even closer to you. It's a separate app, so you'll have it alongside the traditional Facebook and or Facebook Messenger applications.
Installing it couldn't be simpler, but you'll need to see if Facebook Home supports your phone.
Then, hit the link at the top of this post, if you haven't downloaded Facebook Home yet. Once it installs, you're just a couple clicks away from using Facebook Home.
Facebook Home actually is what's known as a "Launcher." That's the umbrella term for your home screens and app drawer. It runs atop Android, so that means you don't actually have a "Facebook phone," or that Facebook has "taken over your phone." You're still in complete control here. One of the cool features of Android is that you can install a new Launcher on top of whatever came with your phone, and that's what we're doing with Facebook Home.
So. A couple options for starting up Facebook Home, and they're both super simple:
Go into your app drawer and tap the new "Home" application.
Open the Facebook application, and you'll see the "Finish setup" image that's atop this post.
After that, you'll see a slightly confusing dialog box asking you to "Complete action using ..." and you'll see a couple icons. What you're doing here is telling your phone whether which launcher you want to use, and whether you want to use it from now on. (Don't worry, you can easily uninstall Facebook Home if you decide you don't want to use it.)
Tap the "Home" icon, and then tap "Always." If you choose "Just once" instead, you'll get a little reminder that you'll be asked all this again the next time you hit your Home button.
So do that, wait 10 seconds or so, and Facebook Home will be up and running.
This tells you everything EXCEPT how to install it. What a terribly misleading title.

"First, hit the link at the top of this post, if you haven't downloaded Facebook Home yet. Once it installs, you're just a couple clicks away from using Facebook Home." Umm, derp?

I think the pint onelegchair is making is that this covers the painfully obvious "duh... download from Google Play... derrr" level install. A site like Android Central's readers are generally more discerning than this though and don't need to read The Idiot's Guide, so I imagine a lot of folks assumed this article would be about how to install it if you don't have a supported device. Which would make a lot more sense to have an article here.
Instead, it's like AC is just trying to add one more link for an article on Facebook Home.

Wait, no. THIS WHOLE ARTICLE EXPLAINS how to "install" it. Come on, really?

It's a 20+ word article on a two step process, only one of which is new. Yeah, I can see why someone would think it had to have been about something else.

lol. To think we'd want people who want to try Facebook Home to come to our site and learn how. The nerve, eh? :) If this was a guide on how to install on an unsupported device, the headline would have said so. This is for the more ... "normal" Facebook users who might not have installed a third-party launcher before and could use a little help. Not everybody here is of such an advanced level. So be nice. Lend a hand. Or move on to the next story. :)

It's one extra self-explanatory step. If someone can't figure that part out on their own, they're going to be so lost when they get it installed they'll either uninstall it right away or their head will explode. This was really not an article that needed to be written. It doesn't claim to be a guide for unsupported devices. It also doesn't claim to be a guide for supported devices either. Most people don't have supported devices so the title could lead some to think it would be for unsupported devices, since we don't need articles telling us how to install Pit Runner, Angry Birds, Ingress or almost any other app.

You should leave if you're unhappy with the coverage.

Can you teach me how to install Temple Run, too?

The title was misleading to me too. I thought I was going to find instructions on how to use it on my Nexus 4 lol. Maybe you should have named the article "How to Use" Facebook Home instead of "How to Install". Installing this home launcher involves the same exact steps as any other app in the market while actually Using it is a different story.

For the Nexus 4.... Change your build prop to an approved device.
DL Home.apk from one of the many spots it's available (I recommend XDA)
Sideload.
Reboot, open the APK to install. Check xda's Nexus 4 Forum for more info.

The video is even labeled "How to install" and you start the video basically saying "After you've installed it".

You Sir, just read my mind. Exactly what I thought.

Not everything is a conspiracy. I know this is the internet, but seriously.

I'm not saying it's a conspiracy. Just that an article for one added idiot-proof step is unnecessary, and I can see why it would be confusing.

That is exactly what I was referring to, and also the video which was with the same title, but starts out saying "after you install it". So, thank you for understanding that my comment was legitimate unlike everyone else here.

Go to Google Play and click "Install".

You should write for Androidcentral!

I went to Google Play and all I see are a bunch of tiles labelled things like "Apps, Books, Music.." but I don't see "Install" anywhere. Your tutorial sucks... you should leave it to the professionals.

It's only available from the play store for like 5 devices... The majority of that would want to try it out can't install it. I guess someone will post the .apk soon enough ..

I dont think its as simple as an APK. It loaded onto my Xperia XL with no issues. when I launched it I was told it wont work until my phone is certified.

Read again and pay attention is there. Geez

Forget the misleading title. The best way to "UNINSTALL" facebook home is to go into the Google PlayStore and hit the Uninstall button, so it can register about how many people don't want or like it.

Great suggestion!! The app itself is ok, I mean if you want All Facebook All the time. However, forget about any security settings you might want. It opens your phone up completely with no options to lock it.

Can you do an article on how to remove it from the HTC First? :D
I'm sure a lot of people would like that. Unfortunately a hard reset won't fix the problem.

Why would someone want the HTC First....if NOT for facebook??

1. Open Google Play.
2. Search for "Action Launcher Pro", "Nova Launcher" or whichever launcher you prefer.
3. Click "Install"
4. Press home Button.
5. Select new launcher and select "always".

You need root access to do that, or, possibly install a different launcher (https://play.google.com/store/search?q=launcher&c=apps).

@Gearu, please tell me you didn't buy the HTC First..... Please.....

Haha no, S4 is happening.

Hit "Home Settings," press "Turn Off Facebook Home." Simple.

I didnt like it.. not going to use it.

So why only the US at the moment, I just want to install it to uninstall it.

I want to install it, give it 1 star, then uninstall it.

Why would someone want the HTC First? Because with home disabled you have a completely untouched version of Android with LTE!

Yes, but for that LTE you sacrifice timely updates. If you want Android as God and Google intended buy a Nexus device.

Ahh no thanks don't use Facebook

I would buy HTC First in a heartbeat if it was close to N4 price. The size and LTE would be perfect for me. I would just use different launcher.

Phil what live wallpaper is that?!?!?!

Not enough Facebook Home articles. Moar PLEASE!

WHY, would anyone want this on their phone?

You know when they do not support the Nexus it speaks volumes about how crappy it is.

That statement makes no damn sense.

Just installed this on my nexus 7 by editing build.prop uninstalled after five minutes it sucks

so what are u waiting for to tells us exactly what u did, step by step

I think a better appropriate title would have been: "How to install Facebook Home on select Android smartphones" or "How to install Facebook Home on Facebook approved Android smartphones". The title *is* misleading. My phone is a Nexus 4 so the "How to install Facebook Home on your current Android smartphone" just doesn't fit.

It's fucking stupid that they have a device restriction. More bad publicity for Facebook.

Count me as another one that was misled by the title.

Installed it tonight on my Droid RAZR. It's actually very easy to install if you're rooted. Doubt I'll keep it on since I'm not a big Facebook user. I just wanted to see what it was about.

Any idea when it can be isntalled in IReland. Sorry for the duplicate post, don't know how to delete the older post.

Any idea when it can be isntalled in IReland.

Goodday, why is Facebook Home not available in South Africa?

Seems some people just should have a "Smart Phone".

Excellent as a lock screen IMO

Lyf witht facebuk & whatsapp sucks

A few days ago I was able to download Facebook Home. I have an Android & it worked great! BUT....now its gone & now my "device doesn't support this version" I'd love to know what happened. Why was I able to use it,now I can't?

I'm trying 2 download Facebook on ma fone but I'm failing

Facebook has generated an official apps for android user. It also help you closer to people.

Hey dear,
Installing facebook on an android device is not a big issue.You can take help from this link https://fbhelpdesk.tumblr.com/post/156071846838/frustrated-with-fb-login...
I am damn sure that it will help you
Android Central Newsletter
Thank you for signing up to Android Central. You will receive a verification email shortly.
There was a problem. Please refresh the page and try again.